Balbriggan 2 Castleknock Celtic 0
Dr Michael Woods Cup, Semi – Final
Saturday.1st April 06
It was a sunny day in Balbriggan with both teams fighting for a place in the final. Castleknock started strong but it was Balbriggan who had the early chances. After five minutes, Castleknock got their first chance when the keeper came out and lost the ball to Ronan McCabe who just failed to score from a tight angle. Balbriggan had a good chance but Castleknock keeper Kevin McGovern came to the rescue. Castleknock hardly troubled Balbriggan's defence in the first half.
After the break, Celtic had some chances but could not make the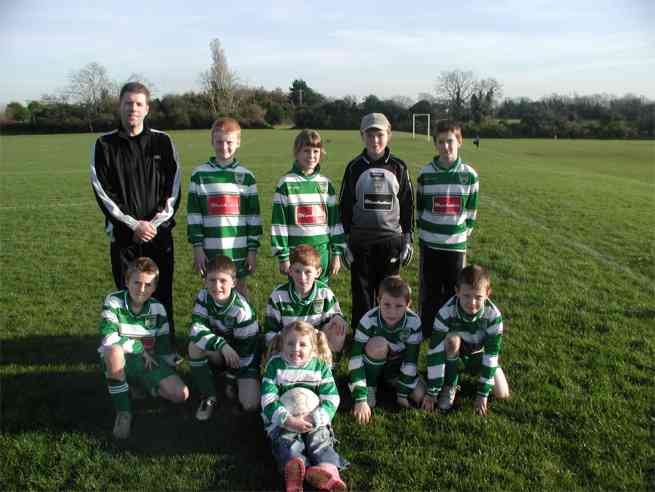 breakthrough. Balbriggan were pressing Castleknock back into their own half. After 10 minutes,a lapse in concentration from Celtic allowed the home side to break through with a lovely goal into the bottom corner. Castleknock fought back strongly, but without result. Senan Warnock was fouled in the box, but the ref failed to see the obvious penalty – another candidate for Specsavers. The home team started to apply the pressure but Alan Johnson and Eve Farrelly were rock solid in defence. Eve played a lovely ball up to Senan who missed by an inch.
With minutes remaining, Balbriggan broke away from a Castleknock attack but Alan Johnson made a sweet tackle to put the ball out over the end-line. Balbriggan's lanky striker latched onto the resultant corner, which Kevin McGovern saved bravely, but he was kicked by the attacker, who sent him to the ground before scoring. Nobody thought it was a goal, but the ref thought differently, with Kevin in serious pain on the ground. The ref said it was the way he fell! Luke Henshaw went in as replacement keeper. Many of the Castleknock players were upset at the result but as Brian Kennedy said at the post-match press conference : " It is not the end of the world. We are still capable of getting a medal in the league. Everybody knew Castleknock were the better side and deserved to win."
Team : Kevin McGovern, Eve Farrelly, Ronan Mc Cabe, Keith Farrell(C), Jack Kennedy, Senan Warnock, Ian Watkins, Alan Johnson , Eoin Newman . Luke Henshaw .
Manager :Brian Kennedy, Asst Mgr : Brian Farrell
Sponsor : Manhattan