Brenfer Cup Semi-Final
Sat. 22nd April 2006
Castleknock Celtic U-10A Secure
Brenfer Cup Final Spot
At long last, after months of rain a match finally took place. Castleknock Celtic's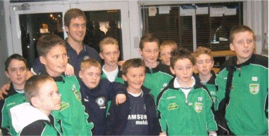 A-team lined up against an ever-improving Clontarf side. This semi-final gave Clontarf home advantage for this all or nothing game.
The 1st 15mins showed a very much out of sorts Celtic struggle to find the fluency and skill that has epitomised their season so far. Celtic couldn't find their rhythm and found themselves 2 goals down for the 1st time this season. 2-0.
Celtic captain Patrick Rocca vented his frustration on his team mates, which spurred Celtic into life at last. A fine through ball, by centre mid-fielder Gavin Boyne, over the top of the Clontarf defence saw Ryan Moore Kearney run clear to clinically finish under pressure from 2 defenders. A vital goal just before half time. 2-1.
The 2nd half was all-Celtic with the midfield of Gavin Boyne, Philip Fitzpatrick and Dan Ring causing chaos in the Clontarf ranks. The strength and presence of Fitzpatrick and the tantilising wing play of Ring created chance after chance. Ring swung in cross after cross that any premiership player would be proud of. The defensive duties for the day fell to Patrick Rocca, Tom Fogarty, Kyle Turner and Eoghan O'Donnchu. A solid display put in by all. With the help of Keeper Richard Delaney shut out Clontarf's forward threats. All credit to Richard Delaney for a superb recovery after an unfortunate start to the game. Strength of character in abundance.
The equaliser came from the mercurial skills of Boyne, bursting through the centre, side-stepping the desperate lunging tackles of the Clontarf players. Boyne buried it low and hard beyond the keeper's grasp. 2-2. For the final 5 minutes Celtic won corner after corner but couldn't find the elusive winner, and so extra time arrived.
In the 1st half of extra time the impressive Fitzpatrick shot home after some neat play between Boyne and Moore Kearney. 3-2. Turner joined the midfield for the extra time period, to add the vital energy and speed needed to guide the team home. Rocca and Fogarty shutting up shop at the back to secure a very well deserved place in the final.
Again this performance is down to 9 players who fight hard for each other and never give up.