Brenfer Cup Semi-Final
Tues. 25th April 2006
Rush Athletic 2 Castleknock Celtic 5 (AET)
(2-2 at full-time)
What a brilliant performance. Mission Impossible achieved, and full credit to the team. Celtic's U-9C's travelled away to the seaside village of Rush, just south of Skerries, but this time without their buckets and spades. They had a job to do and they were intent on making it a night to remember. Celtic had been relishing this encounter as they have made excellent progress this season. They were obviously very much up for it, as they shot into the lead with a goal from Saad Ahsan in the second quarter. The referee had started the match 5 minutes early as he wanted to see the Arsenal match, but he soon realised that he had a game and a half on his hands in this battle. Rush bounced back with 2 goals in the following 5 minutes, and Celtic looked in trouble. But the last quarter saw their fortunes change. Gary McCabe equalised to make it 2-2, while Andrew Treadwell was making some fantastic saves in the Celtic goal to keep the Rush tide out.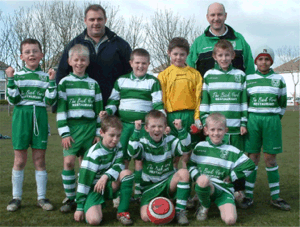 The game went to extra time with the sides locked at 2-2. Celtic appeared to be the hungrier at this stage, and it was Anthony Healy who scored 2 goals to put the visitors ahead and looking out of sight. Then Gary McCabe popped up to complete the scoring with his second, securing Castleknock Celtic's U-9C's a prized place in the finals, which is something is richly deserved by this dedicated team of players and their managers, and they all can look forward to a grand final day in May. The sands of time eventually ran out for Rush.
Team :Anthony Healy, Lee Penrose, Jack O'Brien, Max Maiberg, Saad Ahsan, Ross Geissel, Andrew Treadwell, Darragh O'Neill, Daniel Boyle, Senan McAllorum, Cillian Croash, Gary McCabe. Managed on the night by Padraig O'Brien and Graham Penrose, deputising for Martin Treadwell.