Brenfer Under-10s Cup Final
Sat. 6th May 2006
Superb team performance delivers first Cup of the Season
Castleknock Celtic 4 Home Farm 2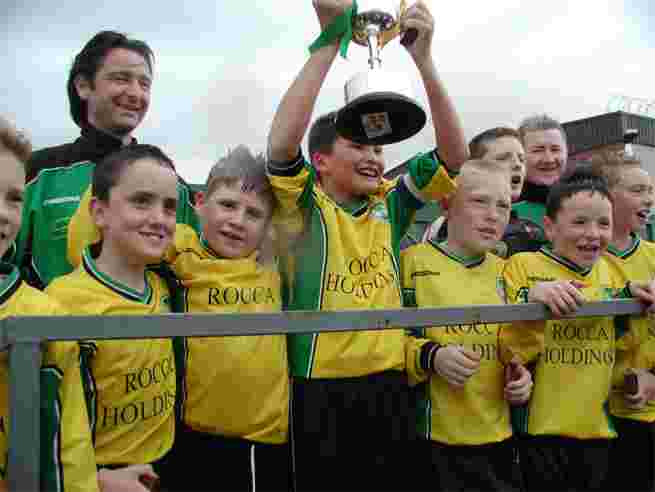 The morning had seen beautiful sunshine, and it augured well for the Celts from Castleknock. But come kick-off time, the elements had deteriorated, and we had shivering conditions with intermittent rain showers.
With the preliminaries out of the way, we looked forward to another pedigree performance. But we had to wait for that, as Home Farm started much the brighter, with Celtic looking lethargic. And they were punished for their lack of concentration. Within 4 minutes, they were behind following a slick and quick movement up the field. The Farm no. 6, Cian Flood, gave Richard Delaney no chance with his shot. Celtic looked a bit shell-shocked, but they soon composed themselves. Within 3 minutes, Gavin Boyne took possession in the middle of the park, beat 3 opponents, and crossed to Ryan Kearney Moore, who shot home from close range.1-1.
But the Farm themselves bounced back, and again after another 3 minutes, they crossed into the box beautifully for Chris Mullin to head in at the far post, reminiscent of John Toshack in his heyday with Liverpool. 1-2 to Home Farm.
The match was being played at a frantic pace. Celtic were shocked by the second goal against them, and they delivered an immediate riposte within a minute. This time it was Daniel Ring who was the provider. He crossed into Ryan Kearney Moore, who succeeded in getting the ball into the net in a tussle with the Farm keeper. 2-2.
Celtic were not content with this, they pressed hard for the lead, and just before half-time, they were denied a goal in a fierce goalmouth scramble that ended with Home Farm kicking to safety. Celtic had grown in confidence as the 1st half progressed, and they were playing more as a unit. Rich Delaney was composed in goal, with Patrick Rocca looking assured in his defensive role at the back. Philip Fitzpatrick was strong throughout, while Eoin O'Donnchu was full value for his man of the match award.
The whistle blew for half-time, and we all sighed with relief, and looked forward to an equally entertaining 2nd half.
Celtic appeared the superior force in the second period. They had a succession of chances.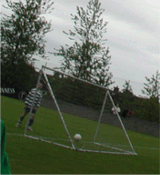 Kyle Turner went very close after 2 minutes of the 2nd half. And a minute later, he took a great pass from Gavin Boyne, which he duly despatched to the back of the Home Farm net. 3-2 to Celtic and they now looked the part of new Cup Holders.
Gavin Boyne, who worked his socks off, went close minutes later with a deft chip. Ryan was foiled as he was about to pull the trigger for his third. But it was left to Tom Fogarty to deliver the final blow. Gavin Boyne had passed beautifully to Ryan, who set up Tom Fogarty, who blasted his shot to rattle the Home Farm net for the fourth time. A great day's work was complete, and the boys appropriately celebrated as all champions do. Like all teams who aspire to greatness, they now have to do it all again on Monday night when they entertain Swords Manor for a crucial league encounter. They still have a lot to do to achieve the elusive double. But like they have done all season, team manager and assistant, David Fogarty and John Delaney, will have their squad well prepared for the final phases of the adventure. more photos and more and more