Castleknock Celtic U10A Crowned Champions
Fantastic Double Achievement
Baldoyle Utd 1 Castleknock Celtic 3
Tues. 30th May 2006
After weeks of waiting for their final league match, the rain finally ceased to allo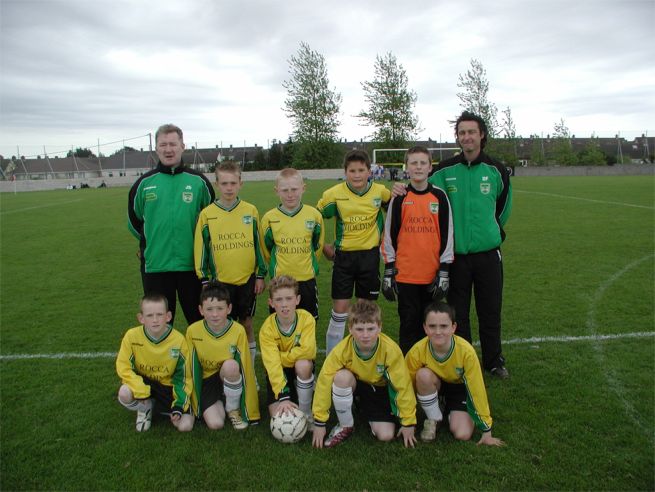 w Celtic the opportunity of achieving that illusive double. The scene was set for an exciting finale. Perfect weather conditions were spoilt by the very significant grass growth that has prevailed over the last few weeks. Having lost just once all season, Celtic found themselves needing 1 point from their last match to beat Home Farm to the title. The tension had built to enormous levels given the delays in completing the league and Celtic looked nervous from the start. (Not helped by the absence of their stalwart defender, Eoghan O'Donnchú, through illness)
After 5 minutes Celtic got off to a flying start. A powerful shot by Philip Fitzpatrick took a wicked deflection to leave the Baldoyle keeper stranded. 0-1. Celtic took control of the 1st half with some excellent attacking play. A corner swung in by Fitzpatrick was controlled instantly by Ryan Moore Kearney, who unleashed a neat volley that just cleared the bar. The pressure continued, this time another sweet shot from Fitzpatrick saw the ball hit the inside of the side netting and somehow bounce out. The referee judged that it had hit the post. Another attack finished with G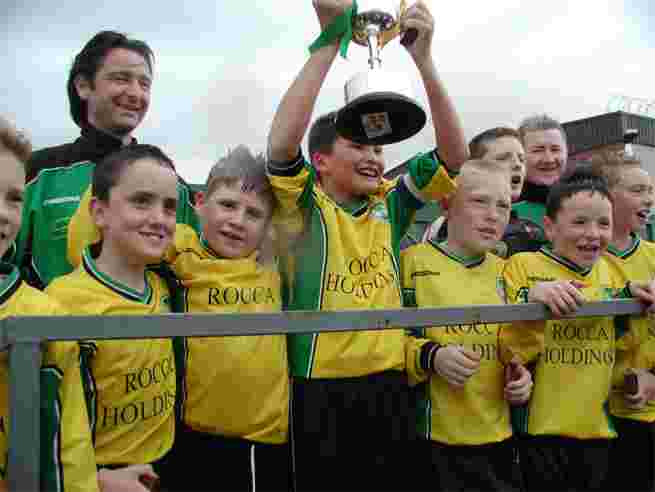 avin Boyne, this time shaving the other post. Doubt crept in. Was this not going to be our night? Nearing the end of the 1st half Baldoyle grew in confidence and started creating chances. Tom Fogarty and Patrick Rocca stood firm cutting out all attempts on goal. Just before half-time a Baldoyle player saw a stunning shot tipped over the crossbar by keeper, Ritchie Delaney.
After the break it was all Baldoyle. Fogarty headed clear ball after ball with great composure and style. A scramble in the box saw a loose ball fall to 2 Baldoyle players but somehow Rocca managed to throw himself in to block shots from both players in the one tackle. The ball squirmed agonisingly wide past the post. Baldoyle were then awarded a soft free kick just outside the box and it was superbly planted in the top corner leaving Delaney with no chance. 1-1. Nervous times !
Celtic were reduced to attacking on the break with Dan Ring in midfield, seeking out the runs of the speedy Kyle Turner, who saw his two shots just go over the bar. The smart midfield play of Ring was catching out Baldoyle and putting them on the back foot once more. Nice work from Philip Fitzpatrick saw Boyne run through on goal, his thunderbolt crashed into the Baldoyle keepers face and rebounded back into his path to slide home. 1-2.
After a short stoppage, the Baldoyle keeper was able to continue. Baldoyle, admira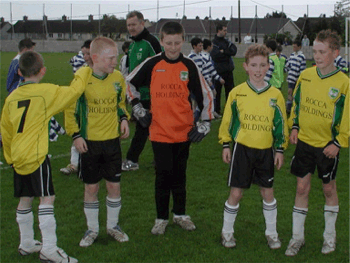 bly fought back. Moore Kearney was re-introduced to keep their defenders busy and Turner slotted in beside Fogarty in defence. The last ten minutes saw wave upon wave of attack but they could not get past the impressive Fogarty, ably assisted by the lighting speed of Turner. Ring dug deep in midfield to help out his defence, chasing down players and putting in some fine tackles.
Fitzpatrick's strength on the ball was frustrating Baldoyle and led to some helpful free kicks to relieve the pressure. Celtic began to control the game again. Some skilful touches from Moore Kearney saw the tireless Boyne run clear leaving two bemused Baldoyle players in his wake. His finish was clinical, slotting the ball into the far corner as the keeper tried to close down his angle.1-3. The imposing presence of Rocca was re-introduced in right midfield to complete the shut out and lead the team home to victory.
This group of players have an abundance of skill and talent. Their dedication, hard work and fantastic team spirit created this huge achievement in winning the double. Congratulations to all.
Congratulations also to the reporter, who composed this brilliant report, which the webmaster greatly appreciates.
Champions At Last, but it was worth the wait.