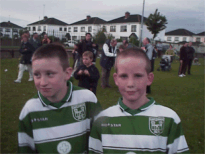 Neil Carton, Gary Bracken
Castleknock Celtic 1 Cloughertown 3
Wed. 27th June 2001 in Brackenstown
Castleknock Celtic had rescued themselves in the dying seconds of the final in Dalymount Park on the previous Sunday, when Gary Bracken got a last minute equaliser. And they started out in this replay with a positive attitude, and soon reaped a dividend. Shane Kennedy battled to win and hold possession on the right, then released the ball to Francis O'Donnell, who rifled home a beauty. 1-0 A well-taken goal in any man's language. But Cloughertown are a very plucky team, and were soon back in it when after 13 minutes Sean Fields struck from close range after the keeper had made a fine save. Then within another 3 minutes, man-of-the-match Mark Battersby (any relation to Corrie's Les, I wonder) was on hand to slot home from close range. They almost extended their lead after 17 minutes when their free kick hit the post, following a dodgy decision by the ref! On 19 minutes, that man again Battersby outjumped the defender to head home from the penalty spot. On the stroke of half-time, Shane Kennedy was in the thick of it again, this time making a fine save to keep the score at half-time at 3-1.
The second half possession was evenly shared, but Celtic were unable to breach the Cloughertown defence again. Shane Kennedy reverted to his attacking role in the second half, and was unlucky with a long range effort which was just wide 5 minutes after the resumption.
This was a fine advert for attacking competitive soccer, but Cloughertown were deserved winners on the night. Ian Garrigan gave a committed performance, both outfield and as keeper when he was called into that role in the second half. Gary Bracken, with the Beckham lookalike hairdo, was again notable for Celtic. Joseph Moyne never tired, up and down the flanks. Martin Moore looked in top form until he got a kick in the head and was taken off injured. Craig Norton and Alan Kearns were willing to battle for every ball in the middle of the park. Neil Carton kept to his task in defence, and no ball was a lost cause to him when he moved into the centre forward role in the second half.
Celtic can take pride from the fact that they came runners up in the league, and reached the final of the Cup, being taken to a replay before finally succumbing to a very efficient Cloughertown. Well done to Mark Battersby and his team mates for a job well done.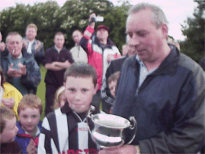 Worthy Cup Winners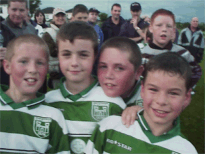 Francis, Craig, Shane and Joe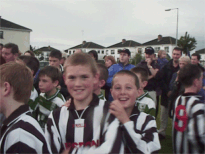 Celebrations for Cloughertown