The Cemetery is located across from St. Columbas church in the Upper Rosses. It was opened in 1947 and the first burial was that of Thomas John Devaney on the 28th of February. The Cross in the centre of the cemetery was originally in the Church grounds. I found no inscriptions inside the Church, or on the exterior. The following plaque is on the Cemetery wall to the right of the gates.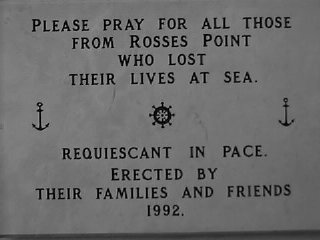 The old Cemetery is located beside Drumcliffe Church.
Cemetery Caretaker
Noel Cullen
Upper Rosses
Copyright © 2007 by K. P. Murray. All rights reserved.
Revised: 14 October, 2009 .