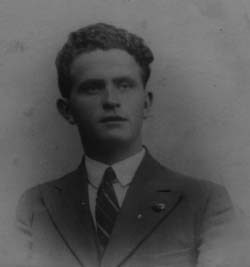 Fiddle Player - Joe O'Leary

Joe O' Leary was a distinguished fiddle player and traditional music collector. He was born in the townsland of Coxtown near the village of Ardrahan in South Galway. Growing up amid the western tradition of music, Joe's love for the violin began at an early age. He learned how to play from the school master John Doyle at the local Ballyglass National School. At this time he was also a keen hurler and played with the Ardrahan Club. His brother Mattie hurled at centre field for Galway.
From the beginning of his musical career, Joe was linked with the famed Cooley brothers - Joe and Seamus who hailed from the neighbouring village of Peterswell. In the late 1950's Joe and Seamus Cooley won an All-Ireland duet in Fiddle & Flute. It was not unusual to see the two Joe's - O'Leary and Cooley travelling on Joe O'Leary's motorcycle with Cooley's accordion resting on the petrol tank and O' Leary's fiddle strapped to Cooley's back.
Educated locally he became a skilled carpenter and went to work on the east coast, settling in Co. Meath for some time. He featured on many radio and television broadcasts, making several recordings during his lifetime. In his latter years he turned his attention to making violins and made many fine instruments some of which found their way to the United States.
During the 1950's he made his first recording with Ciaran Mac Mathuna of RTE at the house of Tess and Milo Mullins in Labane. Other local musicians who attended the session were fiddle player Eileen Howley
(aunt of Martin and grandaunt of Martin James & David), John and Paddy Donoghue (Gort), Milo Mullins and Seamus Cooley. Joe was to feature on many RTE recordings after this including: 'A Job of Journeywork'. He also made several recordings in the US. Throughout the past thirty years Joe's recordings featured on other traditional music programmes such as; Ceolta Tire and Mo Cheol Thu. His interest in music was not confined to the traditional variety, in the 1960's he spent several years at the Royal College of Music studying a classical repertoire. One of the great joys of his life was to spend time on the Aran Islands, absorbing the pure music of the western seaboard
While in Dublin in the 1960's Joe played at a number of venues including the Abbey Tavern, the Old Shieling and the Embankment. He played with many fine musicians including the Clancy Brothers and Willie Clancy. Joe's great love of music, his lack of materialism and his gentle manner endeared him to all he met. Radio broadcaster Ciaran Mac Mathuna in a tribute to Joe said of him 'he was a great friend and the greatest company in the world'
Joe was married to Fidelma Curtin (from Lisdoonvearna) who was a teacher in Skerries, Co. Dublin. It was here that they spent the latter part of their lives. Joe died in 1990. May his gentle soul rest in peace.
Joe's nephew Gerry lives in Coxtown with his wife Ronnie and their son Joseph. Each year his relatives and local musicians headed by local accordion player Peter Gardiner host an annual tribute to Joe. This event is held during December in Labane Ardrahan and is attended by a host of musicians - young and old including his nephew Noel Brady of the group Fiddlers Green.

(Kilnadeema CCE wishes to express sincere thanks to Gerry O'Leary for his assistance in compiling this article)