Sonnie Clarke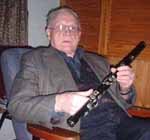 Recently some branch officers spent a night in the company of Sonnie Clarke as he recounted stories of his travels as a musician and bricklayer. He had few equals when it came to his work and music. A true gentleman, Sonnie Clarke is a young looking 84 and in great form again after a recent illness and looking forward to playing a few tunes again. Sonnie was attracted to music at a young age influenced by his uncle and aunt who played the flute and melodeon respectively. He started playing the whistle at ten years of age and within two years was trying his hand at the flute. He learned all his early music from two great local musicians, Son Donnelly and Paddy Doorhy. Asked today who was the best musician he came across in his travels, he has no doubt that Doorhy and Donnelly are among the best he ever played with. When he was fifteen he started going with Doorhy to one of the great houses for music in Galway, Downeys in Leitrim.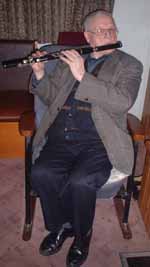 Along with the three Downeys, Jack, Maurice and Mick, Sonny met and played with all the great local musicians at the nightly sessions in Downeys including Eddie Moloney, Jack Coughlan, Joe Burke, Padden Downey Jetti Whelan and Cox Tierney. Sonnie also learned to play the bagpipes at Downeys and played at many local events including pony races. The six sets of pipes belonged to the parish of Leitrim-Ballydougan. The first band Sonnie played with was the St. Imors Band from Killimor with leader Paddy Barrett. Around 1943 there were numerous sessions in the Clarke household and among one of the regular visitors was a young box player from Peterswell called Joe Cooley. Shortly afterwards the Kilmeen Ceili Band were formed with Cooley on box, Sonnie on flute, Paddy Doorhy, Paddy and Martin Flynn on fiddles, Ben Clarke on Piano Acc. and Maurice Downey on drums. They were on the road for four years playing in places like the Temperance Hall, Loughrea, the Estair Ballroom in Galway, Creggmore Hall in Claregalway and all the marquee dances held during the summer months. The Kilmeen disbanded in 1948. Times were hard in post war Ireland and work was very hard to get locally. Sonnie had to travel all over Ireland to make a living. Cooley went to work on the building of six new houses in Tulla before he went on his travels to England and America. Sonnie lost contact with the music and didn't play for 27 years.
Having misplaced his two flutes during that period, he had a longing to play a few tunes again and he bought a flute from local flute player Peter Broderck and started practising again. He was only a few weeks playing when the Kiltormer band leader, Patsy Downey heard he was back playing and called to the house looking for him to fill in for the night in Claffeys in Portumna. After a lot of persuasion Sonnie agreed to play on the understanding that his microphone would be turned down as he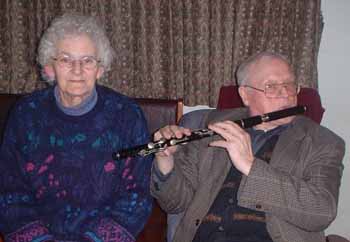 was out of practise. The microphone was switched on during the night and he was back on the road again for two years playing with the Kiltormer in venues all over Galway. After he left the Kiltormer, he joined the Galway Ramblers with Tony Niland on box, Pat McMahon on fiddle and Tom Ward on drums. After finishing with the Galway Ramblers he was a regular standby with most of the bands in the area including the Abbey Ceili band, the Golden Arrows, the Killimor, Mystery Folk, Leitrim Ramblers and the Aughrim Slopes. He also played two nights in Slattery's in Capel St. Dublin with a group that were recreating the old Ballinakill band sound. The group included Patsy Broderick and Frank Farrell.
Sonnie always loved sessions and attended all the local sessions on a regular basis. Box players Martin Grace and Paddy Collins were some of the earliest musicians he played with. Sonnie also played with Loughrea and Gort branches of Comhaltas at their weekly sessions. Sonnie, Peter and Pat Broderick were guests of Gort Comhaltas when they went on a twelve day tour of England in the early 1980's playing in the Irish Centre in Camden Town, Liverpool, Manchester and Leeds. Sonnie was a regular at the Saturday night sessions in Moylans with Paddy Carty, Conor Tully and friends and Sundays in Delaneys. He also had some good sessions with Paddy Fahy and Tony Treacy in Cappitaggle and Kilrickle. Other musicians he played with included Finbarr Dwyer, Ann Conroy, Bobby Kilkenny, Tom Madden, Tommy Hardiman, Jenny Cambell and Tony Molloy.
Sonnie competed with the Kiltormer Ceili Band in the Ceili Band competition at the Co. Fleadh in Killimor in the early 1990s and won the County and Connacht Fleadhs. They went on to compete at the All-Ireland fleadh in Listowel. Five years ago there was a great gathering of musicians and friends at Sonnie's 80th birthday party in the Arch Bar, Loughrea. Up to his recent illness Sonnie was playing as good as ever and often played at the Monday night session in Kellehers in Loughrea. When he is fully recovered from his recent setback, he will be itching to get on the road for a few tunes. We will all look forward to that.
Listen to Sonnie playing with his good friend Tom Madden. Carraroe Jig, Dublin Reel
| | |
| --- | --- |
| | |
| Gerry Bohan, Frank Farrell, Sonnie, Tom Madden | Sonnie's 80th Birthday Party in the Arch Bar |
| | |
| Sonnie with Mike Keary & Padden Downey | Justin Manning, Ned Coleman & Sonnie |