Kilnadeema branch of Comhaltas Ceoltoiri Eireann had great success at the Connacht fleadh held in Westport. Thirty two members of the branch have qualified to represent Connacht at the All-Ireland fleadh in Tullamore on the last weekend in August. The highlight was the qualification of two grupai cheoil under the watchful eye of Enda Scahill, Yvonne Barrett and Martin J Howley. In the solo competitions, Gerard Forde was 2nd in the 15-18 piano and David Howley was also 2nd in the 15-18 accompaniment. Conor McCarthy was 1st in the senior button accordion and was also tutor to two ceili bands who just narrowly failed to qualify. Those qualified for the All-Ireland are: Karena Coppinger, Sarah Cormican, Rosie Feerick, Damien Finnerty, Rebecca Finnerty, Harry Giles, Peadar Giles, Niamh Griffen, Emma Holohan, Paul Holohan, Alan Keane, Annie Larkin, Colin Leonard, Orla O Flynn, Aoife Burke, Orla Burke, Shauna Ward ,Paul Brady, Gerard Forde, David Howley, Niall McGinley, Sheena Whelan, Anna Gardiner, Shauna Coppinger, Kate Forde, Maeve Forde, Cliona Hynes, Nicola Murphy, Niamh Regan, Sinead Tully, Catriona Burke and Conor McCarthy.
U12 Grupai Cheoil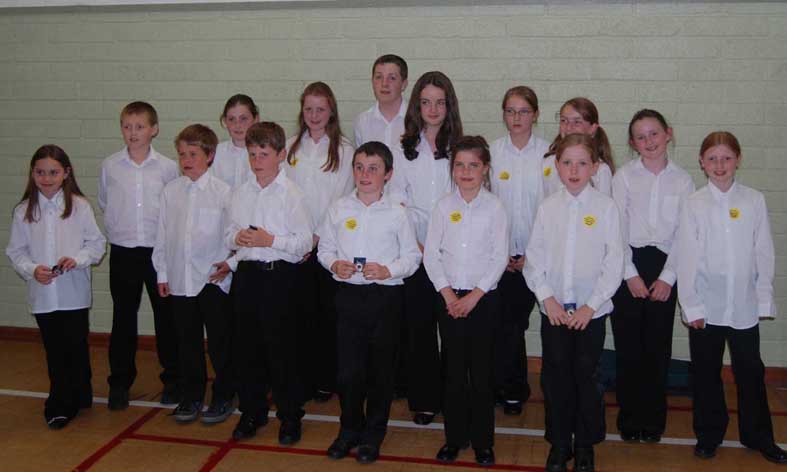 Front from left: Aoife Burke, Harry Giles, Colin Leonard, Damien Finnerty, Shauna Ward, Niamh Griffen, Rosie Feerick, Back from left: Paul Holohan, Annie Larkin, Orla Burke, Alan Keane, Orla O'Flynn, Sarah Cormican, Rebecca Finnerty, Karena Coppinger
15-18 Grupai Cheoil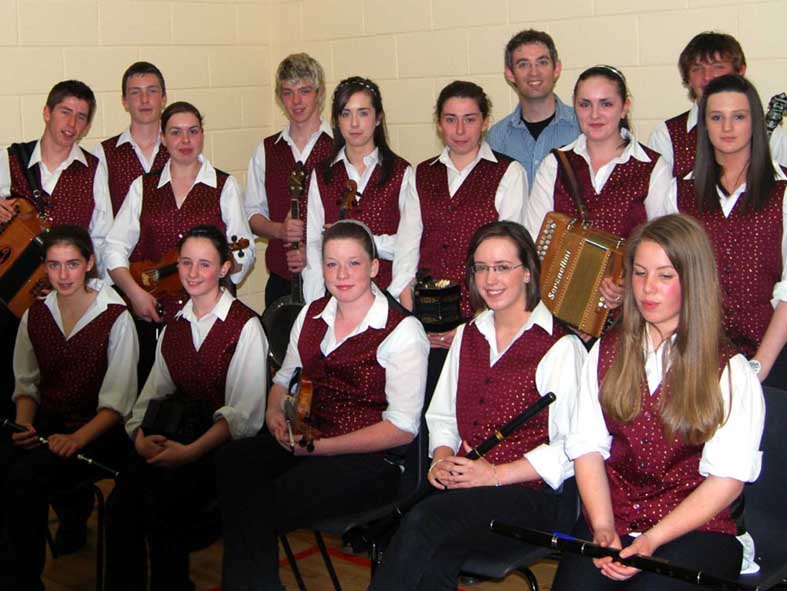 Front from left: Kate Ford, Shauna Coppinger, Sinead Tully, Sheena Whelan, Niamh Regan, Back from left: Gerard Forde, Niall McGinley, Catriona Burke, David Howley, Anna Gardiner, Maeve Forde, Enda Scahill (tutor), Nicola Murphy, Paul Brady, Cliona Hynes.