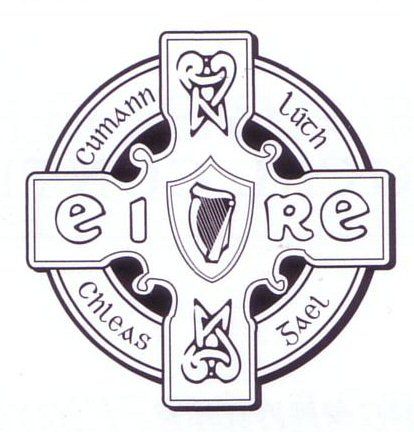 Kinnitty G.A.A. Club.
A Brief History.
Kinnitty G.A.A. club is one of the oldest in the country. It was founded in 1887 and the main pitch was at "Rens Hollows". They wore the green and white then as they do today.
The club had a great relationship with Offaly hurling down through the years and many fine Offaly hurlers took their first puck of the sliotar on Kinnittys green turf.
Hurlers such as Johnny Flaherty, Paudie Delaney, Ger Coughlan, Mark Corrigan and Paddy Corrigan. The Offaly champions of 1923 had seven men from Kinnitty on the team. Some of them include, Jack Holligan, Mick Corrigan, Tom Carroll and Bill Cordial.
Kinnitty contested its first county final in 1899. In these earlier years three teams existed in the parish, Roscomroe, Cadamstown and Kinnitty. Cadamstown won their first county title in 1902 and won further county titles in 1920, 1923 and 1930.
When Kinnitty was strong in the 1920's Offaly also did well. The Cordial brothers played for both Kinnitty and Offaly and were one of the countries most notable hurling families. Their father John was one of the pioneers of hurling in Kinnitty and Offaly. After the success of the 1920's and 1930 Kinnitty hurling went through a phaze that became known as the "Barren Years". It was not until 1966 that a change of fortune began when Kinnitty won their first Junior hurling title in years.
The following year, in 1967 Kinnitty won the Offaly Senior Championship.
Kinnitty Hurling Club Role of Honour
Senior Titles: 1902, 1920,1923,1930,1967,1978,1979,1983,1984,1985.
Junior Titles: 1916,1917,1966,1986.
Under 21 Titles: 1968,1974,1981,1989,1990.
Minor Titles: 1969, 1980.
Juvenile Titles: 1957, 19581968,1969.
Kinnitty Camogie Club Role of Honour
Senior Titles: 2002, 2003.
Under 18 Titles: 1991, 1993, 1994, 1995, 2001, 2003.
Under 16 Titles: 1991, 1993, 2001, 2003.
Under 16B Titles: 1988, 1997.
Under 14 Titles: 1991, 1994, 2000, 2001, 2002.
Under 14B Titles: 1993, 1995, 1996.
Feile na nGael Titles: 1990, 1991, 1997, 1999, 2000, 2001, 2002, 2004.
Under 12 Titles: 2000,
Under 10 Titles: 2002, 2003.

Kinnitty Senior Hurlers 1978
An interview with one of Offaly's great hurlers.
What is your name? Mark Corrigan.
Who first encouraged you to play hurling? My father first of all, he played for Offaly, so hurling was a tradition handed down in our family. Kinnitty is a very old club with a great tradition of hurling. Michael Dooley who was principal of Kinnitty National School also encouraged me and also Cannon Madden who was Parish Priest in the Parish.
Why did you pick hurling as your favourite sport? Because of the skill involved to play the game.
What matches stand out in your memory? The 1980 Leinster Final, we made history that year by winning Offaly's first ever Leinster Title and the following year was the icing on the cake when we won Offaly's first ever All Ireland Final.
What was your highest score in a match? In 1989 I scored 3-7 in the Leinster Final against Kilkenny.
What position did you play on the Offaly team? I played on the half forward line, number 10 and 12.
How long have you been playing hurling? I have played Inter-County hurling from 1979 to 1992, thirteen years altogether.
How many All Ireland medals do you have? Two Senior Hurling medals for 1981 and 1985 and one College All Ireland with Athlone Regional Technical college in 1981.
What age were you when you first played for Offaly? I was 19 when I first played for my county.
Did you ever get man of the match? Yes, twice, in the 1985 and the 1989 Leinster Finals, in 1981 I received the U.S.I. award.
Did any other members of your family play for Offaly? Yes, my brothers Matt, Denis and Paddy all played for Offaly.
Are you still involved with the G.A.A. at the moment? I help out with the training of under age camogie with the local club and at county level and was manager of the Under 21 hurling team for the past two years.