<<Back
County Under-16 'B' Final (Tuesday 27-August-96)
Never-say-die Lahardane rewarded with superb title win
Lahardane............................1-14
Kilmaine...............................1-12
I often wondered if I had to take a penalty, with my team a point adrift, and I had the winning of the match in my hands; what would I do? Such a decision rested on the young shoulders of Lahardane's Brian Rowland in Breaffy on Tuesday night of last week, where Lahardane and Kilmaine served up a sumptuous feast of under 16 football.
Young Rowland took the wise option, declining to go for glory, and instead, pointing the penalty which brought his side on level terms, with five minutes remaining.
But the real drama was actually only starting in this game which was a credit to the under age football of both clubs involved. Lahardane hit three points on the trot from Brian Rowland to secure what seemed certain victory with three minutes remaining.
However, Kilmaine came back with a cracking goal through the immensely talented Andrew Casey to tie the game once again with two minutes remaining.
However, it was in those two minutes that Lahardane summoned up a reserve of stamina and character to land the winning points from Kenneth Burke and Cormac Rowland to end a final that will long remain burned in the memory.
Kilmaine were unlucky to lose and certainly had enough chances to win the game, but Lahardane probably, for sheer heart alone, deserved to snatch it at the death.
The moving of Seamus Coleman to midfield was crucial in swinging the game in the direction as he mopped up in an area which had been dominated by the very impressive Brian Maloney and Declan Kyne. However, it was Andrew Casey on the forty who posed the greatest threat to the Lahardane lads, and it was unfortunate that the Kilmaine man should produce a performance of such quality and score 1-8, but still end up on the losing side.
But such are the vagaries of under age football in a game that enthralled with so many twists and turns right to the very end. Lahardane played the more enterprising football in the first half but it was Kilmaine who were leading 0-5 to 0-3 after twenty minutes.
Cormac Rowland had Lahardane's first score, a free from the hands, but Brian Maloney, a huge influence at midfield knocked over two points and Andrew Casey showed his devastating pace to knock over two points but another Cormac Rowland point and one from Declan Garrett kept Lahardane very much in touch. They stayed in touch, trailing by just two points at the break 0-7 to 0-5.
Kilmaine produced their best football in the opening ten minutes of the second half when they rattled off a string of points to go four points clear 0-10 to 0-6, but just as suddenly as the door appeared to be closing on Lahardane, it was blown off it's hinges when Cormac Rowland's deceptive free came off the post and into the goal. Kenneth Burke followed up immediately with a point and the game was tied at 1-7 to 0-10.
Andrew Casey burst back to life to rattle off two great points but Lahardane refused to die and another point from Cormac Rowland pulled one back before Brian Rowland stepped up to take that vital penalty.
His point tied matters once more and as Lahardane now seemed to have taken the initiative with three points on the trot but Casey brought Kilmaine back once more from the dead with that devastating goal with two minutes remaining.
Those two minutes belonged to Lahardane and in particular to Declan Garrett who caught some great ball while Burke and that wizard, Cormac Rowland, did the business when they caught sight of the posts.
An enthralling end to a game for which the best complement I could pay to both teams is I would like to see it all over again.
The losers can hold their heads with dignity. Alan Burke, in goals, Derek O'Dea, Patrick Kelly, Alan Kyne, Declan Kyne, Brian Maloney, Andrew Casey and John McDonagh never gave up the struggle, but Lahardane had probably a marginal edge in players who performed well on the day, notably Daire Nolan, who made one great stop in goals, Aidan McDonnell, John McAndrew, Mervyn Marley, Kenneth Burke, Brian Rowland, Declan Garrett, Cormac Rowland and Seamus Coleman.
Lahardane: Daire Nolan, Sean Harte, Aidan McDonnell, John McAndrew, Ciaran Coughlan, Mervyn Marley, Raymond McDermott, Kenneth Burke (0-3); Brian Rowland (0-2); Declan Garrett (0-1); Paul Jordan (0-1); Michael Lynn, Cormac Rowland (1-4); Seamus Coleman, Kenneth Syron.
Ref.: J. Rocke (Castlebar).
<<Back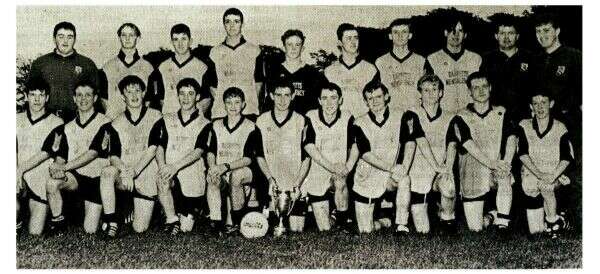 Back:
Patrick Leonard (Selector), Brian Rowland, Damien Leonard, Seamus Coleman, Daire Nolan, Patrick Walsh, Kenny Burke, Paul Walsh, J.P. Leonard (Manager), Frankie Gibbons (Selector).
Front:
Ciaran Coughlan, John McAndrew, Cormac Rowland, Aiden McDonnell, Sean Harte, Mervyn Marley (Capt.), Ray McDermott, Declan Garrett, Michael Lynn, Paul Jordan, Kenneth Syron.