Page revised 17 December 2009
EDWARD LAW
HUDDERSFIELD & DISTRICT HISTORY
CROWNEST, DEWSBURY.
SOME NOTES ON A SMALL ESTATE AND ITS OWNERS.
Edward J Law.
Crownest at the present day is an extensive and attractive park on the outskirts of Dewsbury, graced by a mansion with an attractive Georgian frontage. The most detailed account to date of Crownest and its owners is to be found in a publicity leaflet written by Stuart Davies and published by Kirklees Museum Services in 1985.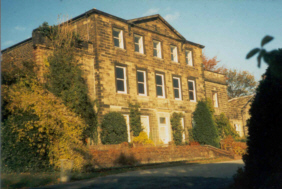 I can throw no documentary light on the claim that the house existed in 1571. The architectural evidence of the stone mullioned windows which are incorporated in the present building are an indication that the assertion may well be correct.
The suggestion that the Bedford family occupied the house in the seventeenth century can be confirmed*. The first of a series of deeds at West Yorkshire Archives, Leeds, dated 1678 is an admittance at the Rectory Court of Dewsbury of John Bedford, son and heir of Robert Bedford, late of Crownest in Dewsbury, gentleman, deceased. By 1687 the estate was in the occupation of Robert Bedford who continued there until the early 1700s. By 1704 he had removed to Leeds where he was in trade as a salter. Although he had previously been described in deeds as a gentleman there is evidence that he was involved in trade indirectly, and possibly directly, prior to his removal from Crownest. Mortgages and leases which he entered into in the 1690s record that a malt kiln stood on part of his estate.
In 1704 John Murgatroyd was living at Crownest, when he was described as a gentleman. He appears to have been well connected: he and Richard Beaumont of Lascelles Hall addressed each other as 'Dear Cousin', indicating a relationship albeit possibly more distant than the present relationship of cousin implies. It is thought that John Murgatroyd was an attorney. He married Martha Batt who was to be one of the three co-heiresses of her brother, John Batt of Oakwell. The latter in his will of 1706 left certain manors and messuages to Martha for life, then to her son, John Murgatroyd junior, subject to the latter making certain provisions for his two aunts, Elizabeth Beevers and Judith Lyndley. A stipulation of the legacy to John Murgatroyd was that he take the name and arms of Batt. He never entered into the inheritance, predeceasing both his parents, and consequently did not adopt the name of Batt. He married but appears to have had no issue. Mary, his wife, was left "my Charriott and furniture and my pair of mares, her gold watch, her dymonds and all such goods as were hers before marriage," the residue of his estate being left to his father.
It is thought that John Murgatroyd senior may have been an attorney from the circumstance of other attorneys living at Crownest at the time of his occupation. This was a practice which was not uncommon; attorneys would practice from their homes and a well-connected legal man might run a substantial practice with the aid of several clerks. An example of a similar establishment occurs at Huddersfield where John Wilkinson, related by marriage to the Lister Kayes, resided at the mansion Greenhead near the town and combined law with the life of a gentleman. The other residents of Crownest who have been encountered are William Bilton from 1718 and Samuel Burroughs from 1712. The latter will be noted in due course as a subsequent owner of the estate.
The impression of John Murgatroyd conveyed to the historian, and probably to his contemporaries, is that of a wealthy gentleman. In reality, however, he appears to have been living on his capital: as most of that was apparently tied up in the Crownest estate he lived on borrowed money.
In his will of 1729 he left Crownest to his wife for life and then to his friend, Thomas Bedford of Crownest, for ever. Such a bequest is a little surprising for, although he had no descendants, there were certainly relatives of his wife, if not of his own, whom one might have expected to be residuary legatees. The actual reason for the bequest to Thomas Bedford, who was brother to Robert Bedford of Leeds, is to be found in a deed of settlement of 1731. This records that Thomas Bedford had advanced £1,600 to John Murgatroyd in February 1707 at 5% interest. At the time of the settlement the whole of the loan remained outstanding as well as 19 year's interest. However, in view of their "long and intimate friendship" Thomas allowed the Murgatroyds to have the capital for life provided that their estates stood charged with the repayment of both capital and interest after the death of the last survivor of the two.
The trustees to the deed of settlement were William Walker of Wakefield, Esq., John Turner of Dewsbury, Esq., and Samuel Burroughs Esq., one of the Masters of the High Court of Chancery. Clearly the latter, one of Murgatroyd's protégés, had prospered.
We need not therefore be surprised to find that when Thomas Bedford sold the estate in 1733 it was to Samuel Burroughs of the Inner Temple, London. It has been suggested, I think in error, that Burroughs did not live at Crownest. In addition to Crownest Burroughs also owned the malt kiln, 25 messuages in Dewsbury, several messuages in Birkenshaw with 100 acres of land, a messuage at Gomersall with 30 acres, Crowtrees, a messuage with land in Rastrick, and also the inheritance of Martha Murgatroyd comprising two third parts of a moiety of the manors of Gomersall and Heckmondwike, Oakwell Hall, and messuages in Gomersall and Birstall. These holdings were enumerated in a settlement of 1741 in anticipation of the marriage of Burroughs to Frances Hurst of London.
It is not known when Burroughs took up residence at Crownest; he was there by 1758 and after his death three years later the advertisement for letting Crownest described it as "the seat of Samuel Burroughs Esq., deceased. An exceeding pleasant and well furnished house with coach houses, stables, granaries, gardens, orchards etc."
The pamphlet issued by Kirklees Museums, already mentioned, states "The house was occupied by Benjamin Walker from 1754 until his death in 1764 and then by a Thomas Walker until his death in 1791". I have found no references to these occupants. I had thought there might be some confusion with another local Crownest, at Lightcliffe which was owned by Walkers through the eighteenth century. However, neither the names nor the dates of death tie in with that family.
Samuel Burroughs devised Crownest to his only child, Sarah, and as we have seen the property was then advertised to let. The first tenant to have been identified is a Captain William Tucker. He is known to have been at Crownest in August 1770 but must have died soon after, for his widow, Sarah, remarried at Ecclesfield in March 1772. I have not found details of any other tenants until 1781 in which year the estate was occupied by a Mrs. Beaumont, a widow, who continued there to 1785. In May of that year the property was sold by Dame Sarah Salusbury (nee Burroughs) of Offley Place, Herefordshire, the widow of Sir Thomas Salusbury, knight and judge of His Majesties High Court of Admiralty, the only daughter and heiress of Samuel Burroughs. The property was purchased by Richard Milnes of Overton, gentleman: included in the recital of the land and buildings then transferred was "the fish pond upon the common."
Richard Milnes was the son of Richard Milnes of Flockton who died between 1775 and 1779, leaving estate at Flockton, Shelley, Cumberworth and Skelmanthorpe. Milnes continued to live at Crownest with his wife, Elizabeth, until 1797, in September of which year he was declared bankrupt. He was described at that time as a carrier by land and sea. The following year his assignees sold the property to John Hague of Crownest, merchant and Thomas Hague of Sandal Magna, gentleman. In the list of property transferred on that occasion is the bowling green. It is interesting to note that one of Milnes' assignees was a Harry Bedford of Kingston upon Hull, a banker: it seems likely that he was descended from the family who held the house in the previous century.
With the purchase of the estate by the Hagues Crownest entered a more settled period, descending in the family for almost a century until it was sold in 1893 to Dewsbury Corporation.
* I am grateful to Michael Canning for information that in a will of 1637 John Bedforthe (believed to be the great-grandfather of John Bedford of the 1678 admittance) styled himself 'John Bedforth the elder of the Crownest in the psh of Dewsbury, yoman'.
Return to HOME.