The Plantation of Ulster
Hugh O'Neill was made Earl of Tyrone in 1568, and returned to lead his people in the ways of English Protestantism. Irish chieftains did not use the term 'Earl', and any such titles, and indeed all heraldic symbols, were foreign to Irish culture.
The government was outraged when he adopted the illegal - under English law - Gaelic title of 'The O'Neill' in 1593, which he had assumed to earn the respect of his own people, and he was proclaimed a traitor. In 1594 there began the Nine Years War, in which he defeated Bagenal in 1598, but was himself defeated by Mountjoy at the Battle of Kinsale, when he went to meet up with Spanish reinforcements in 1601.
The war ended in the Treaty of Mellifont a few days after the death of Elizabeth, in 1603.
O'Neill travelled to England to make his peace with James I, and had to be protected from the mobs of people in Wales and Cheshire, who pelted him with rocks and mud, because of the loss of so many menfolk from those regions as a result of his war.
This indicates a source of many of the soldiers who served in Ireland.
O'Neill was dissatisfied with the constant encroachments on his ancient kingdom, with the erection of forts, and the imposition of sheriffs, and when he complained to the king, he was invited to present his case at court.
He was secretly warned that he would never see Ireland again, and so, with the O'Donnells and others, he went to Spain to seek help in 1607, in the famous Flight of the Earls. Unfortunately, Spain now wished to make peace with England, and he was unable to raise an army to resume the war. On his travels across Europe, he met with his nephew, Owen Roe O'Neill, who would become a prominent leader in the rebellion of 1641.
Hugh O'Neill died in 1616, in Rome.
His lands were declared forfeit, and disposed of by the crown to planters and servitors, in 1609.
County Derry
Contae Dhoire; Doire - an oak grove, or wood
In the plantation of Ulster, in 1609, Sir Ralph Bingley sold land along the River Foyle to Edmund Leigh, a servitor. He may possibly be the Ed. Leigh mentioned as a brother of Thomas, who had been killed with Bagenal in 1598, or he may be the Edmond Leighe (died 1608/9) mentioned in connection with Tyrone - assuming the two, Edmond/Edmund are different, which they seem to be.
Servitors were English, or sometimes Irish-born English, who had been in the service of the crown, typically in the military during the war against Hugh O'Neill.
The river Foyle runs through co Derry and co Tyrone.
In the Rental of the See of Derry, published in The Bishopric of Derry and the Irish Society of London 1602 - 1705, the following two entries are recorded for May 1617; Leigh £52 rent; and Packer and Lee £42 rent.
The entry for Leigh may refer to Captain John Leigh, (who is described later, under Tyrone) who had the Drapers portion made over to him, Sir Francis Cooke, and John Rowley. Rowley almost became mayor of Londonderry, but was removed from office at the last moment.
There is a record of a deed in which Humphry Lea, haberdasher, of the city of London, leased land at Faughenvale, Derry, in 24 July, 1620, and who may be the one with land in co Tyrone.
Humphrey Lea is possibly the father of Rev Humphrey Leigh, and Rev Robert Leigh, both of whom served at Ballykelly.
The river Faughan, which flows into the Foyle, is the southern boundary of the Haberdashers' portion, and to the west it is bounded by the Drapers', where John Leigh had a holding.
There is also a Thoephilus Lea, who was involved in a dispute on 24 June 1662.
One Rev Alfred Theophilus Lee of Torquay, served in the Inisowen peninsula, the parish of Culdaff, in the diocese of Derry, as a rector from 24 July 1857 to 14 July 1858. He was a prolific writer, and died in London in 1883. His only son died at age 10 years.
Rev Fergus Lawrence Lea was appointed to Derry by order of James II, in 1694, while he was still recognised as king of the Catholic people.
A will in the Registry of Deeds, ref. 149/5/98640, dated 17 April 1750, was witnessed by a notary public, Robert Lee, Londonderry.
GO Ms 262 records a grant of arms in 1814 to Richard Lee, only son of John Lee, of Londonderry, but late of Patna in the East Indies, a merchant, deceased. Richard Lee was Rear Admiral of the White Squadron of His Majesties Fleet. The crest which has the motto 'Courageux', represents the Golden Medal presented to Richard by his Majesty in testimony of his Gallantry when captain of HMS Courageux in the battle of Cape Ortegal. The Battle of Cape Ortegal took place on November the 4th 1805 between an English fleet and a small French fleet. The battle resulted in the capture of all the French ships. Cape Ortegal is a headland in the north-west of Spain, and the battle would have been part of the campaign following the Battle of Trafalgar, near Gibraltar.
In 1886, when the Home Rule issue was being debated, the Irish Tory leader, Colonel Edward Saunderson, MP, spoke strongly against the notion of excluding Ulster; the idea of partition had arisen.
Home Rule was defeated, and the Liberal party leader, Gladstone, resigned. The Orange leader, Dr Kane, objected to the prominence given to the word 'Ulster' by Chamberlain in speeches during an election campaign visit in 1887. The loyalists of Ulster had no wish to be cut off from loyalists in the rest of Ireland.
He was strongly supported by the MP for South Derry, Sir Thomas Lee, or Lea. This Thomas Lea came to Ireland from Kidderminster, in the UK, and he was made a baronet in 1892. His father had assumed the surname Lea by Royal Licence in 1834, because of an inheritance from an uncle. Thomas Lea was MP for Donegal from 1879-85 and for South Londonderry from 1886-1900. The arms for the family were; Or, a fess indented gules, between in chief two lions passant of the second, in base a rock, thereon a beaver proper, spotted ermine, holding in the mouth a sprig of willow slipped vert.
County Tyrone
Contae Thír Eoghain; Thír Eoghan - territory of Owen (son of Niall of the Nine Hostages)
<![if !vml]>
<![endif]>
County Tyrone was planted by nine English and seventeen Scottish undertakers, and five servitors.
The servitors were;
the Lord Deputy Arthur Chichester;
the Vice-Treasurer and Treasurer of War, Sir Thomas Ridgeway;
Sir Richard Wingfield, ancestor of the Earls of Powerscourt;
Sir Toby Caulfield, later to become Lord Charlemont; and
Sir Francis Roe.
The undertakers for the Barony of Clogher were;
Sir Thomas Ridgeway, 2000 acres at Portclare and Ballykerigire (Ballykirgir), (this was in addition to his allocation as a servitor); Francis Willoughby, son of Sir Perceval Willoughby, 2000 acres at Fentonagh; and George Ridgeway, a brother of Sir Thomas, 1000 acres (this can be identified in modern times, as 3401 acres) at Ballymackell.
Another brother, Captain John Ridgeway, had 1,000 acres near Lough Ramor, in Cavan.
John Leighe, Captain Edmond Leighe and Daniel Leighe
Captain Edmond Leighe was made sheriff in 1607. He was hated by the Earl of Tyrone, who called him 'that whispering companion', sent to spy on him.
A document drawn up by Sir Arthur Chichester on 25 January 1608 indicates that Lower Tyrone (an area which surrounded the town of Omagh, or Omey), was governed by Captain John Leigh. John Leighe and his brothers were so-called 'adventurers' who funded the war effort and were entitled to lands in return.
The portion allocated to Francis Willoughby was either sold by him, or confiscated, when he failed to comply with his undertakings, and was taken over by John Leighe, who with his two brothers, Daniel and Captain Edmond, (Edmond's death was reported on 20 March 1608, Old Style, or 1609, according to the Gregorian calendar, used by the Catholic Irish), had built the English fort on the Strule at Omagh, where Edmond had been granted 330 acres, as warden of the fort. John and Daniel were made wardens when he died.
The brothers had come to Ireland under the auspices of Henry Bagenal.
In August 1611, disputes arose between Mr Clapham, Sir Thomas Boyde, Sir John Davyes, and Captain and John Leigh, regarding land in co Tyrone. The friary lands of Omey which were owned by the Leigh brothers, had been unwittingly allocated to undertakers. The dispute was settled when John Leighe surrendered his church lands, and this so impressed the King, that he allowed Leigh to take his lands on his own terms.
In 1612-13, a survey of undertakers planted in co Tyrone in 1609, reports as follows under the headings;
2,000 acres, Clogher, Undertakers.

John Leigh of the Omey hath undertaken the planting and building whereto Sir Francis Willoughby is bound, but hitherto hath but slenderly and slowly proceeded therein, having only made part of a wall for a house of clay and stone, of small strength, and set up some few couples for the roof, other timber being there in place for the finishing thereof.
The Irish are still remaining on that whole proportion.

An undertaker was so named because he had given various undertakings regarding the building of a fortified house and a paddock for livestock, called a bawn (from bó dún; cattle enclosure), and he was allowed to let to English tenants only. Failure to build to the required standards of protection and within the required time, three years, could result in the loss of the holding. In due course, the requirements regarding tenants were eased, as English tenantry did not arrive in sufficient numbers to farm the land, and the Irish, who lived there already, were allowed to remain.
John Leigh went on to build to the required standard, and it was recorded that he had built a
bawn of lyme and stone, with two flankers; and a good, large stone house within it, in which he dwelleth,
and had commenced building the town of Fintona, in 1619. Fintona is Fionntamhnach - fair field.
Clogher, in this instance, is the name of a barony in the south-east of co Tyrone, which was settled with English undertakers.
Clogher is also the name of a parish; and the name of the diocese for part of south Tyrone; and there is also a town called Clogher in south Tyrone, some miles east of the town of Fintona. Clogher is Clochar, which is 'stony place', or possibly Cloch ór, gold stone.
Daniel Leigh, Knight and Baronet is mentioned in a Chancery Inquisition Juries Summonister's Roll, for Tyrone quarter Sessions on 18 January, 22(nd year of the reign of) James I, 1624/5.
In 1629 or 1630, a listing of able-bodied men, able to fight, which was called the Muster Roll, was compiled, and John Leigh gave 17 names, less than most of the other undertakers. Many of the names on this list are Irish, and he was not in favour in London, for his tolerance of so many of the 'meere Irish' on his land.
GO Ms 181 records that Sir Daniel Leigh died in 1630, and that John Leigh, Lord of the Manor of Fintonagh died on 10 December 1631, and his nephew, Sir Arthur Leigh, Knight, son of Daniel, succeeded to the manor at Fentonagh/Fintona, which was called 'Castleleigh'.
The Summonister's Roll for Tyrone Assizes for 2 April, 12 Charles I, 1636, records that Arthur Leigh, Baronet, was fined £15 because at Assizes of 20 August, 11 Charles I, 1635, he was paid for building a bridge across the river at Omagh which he has not done.
In the Civil Survey of 1654 and 1656, in the Barony of Clogher, and parish of Doncavie (which includes Fintonagh), lands amounting to 1682 acres, (960 profitable, and 722 'barren, bogg and mountaine'), and 200 acres in the same parish, of church lands, are now in possession of the widow of Sir Daniell Leigh, an English Protestant, and her new husband, Alderman William Smith of Dublin. She is named as 'ye Lady Leigh' and 'Lady Ley', in the same document.
The heirs of Sir Daniell Leigh, English Protestant, have 66 acres of land in the parish of Cappy, Barony of Strabane.
Arthur Leigh Birthplace Omagh,Tyrone, Father: Daniel Leigh Mother: Mary Cheswick Stanton
Death: 30 Jul 1638 Place, Londonderry, Ireland, spouse: Elizabeth Ryvers
They served as Sheriffs of Tyrone as follows; Edmond in 1607; John, 1610 and 1614; and Sir Daniel Leigh 1624.
Some members of my family have been told that we owe our origins to these Leighe brothers. I believe this to be incorrect, although some connection is possible, as the land leased by Humphry Lea in 1620, in Derry, would have been near to the land sold by Bingley to Edmond Leigh in 1609 - assuming he is one and the same; and close to the Draper's holding leased by John Leighe; and my family's ancestor, a relative of Humphry Lea, was an agent on the estate which was later controlled by the Leighes.
Humfry Lea, will 1629, and 1664
Humfry Lea, whose prerogative will is dated 1629, (the nature of the will means that he had property in another diocese) had lived in the parish of Errigle, close to the towns of Clogher and Augher (which is Eochair, or 'border').
He seems to be the man mentioned in The Bishopric of Derry and the Irish Society of London 1602 - 1705, where a deed names a Humphry Lea, haberdasher, of the city of London, who leased land at Faughenvale, Derry, in 24 July, 1620.
Humphry's sons were Rev Humphry Leigh, a controversial puritan minister, whose will is dated 1696, and Rev Robert Leigh, both of whom served at Ballykelly.
A record in the index, of Humfry Lea, of Errigill, co Tyrone dated 1664, and 1667, may be a re-entry of the first will, and there are records for a Rev Humphrey Leigh, a Puritan minister, in the Civil List for 1654, (in Ballymackelly, Donegal); in Ballykelly, Derry in 1654 (Commonwealth Papers A/5, f 317; A/9, f 70) when he was 'affronted and discouraged' by a Presbyterian minister, William Semple, who said that the congregation of Leigh had gone astray like lost sheep since the departure of the previous minister, (Semple was taken to task, but was later reimbursed the cost of attending a council hearing, and a threat to his salary was removed, which implies some justification for his remarks); in 1655, when he petitioned the Lord Deputy in July, that there was 'undue carriage and resort of Scotch ministers, (ie Presbyterians) repairing without licence out of Scotland into those parts, and endeavouring to withdraw the affection of the people from the ministry'; in 1656, when he obtained permission to fell and carry away twenty tons of timber from nearby woods, to build a house (Commonwealth Books PRO A/12, f 180); later, in 1656, he was in Donaghenry, Tyrone (A/22 f 14; A/33, f 38), and he was awarded an increase in salary from £100 to £120 per annum. His prerogative will of 1696, gives his address as Killarney (probably Killare, near Mullingar, Westmeath) in co Meath.
Errigal is Aireagal - a habitation, or a small church.

Emanuell Ley, and the Ley or Lee family of Tyrone, Monaghan, and Cavan
In the plantation of Ulster, county Tyrone was planted by nine English and seventeen Scottish undertakers, and five servitors, or soldiers of the Crown.
The Vice-Treasurer and Treasurer of War, Sir Thomas Ridgeway, was granted 2000 acres at Portclare and Ballykirgir, in Clogher, as an undertaker, and an adjoining allocation of 2000 acres at Largie, Dungannon, as a servitor.
Ridgeway was born in 1565, in Torquay, Devon, in England, where he had served as MP, and was Sheriff of Devonshire in 1600. His family had extensive holdings of land in Devon, where he might easily obtain staff and tenants, and he brought over craftsmen and carpenters from London and Devon, who arrived on 4 May 1610. He formally took possession of his estate on 5 September 1610.
To emphasise his status, and the new order which had been imposed, he held the castle of the Irish vice-chieftain or uirrí Sir Cormac McBaron O'Neill (brother of Hugh) at Augher. This was modified and named Spur Royal Castle, (as its shape was of a spur, with eight points, being the four corners, and a triangular tower in the centre of each side), which was destroyed by the government in 1689, but later renovated in 1832, and this replacement still stands, and is on the outskirts of the town.
He was required to reside on his estate, or to have a resident agent, and his agent was Emanuell Ley, who was described in August 1611, as being 'resident this twelvemonth', (ie since September 1610) and about to be made a freeholder, that is, entitled to ownership of land.
While a leaseholder to Lord Ridgeway, Emanuell was in the unusual position of serving also as agent to Sir Francis Willoughby, Ridgeway's son-in-law, whose portion was taken over by the Leighe brothers;
William Roules and Emanuell Ley in his absence are employed in providing materials for buildings.
A document dated April 6th 1613, from the Lord Deputy to Sir John Davys reads as follows:
Warrant to draw forth a fiant of incorporation unto the persons underwritten, by the name of Boroughmaster and Burgesses of Ager co Tyrone. Emanuel Lea, Boroughmaster, Fenton Parsons,... etc
Unfortunately, the writs for election of a parliament had been issued in the previous month, March, and Augher was therefore ineligible for representation in the infamous loaded parliament, which, by the creation of eighty four new boroughs, gave the government an overall Protestant majority of thirty two, to the anger of the Catholic Old English members, who represented the largest number of people in the country.
Thus, the family were denied the honour of having a representative at that parliament when it met on 18 May 1613, although due to the unseemly rows which broke out, it was unable to command much respect, and was postponed several times.
Emanuell never qualified again. We know nothing of his human side, other than what the records tell us, but his feelings in this regard can be imagined.
Court proceedings reported in Historical Notices of Old Belfast and its Vicinity mention that Owin mcFardonogh boy Magwyre, of Agher, yoeman, on the 3rd March 1614, published and declared the following seditious words, viz. ; - "That he would kill Emanuell Ley, and throw his head out of the window of his own castle, for that the Earle of Tyrone should come with the King of Spaine his forces, and come to Monaghan, Dundalk, Drogheda, and Dublin, and that the Earle of Tyrone sholde be King in Ireland, and would kill all the Scotts and Englishmen in the Kingdome." No verdict.
A document on vellum, (National Archives of Ireland D4860) for the lease of the bawne and lands at Agher [Augher] dated 10 June 1616, in tedious Elizabethan script, records a transaction between Sir Thomas Ridgeway and Emanuell Ley;

An indenture made the tenth day of June in the fourteenth year of the reigne of the Sovereign Lord James by the grace of God King of England France Ireland and Scotland and Defender of the Faith... Between the Lord Sir Thomas Ridgeway knight and Baronet and one of his Maj(esties) public Com(issioners?) of the realm of Ireland and on the one side and Emanuell Ley of Augher in the county of Tyrone Esq on the other side.
Witnesseth that the said Sir Thomas Ridgeway knight for due good cause and consideration... hath devised gratuities and to ... and to lett unto the said Emanuell Ley and his assigns All that? his Bawne and buildings within it and the said Bawn (except the Castle at Augher called Spurriall Castle). And also all those two balliboes and one sessiough of land called Carrgagh Loughe and Tullagoe of the manse of Portclare and Ballikirgire in the Barony of Clogher in the said county of Tyrone.
Yealdinge and paieinge therfore yearly during the said ... onto the said Sir Thomas Ridgeway knight and his heires the some of thirtene pounds five shillings and eight pence lawfull money of the realm of England att the date or season of the year called the the feast of All Saints commonly called All Hallowes and two fat capons at Christmas and one eight of best beast as heriot on death of lesee, lessee to do suit and service to manor court and grind at manor mill during the said period of eleven years.
In consideration whereof it shall and wil be lawfull so for the said Emanuell Ley and his assigns ... at all times during the said period of eleven years ... and also timber for buildings in and uppon the woods belonging to the said manse.
Provided always that the said EmmanuellLey and his assigns shall permit and suffer the inhabitants of the town of Augher to feed and graze their cattle at a reasonable price upon the said sessiough of land
Provided that the said Sir Thomas Ridgeway or any of his… shall at any time during the said period be minded …
Provided lastly that the said Emmanuell Ley and his assigns shall make …
In witness thereof the above named have put their hand and seals …

This deed contains the signature of Emanuell Ley, written in a stylish and bold hand, the work of a literate man, although not the person who wrote out the deed itself, who must have an attorney. Another signature, on a list of tenants and their leases, in the Rich Papers NLI MS 8014 VIII, from 1622, is consistent with this.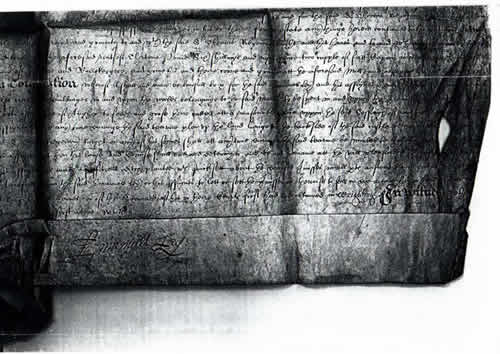 Almost all other records of his name, where it has been written by someone else, use the spelling 'Emmanuel' for his first name, and 'Lea' for his surname. As this spelling was probably phonetic, we can assume that the surname must have been pronounced 'Lee'. A spelling with an alternative pronunciation, Lye, is sometimes recorded for the grandson, Ensign William Ley.
Immanuel or Emmanuel is Hebrew, God with us. In the Bible, Christ is called Immanuel in Matthew 1:23. This name does not recur in the family.
However, in 1656, on 6 April, an Anne Chadburne married an Emanuell Lee in St Michan's Church, in Dublin. IGI index; no other details.
In Pynnar's survey of the estate in 1618, he found that Augher had a number of houses, including two of mortar and stone, and these stone houses were probably inhabited by Emanuell Ley and Richard Waltham, as on 20 November, 1617, 'Emmanuel (sic) Ley and Richard Waltham were granted a license for the retailing of wine and making and selling aqua vitae or usquebaugh, in Augher, in the barony of Clogher, county Tyrone, and the manor of Largy (Aughnacloy) commonly called the three ballybetaghs etc'.
A notice of agreement regarding musters of able-bodied men, to be paraded at Easter, Midsummer and Michelmas, at the rate of 24 men per 1000 acres, under Captain George Alleine, muster master, and with Fenton Parsons as captain for Clogher, was agreed and signed inter alia by Emanuell Ley in 1618, and the spelling of Emanuell is clearly taken from his signature.
Update:
Emanuell Ley was christened on  11 Nov 1584, at  Kenn, Devon, England. His father was William Ley, steward to George Ridgeway, at Torquay.
William was a man of significance in the locality, as the church at Tor Abbey had this inscription:
"Near the vestry door is a slab to the memory of William Ley, of Kenn, who died at Tor Abbey, May 8, 1634 and it has the following quaint lines :—
A carcas heare In tombe doth lye
Which once a Soule did butyfye,
Fild with divine Rayes from above,
Made happy with ya Great God's love,
Peace did attend in life and death
Soe lived and soe resygne his breath
If blesed bee peace mackers Blest is hee
Who with ye blessed Blest for aye shall bee."
The Panorama of Torquay, Octavian Blewitt, 1828.
William had a second son, Thomas, born 14 years later. William and later Thomas, and Thomas's brother-in-law Nicholas Bell, leased the land for an orchard, and operated an apple press for the manufacture of cider. The cider was supplied to ships calling at the harbour at Torquay at the commencement of their voyages into the Atlantic.
When he was awarded land in Tyrone under the plantation scheme of king James, the now Sir George Ridgeway brought with him a number of staff from his estate in Devon, including Emanuell Ley, the 25 year-old son of his steward.
Devon's Torre Abbey, Michael Rhodes, 2015.
The coat of arms for Ley is:
Ley or Lea: Ar: cheveron betwene 3 beares' heds cooped sa:
Armory of the Western Counties 1898, by the Rev, Sabine Baring-Gould, M.A., and Robert Twigge, F.S.A. (British Museum; Harleian MS. 891; An Alphabet of Arms of Cornish Families)
It is also given as:
Ley (co. Wilts, and Kenn, co. Devon). Ar. a chev. betw. three seals' heads (sometimes bears' heads) couped sa. Crest - a lion sejant or, the dexter forepaw raised. Motto - Vincendo victus (Conquered in conquering)
Ley (Ley, co. Devon; Henry Ley, of Ley, captain of a company of foot, served against the Western rebels, temp. Edward VI., and against Sir Thomas Wyatt, temp. Mary I., sold all his ancient lands in cos. Devon and Cornwall, and purchased the Manor of Teffont-evias, Wilts, d. 7 June, 1574, leaving three sons surviving; he was descended from Henry de Ley, living 20 Richard 11., 1396, who was the descendant of William de Leigh, living 24 Edward I., 1295, the sixth known possessor of a house and land called Leigh or Ley, in the hundred of Rowburgh, co. Devon).
Ar. a chev. betw. three bears' heads couped bendways sa. langued gu.
Crest - A lion sejant or.
Ley (Earl of Marlborough, extinct 1679 ; Sir James Ley (third son of the above Henry Ley, Esq.), Chief Justice of the King's Bench in Ireland, and Lord President of the Council, was created a bart. 1619, a baron 1622, and raised to the earldom 1626).
Same Arms, Crest, and Motto. Supporters - Dexter, a lion ar. Semée of trefoils slipped vert ; sinister, a lion gu. bezantée.
Ley (Kempthorne and Tonacombe, co. Cornwall ; John Ley of the latter. Visit. Cornwall, 1620, descended from Ley, of Ley, Co. Devon). Same Arms and Crest.
Burke, The General Armory 1884
This coat of arms is described with a few minor variances, for various branches of the Ley family in Devon and Cornwall. It is entirely different from the engraving in Drumswords church, in Monaghan, and it is not possible to reconcile these two coats of arms, even making allowances for the use of the crest in place of the armorial bearings. It may have become confused with this:
Ley of Ley, Devonsh., a lion sejant or. Vincendo victus.
Fairbairn's Book of Crests of the Families of Great Britain and ..., Volumes 1-2 1905.
In An Historical Survey of Torquay (1930), AC Ellis tentatively associates the family of William Ley with the coat of arms inscribed on a gravestone for a Lee family in the locality. This gravestone is from a much later date, and is more than likely from a family with origins in Cheshire, as described by Melville Lee, in his second book on the history of his family,  Related to Lee Book 2.
William Ley of Kenn, the father of Emanuell, died in 1634, and there is a record that Administration was taken out on his property, which means there was no will. The repository of the grant of administration was bombed in 1942, so nothing of it remains, apparently.

In his will, Humphry Lea named a brother, Richard, and Emanuell Ley. The connection is not specified, but he is clearly related. Emanuell named one of his own sons Richard, which may mean that the Richard named in the will was Emanuell's uncle or other relative.
According to his will, Humphry's address was in the parish of Errigle, close to the towns of Clogher and Augher, and it is tempting to think that he had retired to live at Emanuell's home.
In 1622, a survey of the progress of the plantation found as follows:
The L Ridgeway hath 2000 acres, called Portclare and Ballikilgire* near unto the Towne of Agher, upon which he hath built a fair Castle of stone and lyme (about 23 foot square and 3 stories high) and a house standing within a Bawne of lyme and stone, 140 foot square and 14 foot high, with 4 flankers.
Upon that proporcon there is planted of British Families;
Freeholders 2 vizt. 1 haveing 120 acres
1 haveing 60 acres
Leaseholders for 7 lives vizt. 3 haveing 120 acres apeece
3 haveing 60 acres apeece
1 haaveing 40 acres
Leaseholders for yeares 3 vizt. 1 haveing 180 acres
1 haveing 120 acres
1 haveing 60 acres
And cottagers to the number of 30 [31] there are upon this proporcon of Irish (as we are informed) 41 families.
The said L Ridgeway hath more 315 acres, called Agher, upon which by agreement he was to build a towne, which accordingly he hath performed, which is made a corporacon, and hath in it Superior Burgesses 10, inferior Burgesses 11, Leaseholders 10 and cottagers 8; But some of them have not built according to their Bonds remaineing in the hands of Mr Emanuell Lea, Agent for the said L Ridgeway.
Mr George Ridgeway hath 1000 acres, called Thomas Court**, upon which is Built a good bawn of Stone and lyme, 76 foot square with 4 Flankers and a good gate but no house (only a small foundation) therein. The said Mr Emanuell Lea hath now taken it of Mr Ridgeway and is now bound as he saith to build a good stone house there and himself to inhabite upon it.

*(Ballikirgir according to Rev G Hill; undertaker's certificate signed by Ridgeway's agent Emanuel Ley, 13 Aug 1622, NLI 8014 (viii))
**(Ballymackell in 'Hill'; undertaker's certificate signed by Ridgeway's agent Emanuel Ley, 13 Aug 1622, NLI 8014 (viii). The name given to the property, Thomas Court, was to honour his brother. The bawn, now known as Lismore Bawn, is to be seen 3 miles west-north-west of Aughnacloy.)
By now, Emanuell was a leaseholder to George Ridgeway, who seems to have had an additional holding in Clankelly, Fermanagh, called Gortgoonan, for a few years.
On 19th August 1622, George and Thomas Ridgeway sold their Tyrone lands to Sir James Erskine, Thomas's payment being the title of Earl of Londonderry. Erskine had a daughter, Mary, and her husband, William Richardson, became owner of the holding. One of his descendants rebuilt Spur Royal Castle in 1832.
Of Ridgeway's bawn, a circular tower from the south-west corner survives to modern times. George died on 15th March 1623, and Thomas, who was forty years old, was his heir.
We do not know what became of Emanuell after the departure of the Ridgeways, but he had two sons that we know of; William, whose branch of the family remained in the area of Clogher and Augher; and Richard, whose descendants settled in Monaghan.
These records probably list most of those who lived in Tyrone:
William Ley, of Kilclay, near Augher, was Clogher parish churchwarden in 1664 and 1666. A churchwarden, who could also be either a Catholic or Presbyterian, at least until 1840, imposed fines on non-attendances at church.
Under the Subsidy Act of 1662, subsidies were levied on property holders as a form of tax, and William Ley was wealthy enough to be liable for this tax in Clogher parish in 1665, and again in 1668, and his taxable property was farm stock. His name is recorded as Leigh, and Lee.
There is no Pender's 'census' extant for Tyrone.
William's son [or grandson] was Richard Ley, who was Clogher parish churchwarden in 1708. He is the one whose descendants moved firstly to Monaghan, (near to the descendants of William's brother Richard) and in the next generation, to Cootehill, in Cavan.
Michael Ley, of the Mullens and Augher, probably a brother to Richard, was Clogher parish churchwarden in 1717, 1733 and 1746.
He is recorded as leasing a portion of 'bogg' in Mullens co Tyrone to a man from Augher in 1720, [35/508/23505 24.10.1720 Michael Lee of Mullan and George Brattan of Augher, Tyrone] and in 1749 there is an administration bond for Michael Lee, The Mullens. A court plea from 1760, recorded in the Public Records Office refers to the property of Michael Ley, of Mullens.
The next generation is represented by George Ley, of Clogher, who was Clogher parish churchwarden in 1778.
A deed records a transaction as follows: 329/12/217620 11.4.1777 George Lee of Augher, and Mary.
There is a record of a marriage of George Leigh Esq at Augher, to Miss Mary Wilson, a few days before 30 Jan 1772. The graveyard at Clogher Cathedral contains the remains of George Ley, of Clogher, died 1 January, 1812, aged 28, and Mrs Ley, died 27 September, 1827, aged 75 years.
Presumably they were the son and wife of the George mentioned, which means that George's other son was Robert Ley, Clogher, who was Clogher parish churchwarden in 1812, 1813, 1814 and 1815. Robert Ley lived at Grange, an area later known as Ashfield.
The Diocese of Clogher records a marriage between Anne Elliott and George Lee in 1808.

The last surviving member of the family was Maria Ley, who was either a daughter to Robert, or a young sister, and four houses owned by the family at the Commons, together with the property at Ashfield, passed to the ownership of Rev Andrew Staples Clarke, Rector of Cleenish, when he married Maria in 1817.
David Lee, of Dunbiggin (note spelling: 'Lee') was Clogher parish churchwarden 1855.
He may be the one named in the diocesan marriage records as follows: Mary Hagan and David Lee 1834
Another marriage was Margaret O'Brien and James Ley 1829
A Householder's index, which records householders only, by surname, compiled from the Tithe Applotment Books from the 1820s and Griffith's Valuation from the 1850s, is as follows:
(T for Tithe Applotment indicates occurrences [marked X] only, with no number given; G is for Griffiths Valuation, and the number of households is recorded):
| | | | |
| --- | --- | --- | --- |
| Lay | Barony of Dungannon Mid | T | |
| Leas | Barony of Dungannon Upr | | G 1 |
| Lease | Barony of Dungannon Upr | T | |
| Lee | Barony of Omagh | T | G 1 |
| Lee | Barony of Dungannon Upr | T | G 1 |
| Lee | Barony of Dungannon Upr | T | G 1 |
| Lee | Barony of Dungannon Mid | T | G 16 |
| Lee | Barony of Dungannon Lr | T | G 3 |
| Lee | Barony of Clogher | | G 2 |
| Lees | Barony of Dungannon Upr | T | G 2 |
| Lees | Barony of Dungannon Mid | T | G 1 |
| Ley | Barony of Clogher | T | |

It is interesting to compare the two records for Clogher Barony; in the 1820s the name Ley is recorded, and in the 1850s the records are for the name Lee.
There were 28 Lee properties in 1856.