| | |
| --- | --- |
| NEWPORT TOWN AFC | |
---

Newport town was founded in 1970 after Some locals decided that soccer was needed to be played on an organised basis After many years of playing other local teams around. Some of these matches were played in Mahony's field where the housing estate Stonehall is being built at Present. A permanent pitch was the first requirment. That was generously provided by Martin O Sullivan at Freigh where Newport Town still play today. They entered a team in the Clare League where they played successfully for 3 years winning their division in the second year. They then decided to move and play in the Limerick League where they have played ever since. Over the years they have played between Div 2A up to 1A.On some occasions they have entered a B team which has played down in division 4.They have only one menís senior team at the moment.

Honours won since club was founded.
Clare League Divison 2 1971.
Limerick League Divison 3A 1978.
Limerick League Divison 2B 1982.
Limerick League Divison 2A 1987.
Limerick League Divison 1B 1993.
Limerick League Divison 2A 1999

Over the years Newport has won many tournments that local clubs have organised including the Birdhill and Rearcross tournments 3 times each.


---
TOP OF PAGE
Team that won Micro cup and Birdhill tournment in 1988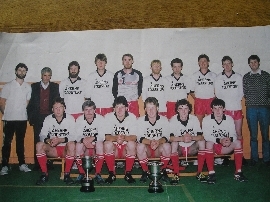 Front L/R N English,P Aherne,DJ O'Brien, D Lenihan,J O'Brien & D Kennedy.
Back L/R J Lees,M O'Sullivan(RIP),G Lees,L Shinners,T Murphy,J Buckley,S McCormack, G O'Sullivan,B O'Brien & J Lenihan.
---
School Boy Soccer

The club entered teams in the schoolboys league in 1994 and had plenty of success since with some of their teams winning their leagues over the years. In the season 2004/05 Newport has under 9/10/12/14/16 teams entered in the Limerick Schoolboy League and under 7/8 entered in mini blitzs which start in March 2005.
With such a good underage structure put in place the future looks very promising for the club.All the underage teams train in the convent school gym over the winter playing their matches on Saturdays.
The new pitches that are going to be developed in Derryleigh will be a great addition to the club as one pitch is not enough for all the teams the club field.Newport population is increasing all the time and Newport town AFC is and will provide a great amenity to the area.


---
TOP OF PAGE
Web site created and updated by Jody Lenihan