Donegal Democrat: circa 1990
Disco music not doing bands any favours
Hip hop squelsh, bonk, ting and ping... are probably the 'in sounds' at your local disco these days but this mind numbing rap house acid megamix whatever is destroying the art of live music according to one up and coming Donegal band. "The Limits" find themselves in an ever increasing battle with disco machines to secure gigs. The advance of these technotronic terrors is making life on the road, particularly in this county, not quite the fun and games it used to be.
The Limits: Leslie Long (keyboard), Tony Gillespie (vocals), John Doherty (drums), Mark McConnell (bass) and James Boyce (guitar) have been on the roads of Ireland for about three years now. It all began as a hobby but it got to the stage where it had to be taken more seriously, says keyboard player Leslie Long who originally hails from Dunkineely. "Basically we do covers and modern dance music, some songs from the "Sixties" as well as a few classics. We also do some of our own stuff too." What he doesn't point to right away is the fact that the lads have already cut a debut single 'Course of Time' not to mention the fact it made the prestigious RTE playlist as well as charting on a number of new independent radio station's playlists all over the country. Not bad for a first effort!
And it's not just here in Donegal, the band are quite well known all over the country having played in Cork, Galway, Claremorris and even England. But even though they have done a reasonable number of gigs in this county they still feel there are many more venues to open up to them. "If we had been around five years ago there would have no problems but these days nobody wants to hear a new band, they (the promoters) are going for the old reliables like 'Luv Bug' or 'The Memories'. Disco and Country and Western music have also taken off in a big way." The lads, who also featured on a recent RTE Telethon spectacular from Donegal Town believe the only way to make progress in this business is hard work and reinvestment in the band's equipment. "If people are paying £4 or £5 to see a band they expect to see the band put on a good show. There's no point playing with a bad P.A. and expecting to sound good. Most of the discos have big rigs and they can sound as good as the original artists, so that's what we're up against, " says Drummer John Doherty. "I believe bands should buy good equipment once instead of poor quality stuff three or four times before getting it right," he adds. But what does the future hold for a band whose staple diet includes Simple Minds, U2, Brian Adams, Thin Lizzy and Jive Bunny but to name a few. He agrees however that there's little point bringing out one single if it's not followed by another. At the moment the lads are working on their second which they feel is "very promising". They also hope to go across the water again in October. Lead singer Tony Gillespie makes the point that they find the audiences in Donegal enjoy their material mainly because not a lot of other bands are covering the more up tempo sounds. All the members feel disco is killing the art of live performances. lt's easier to pay for a disco than a band. They are worried too by the fact some discos have started going back in time covering the hits from the Sixties and Seventies also. Donegal is particularly badly affected by the disco plague. Not even areas like Cork, Dublin or the West have as many. "Discos are unpopular in Mayo. People just won't go to them, the people prefer live bands." says Leslie. As the gigs come up the Limits will gladly play them but they know it's going to take a lot of work to convince the keyholders to the bigger hotel venues that they are a force to be reckoned with. They won't stop trying; they're quite prepared to make people sit up and take notice, even though the hip hop, squelsh, bonk, ping and ting might be around for some time to come...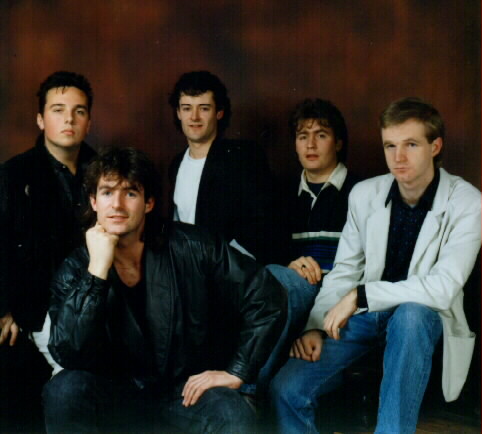 THE LIMITS
---
Download a 73 second MPEG sample (427KBytes) of Course of Time (&copy Leslie Long, 1990).