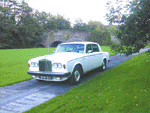 website design by
webpro ireland
2000 ©

For all your Corporate, Wedding and Social requirements


We offer you the broadest selection of Vintage Cars, American
Stretch Limousines and Modern Cars in Ireland.

Our business is to provide you with reliable quality
chauffeur driven tranport for all events.

Visit our new showroom at
Glanmire Business Park,
Glanmire
Co.Cork,
Ireland.