1998 - 2004 Part of the ZURBRICK PAGES
compiled by Linda Zurbrick O'Halloran.
Not for commercial use. All rights reserved
by the author /contributor of this material.
Gravestone of
Maria Elisabeth GERBER ZURBRICK
next to her husband Nickolaus ZURBRICK
Lancaster Rural Cemetery
Lancaster, Erie co., NY
(Old Graves Section, Line 24)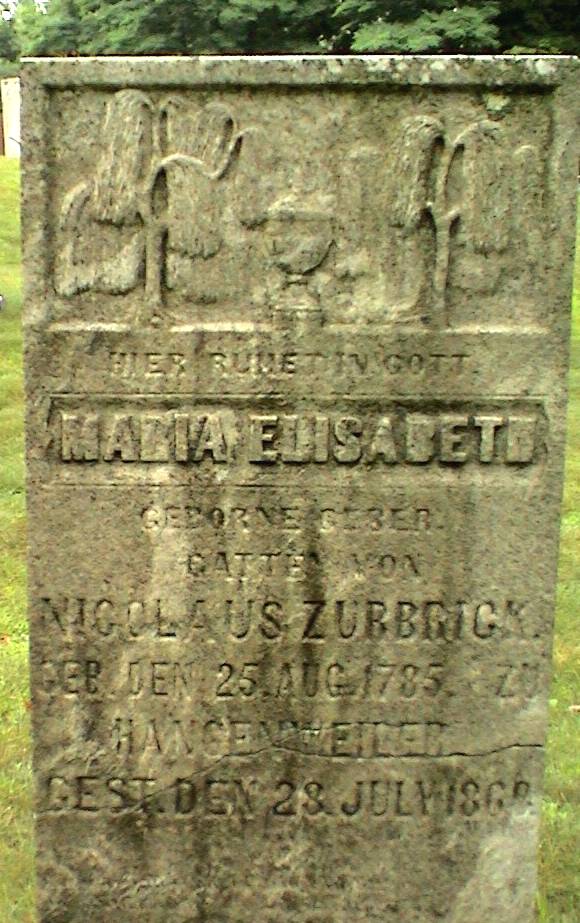 "Hier ruhet in Gott
MARIA ELISABETH
GEBORNE GEBER
GATTE VON
NICOLAUS ZURBRICK
GEB. DEN 25 AUG 1785 ZU
HANGENWEILER
GEST. DEN 28 JULY 1868."
Translated:
"Here rest in God
MARIA ELISABETH
[Born "GEBER" - probably meant to say GERBER]
Spouse of
NICOLAUS ZURBRICK
Born on 25 Aug 1785 at
Hangviller [Lorraine, France]
Died on 28 July 1868."
[Other source gives death date as 18 July 1867.]

Photograph contributed by Duane & Elaine Cheney.

---
Back to Nickolaus Zurbrick Plot Page
Back to Zurbrick Photo Album