1998 - 2004 Part of the ZURBRICK PAGES
compiled by Linda Zurbrick O'Halloran.
Not for commercial use. All rights reserved
by the author /contributor of this material.
Nickolaus ZURBRICK Gravestone
Lancaster Rural Cemetery
Lancaster, Erie co., NY
(Old Graves Section, Line 24)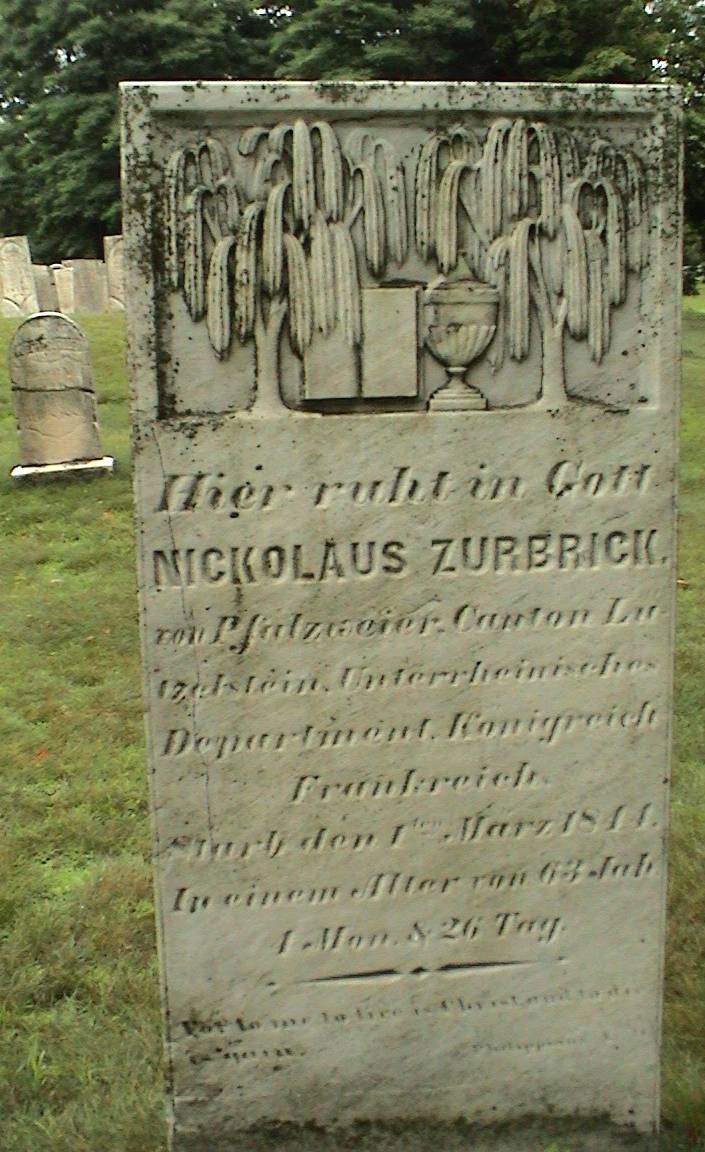 "Hier ruht in Gott
NICKOLAUS ZURBRICK
von Pfalzweier, Canton Lu-
tzelstein, Unterrheinisches
Department, Königreich
Frankreich
Starb den 1 März 1844
In einem Alter von 63 Jah.
4 Mon. & 26 Tag."
Translated:
"Here rests in God
NICKOLAUS ZURBRICK
from Pfalzweyer,
Canton Lützelstein (now called La Petite Pierre),
Lower Rhein Dept. (now called Bas-Rhin Dept.)
Kingdom of France
Died on 1st March 1844
At an age of 63 yrs.
4 months & 26 days."
(The age is slightly off & should read 5 months, instead of 4 months.)
Inscribed at the bottom of the stone (in English):
"For to me to live is Christ and to die is gain" Philippians 1:21"
Photograph contributed by Duane & Elaine Cheney.

---
Back to Nickolaus Zurbrick Plot Page
Back to Zurbrick Photo Album