1998 - 2004 Part of the ZURBRICK PAGES
compiled by Linda Zurbrick O'Halloran.
Not for commercial use. All rights reserved
by the author /contributor of this material.
Zurbrick's Mill - Historical Marker
Borden Rd., Cheektowaga town, Erie co., NY
Photo provided by Larry Zurbrick of San Jose, California.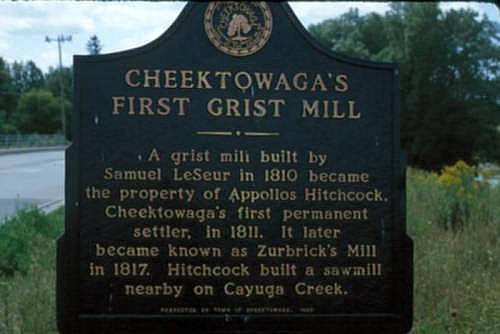 "Cheektowaga's First Grist Mill"
"A grist mill built by Samuel LeSeur in 1810 became the property of Appollos Hitchcock,
Cheektowaga's first permanent settler, in 1811. It later became known as Zurbrick's Mill
in 1817 *. Hitchcock built a saw mill nearby on Cayuga Creek."
"Reerected by town of Cheektowaga - 1980"
The road on the left side of the photo is Borden Rd., looking south.
It crosses over Cayuga Creek here. Just beyond the bridge over Cayuga Creek
(to the south) is the intersection with Zurbrick Road, which goes off to the left.
It is in Depew, NY which is part of the township of Cheektowaga, NY.
(Part of Depew, NY also lies in Lancaster township.)
The 1866 map shows these mills and some of the Hitchcock & Zurbrick properties.
* Linda's note: Everything I have seen indicates that the Zurbricks came to
Cheektowaga in 1830 at the earliest. This is shown on the census and in death records, etc.
So the 1817 date may be wrong. Philip Zurbrick (b. 1815), son of Nickolaus,
was an early owner of this mill and passed it to his sons.
He lived around the corner on Zurbrick Rd.

---
Back to Zurbrick Page Photo Album contents