| | |
| --- | --- |
| | SScript |
Introduction
SScript is a script generator for ARM Shine. My !Shiner works fine for
encoding just one file from a CD using AudiFS, but encoding a whole CD is a
painful task.
This is where SScript comes in. It asks for (a) the CD number (e.g. 354902),,
(b) the number of tracks and (c) the name of the output file.


I tested this application with 999999 tracks, which created a script file
of over 100MB!
---
Usage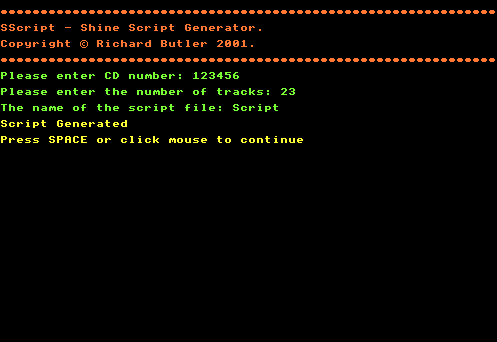 This is Script in action.

The program uses AthaLib for some functions but these have been included to
save distributing the whole AthaLib.

An example output can be found here
---
Requirments
32K RAM
Some hard disc space for the script - shouldn't be much needed though.
RISC OS 3.10

---
Licence
This program is FREEWARE which means that you may give a copy of it to
anyone as long as you do not make any profit from it. No matter what
you do with it though, you have to keep all files together and the
copyright message must be included, I retain the Copyright.
---
Author
Your's truly :)
---
Contacting
Click here to contact me
---
| | |
| --- | --- |
| Copyright © Richard J. Butler MCMXCVIII-MMIV | Last modified: |