Ballymore-Eustace Historical Society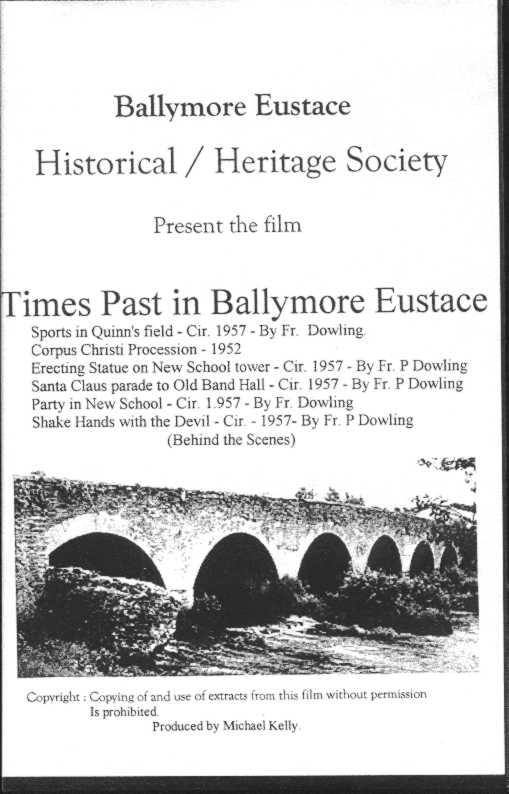 A supply of the "fifties" videos are now available. Contact Margaret Pearse Phone No. 045/864802 for further information.
At their meeting held on May 20th at 8 p.m. in the Anvil Bar it was decided that the Society needed:
(1) Guidelines for each of the sub-committees and these were drawn up; and,
(2) an Assistant Treasurer and Brigid Henry was co-opted to that position.
************
Secretary: Margaret Pearse
Treasurer: Wendy Deegan
Chairman: Michael Kelly
Vice Chairman / PRO: John Hartigan
Assistant Secretary: Margaret McDonald
Events: C.J.Darby
It was decided by everyone present that the job was so big that groups would be formed to tackle separate sections. These groups are non exclusive and anyone who is interested may join any group. Each group will inform the steering committee on progress on a regular basis to ensure that there is no duplication of effort. The committee have ambitious plans for the future and though there is no timetable set as yet, it is hoped to hold a photographic exhibition and eventually produce a book on the history of the parish.
<![if !supportLineBreakNewLine]>
<![endif]>
The groups formed and their areas of interest are as follows:

Folk Memory/Recent History:

Kathleen Lawlor
Michael Kelly
Marie Murphy
Margaret Pearse
Amanda Treacy
Fergal Twomey
Mary Deegan 

Geology/Archeology

Julie Cullen
C.J.Darby
Gaye Doyle
Denis Doyle
Bill Massey
Industrial Archeology/Trade, Industry:

Wendy Deegan
Roy Clarke
John Hartigan
John O'Neill
Margaret McDonald
A major project for the Folk Memory Group is to interview as many of the older people in the area as they can and if possible to video the interviews.

The Archeology Group is hoping to have a field trip to the sites of archeological and historical interest as marked on the Sites and Monuments Record, landowners permitting.This trip is scheduled to take place on Saturday 25th.May at 1.00 P.M.

On a more general note anyone who has any old photographs of the people or events in the area can they contact any of the people above, as we would like to borrow the photographs to scan them into an archive for future reference and perhaps exhibition. Also if anyone in the area have any historical artifacts, weapons, tools, stones in their possession or any interesting features on their land, standing stones, mounds, circular banks
or ditches etc. we would be delighted to hear from them.

We currently have two videos of local interest to people of Ballymore and these are for sale at a price of 20 Euros to fund the activities of the society.

 









<![if !supportLineBreakNewLine]>
<![endif]>
<![if !supportEmptyParas]> <![endif]>