CONTENTS
Top of Page
IRISH STONE WALLS AND STONE BUILDINGS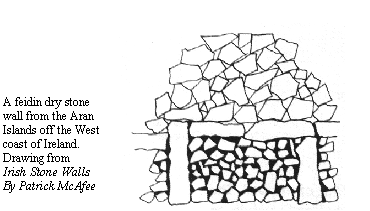 The following is covered
INTRODUCTION
An understanding of traditional processes is essential for the conservation and repair old stone buildings and walls.
In most cases traditional materials and methods are more sympathetic and appropriate for conservation and repair than modern ones.
These old ways are neither difficult or mysterious. They can be learnt.
Traditional ways of working with stone and lime nearly became extinct in the latter half of the 20th century.
Problems developed when some modern materials were applied to old buildings indiscriminately.
There is a need to maintain traditional ways in order to repair old buildings. They are a direct physical and cultural link to the past and a source of learning and enjoyment.
For further information contact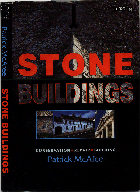 STONE BUILDINGS covers practical areas of working, conservation and repair.
It explains in detail how 18th and 19th century stone buildings were constructed from the ground up.
The hot lime mortars of the stonemason. The use of lime putty and animal hair by the plasterer.
Also lime washes using earth pigments.
Advanced stonecutting by hand is explained in detail.
Pointing of rubble stone and also fine-jointed ashlar stone.
Arches, geology, quarrying, reading and recording buildings etc.
Minimum intervention is emphasised, to leave well enough alone, to repair only what needs to be repaired. This is good for the original fabric of the building and also results in reduced expenditure for the client.
Quantities and estimating is also featured.
There is essential information here for professional and amateur alike.
For further information contact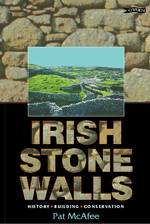 IRISH STONE WALLS (1997)
was a number 1 best seller
(hard back) in Ireland when it was first published.
Like Stone Buildings it is a practical book. It covers the following areas
Tools, quarrying rubble stone, transporting, organising a work area.
Making profiles, how to bed stone, bonding, coping to wall tops, cutting etc.
Dry stone walls (single, double, retaining, feidin) also mortared walls, circular piers and pointing.
There is a section on lime mortars and wet dashing (harling).
Bearlager na saor, the secret language of the stonemason is also briefly covered.
Comments about IRISH STONE WALLS
'Its splendid. The wealth and variety of the Irish stone wall is displayed as never before. A source of joy. Written with feeling, even with passion'.
For further information contact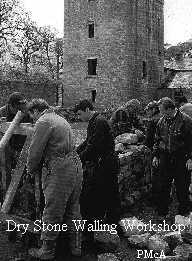 Stone Workshops are held in Dublin and also throughout Ireland.
They are attended by a wide variety from all walks of life who want to learn basic hands on skills backed up with relevant information for their needs.
The following is an outline of one of the stone workshops
Introduction to materials and methods.
Building a dry stone wall - practical
Cutting and shaping rubble stone - practical
Mixing traditional hot lime mortar - practical
Building a traditional Irish round pier - practical
Pointing - practical
Summary, questions and answers etc.
Lunch is provided.
Everyone works as a team, the emphasis is on enjoyment and learning.
No great physical strength is required or warranted.
For further information contact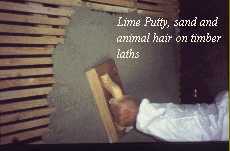 LIME WORKSHOPS are held in Dublin and also throughout Ireland.
Like the Stone Workshops they are attended by a variety of people from various backgrounds and fields of interest.
The most popular 1 day Lime Workshop is as follows
Introduction to working with lime
Mixing hot and cold lime mortars - practical
Building with lime mortar - practical
Internal plastering using animal hair - practical
External rendering - practical
limewashing with earth pigments - practical
No particular pre-skill level is required.
Emphasis is placed on maximum learning and enjoyment.
For further information contact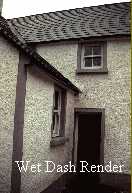 Consultancy is offered to clients with buildings in need of conservation and repair.
PREVIOUS WORK
Irish Castles/Tower Houses
Small vernacular stone cottages
National Monuments
Large public buildings
Mausolea
Walls
Barns
Churches
18th/19th century brick buildings
PREVIOUS CLIENTS
Private individuals
City Corporations
Local Authorities
Architectural & Engineering Practices
Community Groups etc
For further information contact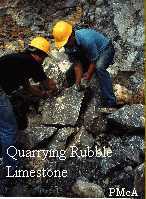 Training Workshops can be arranged on-site to suit the needs of individual clients.
Workshops can be from 1 day upwards.
Workshops can be staggered to meet the specific staging of a project.
Training on past projects included
Rubble stone quarrying
Cutting skills
Organisation of work and development of systems
Setting out
Building
Circular work
Piers
Pointing
Rendering
Plastering
Limewashing
Stone carving
Arches
Solving specific problems
Previous clients included
Contractors
Sub-contractors
Local Authorities
City Corporations
Community Groups
Owners of old buildings
For further information contact
JOHN P.SPEWEIK, U.S.HERITAGE GROUP,INC
O`BRIEN BOOKS (IRISH AUTHORED BOOK PUBLISHERS)