Susie Mitchell – World Track Masters Champion
By Hugh Byrne
Oct 14, 2012.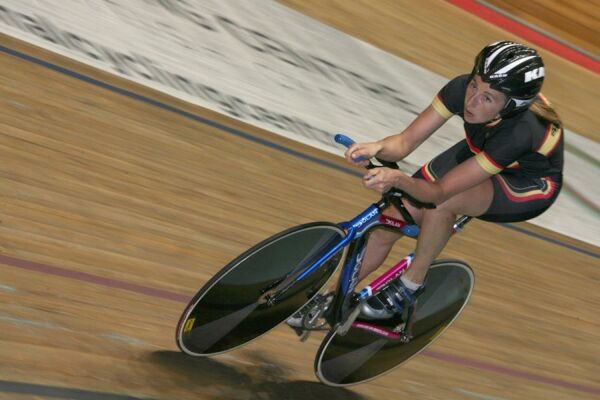 Susie Mitchell - World Champion
It is not without irony that when Irish cycling should be celebrating our latest World Champion, that the date coincides with the breaking of the Lance Armstrong story. Certainly over shadowed once again its news about doping that people are more interested in reading about. Susie Mitchell (Sundrive Track Team), took the Gold in the Women's 35-39 2km Pursuit when she overcame a 2 second deficit from the qualifying round. Yes indeed we are more interested in who cheated some years back than celebrating what is a remarkable achievement from a young woman who has risen to this pinnacle just five months after giving birth. This fact provides inspiration for all women, but even ignoring that, this is a remarkable athletic achievement in what is a relatively short time in the sport.

She had maintained fitness through her pregnancy, a fact that left her well placed for a return to form and won a bronze in the National Women's Olympic Omnium just six weeks after the birth and followed this by winning the National Team Sprint with her Sundrive Track Club team mate Sarah Gunn three weeks later It was however the improvement in the pursuit at the Nationals on the first weekend in September, from a time laid down in the Omnium, that would change her focus for the upcoming World Track Masters in Manchester. Some work had been done to bring down her pursuit down but improvement was so significant that it put it her into the Bronze medal ride off, which she won, knocking a further two seconds off her time.

Susie was part of a six strong women's team at the World Masters, a team that included former World Champion, Orla Hendron and multiple National Champion Geraldine Gill, She would be competing in the 500m TT, 2k Pursuit and Sprint but focus of latter weeks training was pursuit. Target for the Championships would be the bronze medal ride off, which would guarantee a second ride to maximise the experience with an eye on coming back to have a serious crack at a title in 2013. She was fortunate to draw a very credible opponent in Adel Tyson-Bloor. This rider had done 3.57 in the British Nationals and was an experienced indoor competitor at this event.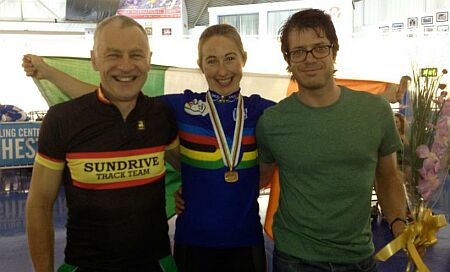 Our female competitors had 3 hours track time in Newport and for all apart from Orla was the sum of their experience at pursuiting on an indoor track. They all of course trained expensively at the outdoor track in Sundrive, but indoors despite being faster, presents its own challenges! The Sundrive rider had a very strong start and set down some super fast laps and nearly paid the price for them, with two sub pace ones. She however then settled and set about ensuring she got the better of her opponent just shading her by 3/100s of a second to secure the second fastest time and a Gold/Silver medal ride off.

The task of taking Gold however seemed onerous as she already had given a super human performance and ridden way beyond expectations and the time difference was two seconds which is huge in pusuiting terms. She however had an ace to play in that up to this she was riding slightly under geared on an 88 with most female riders riding 90 inches for this event. She was riding 88 to develop fast pedalling which would be one of her strengths, with an eye to taking the extra leg speed to a bigger gear for 2013. However as the say – same ingredients -same cake. She had to change something to give herself a fighting chance, Starting faster wasn't an option, so it had to be bigger gear – nothing to lose. She also availed of a switch from 5 spoke to full disc front wheel and entered the fray with two extra cards!!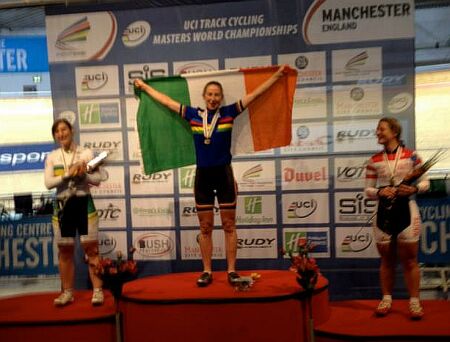 Pursuit finals are of course about pacing strategy and is of course a head to head battle of who crosses their finish line first irrespective of time. Her team were calling the splits, keeping her on pace and in contention and was the smallest of fractions behind for most of it, but this time she had started steadier and surged over the closing two laps to win by a convincing half second and further improve her time from qualifying by more than two seconds securing Gold and becoming Ireland's latest World Champion.

Ireland's tally of medals were brought to 4 with Terry Mackin (Banbridge) securing bronze in the Men's 35-39 Kilo and Orla Hendron (Orwell) added two bronze in the Points race and in Women's Pursuit where she overcame the challenge for fellow Irish competitor Tonya Moran.


Women's 35-39 Individual Pursuit (Qualification)

1. Ms Rebecca Wheadon (AUS) 2:36:274
2. Ms Susie Mitchell (IRL) 2.38.418
3. Mrs Adel Tyson-Bloor (GBR) 2:38.448
4. Ms Elisa Gianchino (RSA) 2:40.066
5. Mrs (Siobhan Mullen GBR) 2:42:985
6. Miss Caroline Harding (GBR) 2:45:461
7. Ms Geraldine Gill (IRL) 2:50:000
8. Ms Ciara Kinch (IRL) 2:55:404
9. Miss Sarah Tombs (GbR) 3:00:250

Women's 35-39 Individual Pursuit (Medal Ride offs)

1. Ms Susie Mitchell (IRL) 2.36.286
2. Ms Rebecca Wheadon (AUS) 2:36:757
3. Mrs Adel Tyson-Bloor (GBR) 2:40:916
4. Ms Elisa Gianchino (RSA) 2:42:949

© Copyright IrishCycling.com