Links
Poems From Sunfire : A selection of poems from  "Sunfire".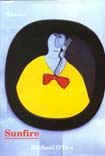 Dublin Writers Workshop Poetry : Prize-winning website associated with one of Dublin's most successful writers' workshops. Features "Electric Acorn": an e-zine of high quality  poetry. 
DayPoems : Includes extensive lists of poets and poems over the centuries. 
Poetry Ireland : Ireland's national poetry body. For all that's happening in Irish poetry, this is the site to visit.
The Irish Writers' Centre : Site contains database of Irish writers, anthology of Irish writings and news about events. 
The Poetry Kit - Poets on the Internet : Excellent site with listings of poets, publications competitions etc.
PGIL-EIRData.org : Princess Grace Irish library -  Electronic Irish Records Dataset. A tremendous resource  for all those interested in Irish Literature\ Irish Studies, scholarly or otherwise.    
Irish Writers Online A Concise Bio-Bibliographical Dictionary of Irish Writers :  Philip Casey's comprehensive directory of Irish writers.
Dedalus Press : My publisher; check out the Dedalus catalogue.