Benny McCarthy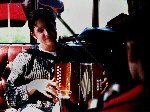 (Click on the thumbnail above for a picture)
Benny (Brendan, born 1975) is from Deelish in West Waterford and is one of the two original members of DANÚ. He began playing at the age of 13 and after some years under the tuition of Bobby Gardiner (also the accordeon teacher of Ciarán Ó Gealbháin), he continued on to be influenced by others such as Jackie Daly, Joe Derrane and Máirtín O' Connor. His love for the melodeon was instilled in him by his teacher Bobby, himself a maestro of the instrument.
Over the years, Benny has developed his own individual style which is strongly influenced by his melodeon playing, winning the Oireachtas Competition in 1994 on both melodeon and accordeon. He has fully integrated that style with his button accordeon playing and has adapted beautifully to his preferred Saltarelle accordeons. The demands of touring for many months of the year, are heavy on instruments and Benny has taken the time to perfect the art of tuning and servicing all of his own accordeons. This allows him to repair them at home and on the road and to adjust them to suit his own personal sound.
There is nothing Benny likes more than to sit down with his former teacher and mentor Bobby Gardiner (who has great respect for him) and play, comparing notes on new tunes and the many accordeons they both possess. They are to be seen every summer at the Willy Clancy Week in Milltown Malbay, Co. Clare, playing in pubs and (weather permitting) on the streets, entertaining the many students of music that visit every year.
As with all other members of DANÚ, Benny has a family connection in his musical background - his brother Stephen is a sean-nós (Old-Style) dancer and his sister Sharon is a talented young fiddle & bodhrán player.
Known as a character, Benny's store of jokes is renowned amongst musicians and friends alike and his powers of communication on the continent have earned him the title "Euro-man" amongst the other band members. Always happiest when performing, whether on a large concert stage or in a small pub, Benny is the powerhouse of DANÚ.