Donnchadh Gough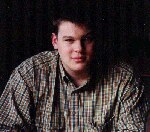 (Click on the thumbnail above for a picture)
Donnchadh comes from "An Rinn", in the Co. Waterford Gaeltacht (Irish speaking area) and is one of the two original members of the group. Born in 1975 and brought up in his family's well-known pub, Mooney's, he grew up listening to Irish music and started playing at the very young age of seven, on a bodhrán (Irish drum), which he got as a present from singing legend and neighbour, Liam Clancy. Donnchadh quickly mastered the bodhrán and then began to play tin-whistle, soon becoming a regular feature, playing at Céilís in Coláiste Na Rinne.
The eagle-eye of Finbar Furey spotted his musical ability and arranged a practice set of pipes immediately and for a half-set of pipes to be made for Donnchadh by Johnny Bourke. He began his learning under the tuition of master-piper Tommy Kearney of Waterford, a man who has ensured that the county's strong piping tradition continues into the new millenium. Later he had tuition from more of Waterford's pipers - Tommy Keane and Jimmy O' Brien-Moran, but his greatest influence remains the man who was a great family friend and would often tell Donnchadh bedtime stories as a child - Séamus Ennis.
Donnchadh's family connection to music is very strong - his mother, sisters and aunts are all singers and his first cousin Aoife Clancy (daughter of Clancy-brother, Bobby) is the singer with the American group "Cherish The Ladies".
Highly regarded on both instruments by fellow musicians and listeners alike, Donnchadh's bodhrán solo is one of the highlights of any Danú concert.