The River Moy.
Sophie Mcloughlin
I have chosen to research and investigate the River Moy for this project. My main aim is to investigate the most widely practised recreational facility on the river, which happens to be fishing and angling.

When I started this project I admit I really didn't know much about the River Moy. All I really knew was that it was located somewhere near Ballina. I took a number of steps in finding my information.
My local Library: I visited Claremorris local Library, where I found very little appropriate information on this, the largest river in Mayo.
Clar I.R.D: I also visited my local I.R.D. office where I obtained much useful information. The lady was also very helpful and generous as she gave me many pamphlets on fishing and angling on the River Moy.
Word of mouth: One of the most helpful ways in finding information is to talk to someone who understands and has plenty of experience. I did just that by talking to my uncle-in-law who's an experienced fisherman and has caught many salmon from the River Moy.
As I said before, when researching about the River Moy I mentioned I'd like to find out more about it's location. I found out that there are basically two mountain ranges within the Moy Valley. These are the Ox mountains to the East and the Nephin mountains to the West. I also found that the Moy runs in a southerly direction through towns such as Ballina and Foxford. I didn't have to ask what the main activity on the Moy is as it was clear it was fishing and angling.
Fishing and Angling on the River Moy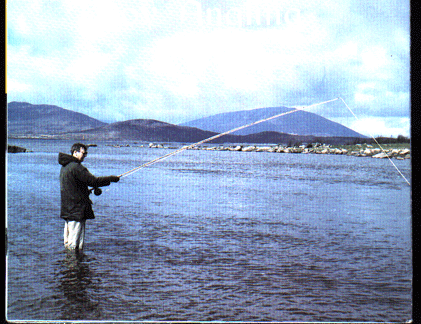 Conservation
In Ireland, as elsewhere on the planet, conservation is necessary to protect the variety of fish in our waters. Trout and salmon fishing is fishing for sport, the enjoyment being in the challenge and not necessarily in a full bag. It is fundamental to the survival of our trout and salmon fisheries that they be managed and used by anglers in a sustainable manner. Anglers are, therefore, urged to limit the number of wild fish that they kill and return all others to the water carefully and safely. In doing so, they will be showing their appreciation for the privilege of enjoying this unique resource while respecting fellow anglers and giving thought to tomorrow.
The River Moy is Internationally acknowledged as an exceptional salmon fishery, producing several thousands of salmon to the rod annually.
The River Moy System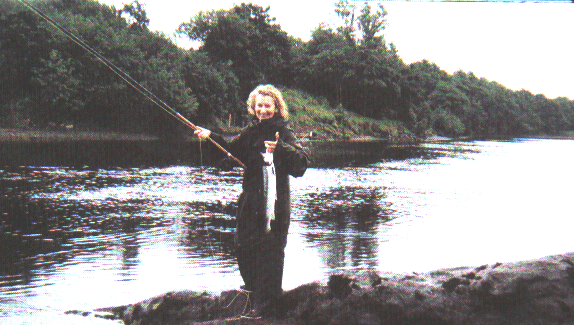 Ireland has a number of great river systems and of these, the river Moy, which straddles counties Mayo and Sligo, is one of the most productive. It is approximately one hundred kilometres long and with its extensive tributaries, it drains a catchment of over two thousand square kilometres. The system includes great loughs such as Conn and Cullin but also many small lakes and streams. For much of it's course, the Moy flows through pastureland but the mountains of the watersheds which feed it are almost always in view from it's banks. The Nephin Beg range lines the Western horizon and the Ox mountains mark the Eastern watershed.
The Moy has long been famous as a salmon river but it offers a wide variety of quality angling to suit all tastes and budgets. One can spey cast for Spring salmon or grilse, pursue the sea trout or cast a dry fly to a brown trout. One can even fish for specimen pike in waters within the Moy catchment which contains a wide range of aquatic habitats.
The main Moy channel is deep and up to forty meters wide in the middle and lower reaches. Huge numbers of salmon are landed here each season. The annual average declared salmon rod catch on the Moy over the last ten years is a staggering 7,362 fish. The famous Ridge Pool alone has produced up to 2,660 salmon to rod and line in a single season.
The upper river has a different character and is more akin to a spate river in parts. The fishing here can be superb and the pioneering angler can find excellent salmon fishing in solitude.
The rich lowland limestone rivers and loughs are home to stocks of heavy, fast growing trout which are selective feeders and offer challenging sport. They have hatches of mayfly, olives and many sedge species. The remote mountain loughs and streams are populated by smaller free-rising trout which make up for their size by their large numbers. The occasional bigger fish may also lurk in the deeper pools.
The Moy estuary has large stocks of sea trout, some of which exceed four pounds, and which can be caught on fly and bait. The lower beats around Ballina and Foxford, and some locations on the upper river, also provide good sea trout fishing late in the season.
In the east Mayo area, around Kiltimagh, Knock and Manulla, the small limestone loughs are rich and productive. Many contain excellent stocks of perch, pike, rudd and tench. Although the Moy catchment has never been renowned as a coarse fishery, parts of it offer fine angling for these species in peaceful, rural surroundings.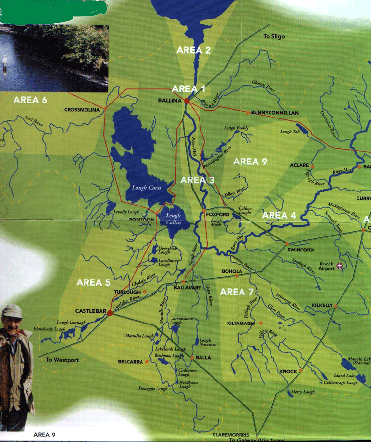 AREA 1
The Moy Fishery
The Moy fishery in Ballina is one of the most famous salmon angling venues in the world. Catches of over five thousand salmon have been recorded in a single season. Its entire length of just over two and a half kilometres is located within the Ballina town boundaries. It is divided into eight separate beats and all but one must be booked in advance. The most famous of these is the Ridge Pool which accounts for approximately one third of the annual Moy fishery rod catch. The Cathedral Beat, immediately downstream of the Ridge Pool, has also become a prolific salmon fishery since development works were carried out in 1995. Formerly a draft net fishery, the Cathedral Beat now accommodates eight anglers per session and has produced over one thousand five hundred salmon in its best season.
Beats One and Two, known as Polnamonagh (the Monks Pool) and Spring Wells are less heavily fished and appeal more to the angler who prefers to fish away from public view. These beats can also produce fine bags of salmon when conditions are right. Beat three, the Ash Tree Pool, is a haven for the angler who wishes to fish in peaceful surroundings. A boat and ghillie are provided on this beat.
The Point is a public beat where no restriction is placed on the number of anglers. It is, nevertheless, a prolific salmon and sea trout fishery, which is popular with visitors and locals alike. The lower reaches of the Brosna (Bunree) River, which joins the Moy at the Point, hold reasonable stocks of brown trout. The Brosna gets runs of sea trout from late August in flood conditions. Fishing on this river is free.
The Freshwater Beat comprises three hundred metres of single bank fishing and has recently been developed to improve angling and access. It is already a great favourite with some regulars and produced good bags of both salmon and sea trout immediately subsequent to the development works.
AREA 2
The Moy Estuary
The Moy Estuary comprises a large area of tidal waters. It teems with sea trout which congregate here to feed on the massive stocks of sandeel, sprat and shrimp. Some angling takes place from particular areas on the shore but the most successful (and the most enjoyable) method is to fish as part of a group from one of the charter boats available in the area. There are distinct drifts and tidal conditions which produce the best results and the experienced skippers have an intimate knowledge of these. Spinning or ledgering with sandeel or fresh mackerel strip are favourite methods. In recent year, some anglers have experimented with flies and streamers with considerable success.
AREA 3
River Moy: Ballina to Cloongee
The main Moy channel between Ballina and Clongee (3.5 kilometres downstrean of Ballylahan Bridge) comprises approximately 24 kilometres of prolific salmon angling water and is divided between at least a dozen separate owners. A fair proportion of the water, mainly around Ballina, Foxford and Clongee is suitable for fly fishing but generally the middle stretches are fished with bait, spinner and bubble float and fly. Whatever the conditions, there is always a chance of landing a salmon on one of these fisheries as they offer a wide variety of opportunities to suit all levels of angling skill. Most fisheries in the area will issue daily, and some weekly, permits but prices vary considerable depending on location and the time of year. Some fisheries have a limit on the number of rods let, while others impose no restriction.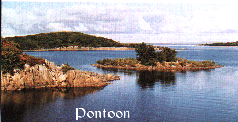 Loughs Conn and Cullin are two of Ireland's premier brown trout lough fisheries, with area of 5665 and 809 hectares respectively. They are favourites with anglers from all over the world. Generous bags of fish are common and wild trout to 1.8 kg weight and above are regularly caught. Angling in March and April can be excellent with large hatches of duckfly but the cream of the angling is to be had during the prolific mayfly hatch which occurs on the loughs. The mayfly begin to emerge from early May on Cullin and from mid to late May on Conn. On the latter, hatches continue well into July and there is often a second hatch in August. The fishing can be also excellent later in the season with sedge hatches and falls of daddy longlegs. These loughs also produce grilse to the fly and spring salmon to trolled lures.
AREA 4
East Mayo Anglers' Association Water
The Ballintemple Fishery and the Upper Moy
The East Mayo Anglers' Association has a licence on approximately eight miles of double bank fishing from the State making it the most extensive stretch of contiguous salmon angling available on the Moy. Much of the river in this area has been developed and consequently is easily accessible and offers a large number of new pools and groynes in addition to the well established angling stretches around Ballylahan and the Gub. It is fished by both local and visiting anglers and regularly produces great bags of both spring salmon and grilse. For those willing to walk that little bit further from the bridges, this stretch of water can offer quality salmon angling in tranquil scenic surroundings. Most of the EMAA water is suitable for fly fishing although use of worm and spinner is popular in the slower flowing areas and in high water.
The Ballintemple Fishery comprises two miles of single bank fishing on the left bank of the main Moy channel extending downstream from Cloongullaun Bridge on the Foxford-Swinford road to the East Mayo Anglers' Association car park at Oldcastle. The river in this area was formerly rather shallow and, while it was nice fly water it only fished well in flood conditions. Development works, completed in May, 1999, created new pools which will hold fish even in low water while retaining the original streamy character of this stretch.
AREA 5
The Clydagh, Castlebar, and Manulla Rivers.
These are quite different rivers which converge in the Turlough/Bellavary area and flow into the southern end of Lough Cullin. They offer some of the best brown trout river fishing in the north western region and produce up to two hundred spring salmon on rod and line annually.
The Castlebar river originates in the Castlebar lakes. It is a rich limestone river and, because of its lake source, it rarely runs low in summer. Trout fishing is good throughout its entire length with fish averaging one to two pounds and occasionally reaching four pounds. It can be particularly good for dry fly fishing on summer evenings.
The Clydagh river rises east of the Nephin Beg range and is the spatiest of the three rivers. The trout are numerous but generally quite small. There is some good spring salmon fishing in the lower reaches but the river is quite overgrown around Carrowkeel.
The Manulla river rises in the rich limestone plains of east Mayo, and while its upper reaches have a low gradient, there are nice riffle and pool sequences downstream from Moyhenna Bridge which offer good trout fishing. Of all the Moy tributaries, it is the one which most resembles a chalk stream with deep clear pools which hold heavy trout. In a mild summer evening, this river can offer excellent dry fly fishing to the experienced angler.
The Castlebar Lakes
This is a pair of limestone lakes which have been developed and are regularly stocked by the North Western Regional Fisheries Board. They provide lively trout angling throughout the season. Up to 2,500 takable fish are stocked periodically between April and August and some of these overwinter to attain weights of three or four pounds in the next season. Shore fishing is permitted and boats are available on both lakes.
AREA 6
The River Deel
The river Deel rises high in the Nephin Beg mountains and flows for twenty eight miles through moorland and pastures, and through the town of Crossmolina, before entering the northern end of Lough Conn. It is the largest of the Moy tributaries and offers a wide variety of angling experiences ranging from dry fly fishing for trout together with spring salmon fishing, in the lower reaches, to lively brown trout and grilse fishing in the remote upper reaches.
The majority of spring salmon are caught downstream of Deel castle on spinner and worm. Fishing can be good through March and into April but later in the spring it can extend further upriver. The grilse fishing begins in late May or early June and peaks around the first week in July. Any floods which occur later, into September, can also bring good fishing. The river Deel also offers good trout angling with dry fly, wet fly and nymphs. Generally, the trout are of small average size but a one or two pound fish is a real possibility.
The Deel Lakes
At the headwaters of the Deel river lie a series of small mountain loughs. They are wonderfully scenic and present a challenge for those with a taste for fishing in wild places. The most interesting of these are Lough Keeran, Lough Brack and Lough Gall where the average size of fish is unusually large and where trout up to three pounds have been recorded. The shoreline is fishable and access can be had via a small gravel road which runs from Corcullin to the foot of the Nephin Beg mountains
AREA 7
Trout Fishing on the Rivers Gweestion, Pollagh and Glore.
These three rivers rise in the Mayo/Roscommon border region, an area of rich limestone plains and raised peatlands. They are all highly alkaline rivers with an abundance of insect and crustacean life which support excellent stocks of wild brown trout. These stretches of river offer the chance of fishing in solitude for trout which may never have seen an artificial fly. Some of the better angling areas have had development work carried out to improve access and to create deep pools where large fish can find shelter. In the more remote areas, the banks can be traversed but are undeveloped.
The Pollagh and Glore river, converge about three miles southeast of Bohola to form the Gweestion river. This has a substantial channel, up to fifteen meters wide in places. It has a lot of shallow streamy water but some good pools have been created during the recent angling development programme. Consequently, there are large stocks of small trout as well as good number of better fish; occasionally, trout up to three pounds are caught here. Towards the end of the season, this river may also produce some grilse.
The Pollagh river is the larger of the two tributaries which join to form the Gweestion. The river is composed of a nice mixture of pools and riffles which can be fished with either wet or dry fly. There is an excellent stock of trout between half and three-quarters of a pound and plenty between one and two pounds.
The Glore river is the smallest of these three rivers and is mainly suitable for wet fly fishing. It is gin cleat, and about six to eight meters wide. Most of the trout are from a quarter to three-quarters of a pound, but the occasional fish up to two pounds is also caught.
AREA 8
Trout Fishing in the Upper Moy Catchment:
Mayo Sligo Border
The Owengarve and Mullaghanoe rivers.
These are relatively small rivers (four to six meters wide) which enter the upper part of the main Moy channel in the Bellanacurra area from a south easterly direction. They both hold excellent stocks of wild brown trout ranging in size from a few ounces up to one and a half pounds. They have prolific hatches of small ephemerides, black gnats and ledges. Wet flies and dry flies are likely to produce lively fishing at any time of the season.
The Owengarve, or Curry, river is the largest of these rivers and , while the banks are high in some places, stiles and footbridges have been constructed making most of the fishing areas accessible. The best of the fishing is in the three mile stretch from Curry downstream to Dawros Bridge where there are excellent stocks of trout averaging half a pound with some one an d a half-pound fish.
The Mullaghanoe river holds excellent stocks of trout to one pound, although the average size is in the regions of a quarter to half a pound. The best of the fishing is downstream of Charlestown.
AREA 9
Lough Talt, Lough Brohly, Callow Lakes and Lough Muck
Lough Talt is a very picturesque lough of about 80 hectares located in the foothills of the Ox mountains. The R294 Ballina -Tubbercurry road runs right along the north-eastern shoreline, making it easily accessible. Boats can be hired locally. It can also be fished from the shore which is firm and accessible. The trout are free rising and numerous, making this an ideal location for the young or inexperienced angler.
Lough Brohly is another scenic lough of about 40 hectares which is stocked annually with brown and rainbow trout making for lively fishing throughout the season. The banks are firm and shore fishing can be very productive.
Callow Lakes are situated close to the N26 Foxford-Swinford road. The two lakes (north and south) are approximately 40 hectares each in extent and are joined by a narrow channel which is navigable throughout the season. Both hold good stocks of wild brown trout averaging about three-quarters to one pound in weight although fish of two and three pounds are taken occasionally. These lakes are not heavily fished and, in terms of the quality of the fishing they can offer, are probably the most underestimated trout lakes in the region. Trout in the south lake are of slightly higher average size while those in the north lake are smaller and more numerous. This lake gets good hatches of duckfly, mayfly and sedge and fishes well in a moderate south westerly wind in spring and late summer.
Lough Muck is a scenic lough located in the high ground between Foxford and Callow. It has a large stock of small wild brown trout which rise freely. It has good road access and can produce sport for anglers using light tackle, particularly during a westerly breeze.
COARSE FISHING
Although famous primarily as a game fishery, the Moy catchment also contains hidden treasures waiting to reveal themselves to the discerning coarse angler. In the Knock and Kiltimagh area, a handful of small and medium size loughs offer good angling for pike, perch, bream, rudd and tench. In 1995 and 1996 Kiltimagh played host to the national pike angling championships and competitors were surprised and delighted with the quality of angling experienced. Loughs Derryhick and Levally, located in the Pontoon area, are quality pike angling venues where fish of fifteen to twenty pounds are caught regularly. In the Manulla/Castlebar area, loughs such as Manulla and Washpool hold pike to fifteen pounds while some of the smaller loughs on the Manulla river system such as Lakelands and even the diminutive Peenogue Lake also hold quality pike. Lakehill pond, near Knock, holds specimen tench and Lough Naminoo near Balla hold excellent stocks of rudd to specimen weight.