Irish Naval Association parade to the Cenotaph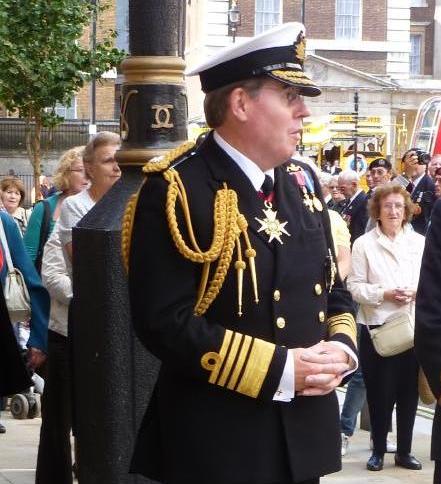 Shipmates, Ladies and Gentlemen,
Today is: about our predecessors, about those on operations, about you and about your families.
Today, on a day where beyond our presence at the Cenotaph the world remembers the events of 9/11 we here celebrate the many fine and enduring qualities of human endeavour that stands against such atrocities. Qualities of courage, leadership and professionalism – quietly, consistently and heroically displayed in all that: has been achieved by our forebears, and is undertaken by our servicemen and women today; at home and abroad; for the nation and for freedom.
Which is why out there, right now, there are over 30 ships and submarines at sea, and nearly 6000 sailors and marines deployed on ops; from Afghanistan to the Atlantic, from providing the UK's strategic deterrent to fishery protection, and from conducting counter-piracy in the Indian Ocean to providing maritime security in the Gulf and Mediterranean.
Indeed, the Royal Navy's contribution, over the last 7 months in the Med – to protect the Libyan people, 80% of whom live within 10 miles of the coast – is telling.
Be it, for example, evacuating civilians to safety in our Frigates and Destroyers, conducting long-range precision strike from an SSN, undertaking mine-clearance ops by our MCMVs, conducting embargo ops and Naval Fire Support by our FF/DDs, not to mention supporting AH and maritime surveillance missions from HMS OCEAN. Take HMS LIVERPOOL: well over 100 days on patrol, at action stations on numerous occasions, engaging with the enemy time and time again. Their actions define what the Royal Navy is all about; professionalism, courage and teamwork.
Today we therefore not only recognise those in Service but it is also an opportunity to honour your accomplishments. Every one of you – whether serving personnel, veterans or cadets – should be proud, very proud, of what you stand for. Proud of all that you have achieved. Proud to be a part of the valuable work and family of the RNA and all those associations and organisations here represented. And I might add my thanks to, in particular, the Irish Naval Association for travelling to join us on this auspicious occasion.
Today, it is appropriate to express our gratitude, to our families and friends. For it is their immeasurable encouragement and support from which we all draw our strength and resolve.
Shipmates, ladies and gentlemen, on behalf of the Royal Navy, thank you all for: your faithful work in support of your Associations; your continuing commitment to the Naval Service; and, most importantly, your support for our people currently serving this nation.