Joe Teeling Memorial
---
In the Memory of
Mr. Joseph Teeling
Joseph Teeling was born on 13th April 1935 at School Ave., Killester, Dublin. Joe worked in the printing section of the ESB in Fitzwilliam Street in the 60ís. He took early retirement from the ESB. He then proceeded to work voluntarily for the East Wall Community and was associated with many groups in the area. Due to his hard work the East Wall Water Sports were given a site to build a new clubhouse on the banks of the Tolka River, at the East Point Bridge. He successfully started and saw through the building of a replica Viking long ship which is known as the Dyflin and this ship can still be seen to-day and has been used by countless groups on various projects.
He trained in Kempo Karate with John Conway in Fitzwilliam Square where he continued to train all his life. Having graded under the late Professor Ed Parker and training with people like Shay Padget Morris Mahon, Tommy Jordan and many others he went on to found the Amateur Sports Karate Organization. This association is still flourishing to day and has six karate clubs a group of very able black belts and strong tradition of supporting sport karate in Ireland.
This Website is a tribute to Joe and his memory and it will allow all his fellow friends instructors and students who follow martial Arts remember a man who not only dreamed the dream but saw the dream through to fruition.
---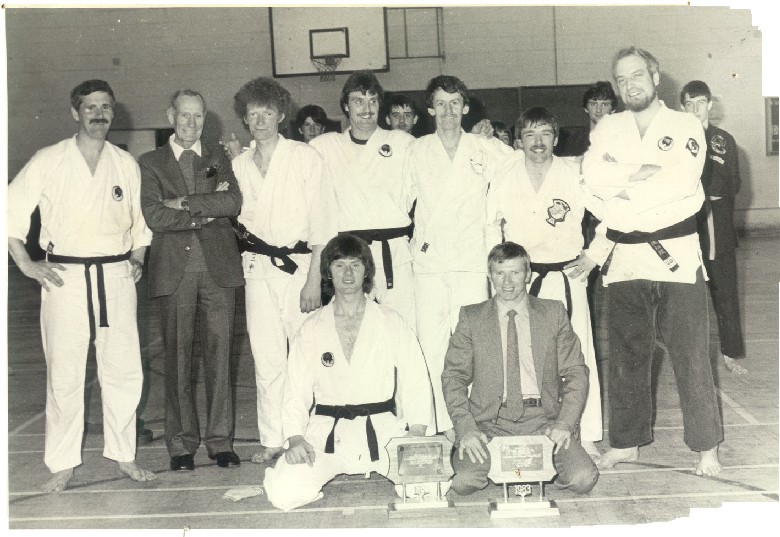 [Above: Photo of Joe Teeling in 1983]
Back row, from left to right: Paul Fox, John McGuinness (RIP), Michael Dowd, Harry Gilbert, Eamonn Perkins, James Murphy, Noel Manning
Front row, from left to right: Pat Darcy & Joe Teeling
---
[Above: Photo of the original leaflet for the Tolka Run]
Founder of the East Wall Water Sports group
---
[Above: Photo of the The Viking Long ship (The Dyflinn)]
---
We will be forever grateful to have known such a gentleman.
For those lucky enough to meet him and train with him he was an everlasting inspiration of what sport karate and friendship through sport was all about.
The Dyflin Ship, The Amateur Sports Karate Association The Tolka Walk and many other projects that Joe was involved in are a tribute to his vision and enthusiasm.
Joe Teeling
Our founder, our Instructor, our Friend.
---
All information on this ASKO website is ©2000-2003 Blackrock Karate Club.
Last updated on Saturday, May 31st, 2003.
---