County Cork Ireland
County Cork is located in the Southwest of Ireland. Cork, the largest County in the Republic of Ireland, is known for its:
long coastline with many fishing villages
many islands a short boat ride off the coast
rugged hills and mountains for walking and amazing views
beatiful gardens for visits and fresh produce
many variety of flora and fauna, some unique to County Cork
approximately 750 miles of main river channels, the greatest number in Ireland

Cork is known as "The Rebel County" due to its history of involvement in the fight for home rule, both in the original struggles in the late 18th Century and then in winning Irish independence in the beginning of the 20th Century. Michael Collins, a key figure in the War of Independence, was born in Woodfield, just outside of Clonakilty, and then assassinated in an ambush in 1922 while on a tour of West Cork.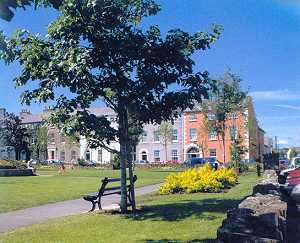 Travel to County Cork Ireland
Cork Airport is 45 minutes away with many flights from the UK and Europe. Many visitors from North America arrive at the international airports in Dublin or Shannon and then drive to Cork.
The Cork Swansea Ferry arrives at Ringaskiddy/Cork Ferryport. There are other ferry services into Rosslare and Dublin.
There is train service from Cork City Centre to other major cities in Ireland.
There is a regular bus service from Cork City Centre to Clonakilty.
Clonakilty
Clonakilty, County Cork, first chartered as a town in 1588, has always been a popular spot for Irish and international visitors alike. It's location on the coast, surrounded by 10 miles of unspoilt beaches, led to the town being known as "The Beach Centre of West Cork".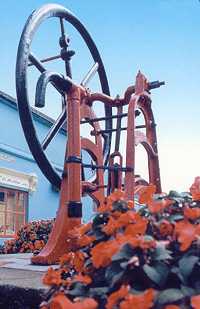 The people of the town have made a great effort to make it a beautiful and friendly place to live and visit. This is shown each year when the Clonakilty regular receives top marks in Ireland's Tidy Towns competition, which in 1999 Clonakilty was awarded the very top prize in all of Ireland. The next year, Clonakilty was awarded a Gold Medal in the Entente Florale "European Competition for towns and villages in bloom".
Whether you are looking for the perfect place for a family meal or an evening of fine dining, the town has a large selection of restaurants, serving all styles of food. There are numerous pubs, most with live music on a nightly basis.
Clonakilty is also host to many annual festivals: Festival of West Cork in early July, August Music Festival, Motor Show each August and many smaller events throughout the year.
Other activities available in the area: fishing, boating and other watersports, horse riding and pony trekking; historic and scenic walks; the local playground has areas for toddlers to older children; the Model Railway Village, based on West Cork early in the 20th Century is a favourite family attraction; the town is home to a three screen cinema showing newly released films.