George was born in Marquette County, Wisconsin on 12th February 1852; the second child of Michael Flannery of County Kilkenny and Catherine (née Flynn) of County Longford. His parents emigrated from Ireland to Connecticut in 1848, married in 1849, and moved to Wisconsin the following year. In 1855 the family moved to Minnesota, travelling in a covered wagon drawn by oxen, and settled on a farm in Rice County, near Faribault, Minnesota.
George obtained his early education in a log school-house near the farm and later was a student at Faribault high school and at Shattuck Hall. During that time he also taught school in Canon City and in Morristown. He studied law in the office of Bachelder & Buckham in Faribault, and was admitted to the bar in that city in November 1873.
In the spring of 1874 he went to Bismarck, Dakota Territory, as local attorney for the Northern Pacific Railway Company, arriving there on 1st May 1874.
Soon after his arrival in Bismarck, he formed a partnership for the practice of law with Josiah Delemater. After two years, Josiah returned to Ohio. Later he formed a partnership with John K. Wetherby, which continued until autumn 1883, when John returned to his former home in Wisconsin. In 1885 he formed a partnership with Elbridge C. Cooke which continued, first in Bismarck and then in Minneapolis, until 1915.
During the thirteen years that he resided in Bismarck he took great interest in both local and territorial affairs and was very active in them. Some of the offices which he filled included the following : Deputy United States District Attorney of Dakota Territory; District Attorney for the Sixth Judicial District of Dakota Territory; County Attorney of Burleigh County; the first City Attorney of Bismarck; and president of the Board of Education of the City of Bismarck. He was also vice president and director of Bismarck National Bank.
In 1883, George played a key role in the relocation of the capitol of the Territory from Yankton to Bismarck. He represented Bismarck in the various proceedings and manoeuvrings, submitted Bismarck's bid, and made the argument for Bismarck before the Commission which had been appointed to select a site and erect a capitol building. The law firm of Flannery & Wetherby donated $5,000 towards the construction of the capitol building.
By chapter 39, Laws of the Territory of Dakota, 1883, Wallette County, which included a large area in the north-west corner of the Territory, was divided into two counties. The westerly county was named Buford County and the easterly county was named Flannery County; photo below. In 1891 these two counties were again united and named Divide County.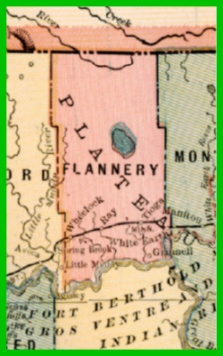 He was one of the charter members of Tancred Commandery Knights Templar in Bismarck. His interest in masonry continued throughout his life. At the time of his death he was a thirty-second degree Scottish Rite Mason in the Consistory at Minneapolis and a Shriner in Zurah Temple of Minneapolis.
George moved to Minneapolis in June 1887, and thereafter engaged in the general practice of law in partnership with Elbridge C. Cooke until 1915.
He was appointed by Governor Clough to be a member of the Board of Trustees of the Schools of Deaf, Dumb, Blind and Feeble Minded at Faribault, and served for many years.
In 1915, he was invited by James J. Hill to become president of the Northwestern Trust Company in St. Paul. He accepted and soon thereafter moved to St. Paul. In 1924, he became chairman of the Board of Directors of that company, and continued in that position until the end of 1928.
Upon his retirement from the Trust Company, he associated himself with the law firm in Minneapolis of Prendergast & Flannery of which his son was a partner, and continued to maintain an office there during the remainder of his life, although he was not actively engaged in the practice of law. Most of his summers were spent at his home on Lake Sylvia (about sixty miles west of Minneapolis), and his winters were spent in Florida.
During the time when he was engaged in active practice, he was admitted to practice law in Minnesota, Dakota Territory, North Dakota, South Dakota, and Montana. During the course of his career, he was offered appointments as Justice of the Supreme Court of Dakota Territory; Judge of the United States District Court of Alaska; and Judge of the District Court of Hennepin County, Minnesota. He decided that the position of judge did not suit his temperament and declined each of these appointments.
He had an unusually retentive memory. He was a lifelong student of the Bible and could repeat much of it from memory; so with poetry. He also possessed extraordinary eloquence in public speaking. In 1932, George wrote an account of his participation in the relocation of the capital from Yankton to Bismarck which amply displays both his eloquence and his innate modesty. His final paragraph concludes thus :
"And in conclusion may I add that it will always be a pleasant memory to me that I was permitted to take part in that political drama which translated the vision of Alexander McKenzie into a reality by making Bismarck the capitol of Dakota Territory. Bismarck owes much to him and when the animosities engendered by political contests shall have passed into oblivion and be forgotten and only the facts remain, may I hope that the citizens of Bismarck, in grateful recognition of his services, will find ways and means to erect a suitable monument to his memory on the capitol grounds in their beautiful city."
George married Alice Greene in October 1876, and the couple subsequently had four children: Charles was born on 1st July 1877 and Henry was born on 4th April 1879, both in Bismarck; Margaret was born on 10th October 1887 and Alice was born on 21st December 1895, both in Minneapolis. His wife Alice died on 17th May 1917, and George remarried to Emily Zdarsky in 1928. George died on 8th March 1946 in St. Petersberg, Florida.
---
[his portrait is illustrated above, source unrecorded; his county is illustrated on the map above, map courtesy of contemporary U.S. Atlas]