Jack was born in Crandon, Wisconsin, on 22nd November 1952; the son of Melvin and Dorothy (née Spencer) Flannery. He married Connie Fraley on 17th July 1971, and the couple had two sons Jed and Jamey. Jack and his sons are successful racing car drivers. He has won numerous prestigious off-road tournaments under the Flannery Racing banner and the Chevy Thunder Truck Team, and is acclaimed as one of the finest off-road drivers in the world.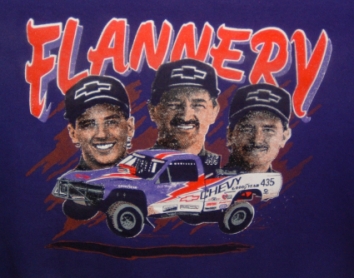 His family operate the very popular Crandon International Raceway about 100 miles north of Green Bay, Wisconsin, where his brother Cliff Flannery is General Manager and cousin Jake Flannery is Race Director.

Jack was inducted into the Off-Road Mortorsports Hall of Fame in 2009 with the following citation:-
We are honored to welcome Jack Flannery to the Off-Road Motorsports Hall of Fame Class of 2009 in the Competition: Off-Road Racing category.
Championship off-road racer Jack Flannery is one of the most well-known names in off-road racing for his talents as a competitor and an innovator. Born and raised in Crandon, Wisconsin, Flannery joins an extremely elite group of other legends such as Walker Evans and Ivan "Ironman" Stewart, among others, in the Off Road Motorsports Hall of Fame. The achievement is also significant in that Flannery is the first off-road champion from the Midwest to be inducted into the Hall.
Flannery brought short course off-road racing to the mainstream by being the first Midwest native to organize a professional off-road race team that was capable of competing against, and beating, the best off-road racers in the world. His passion and commitment to the sport and innovative truck designs helped bring short course off-road racing to a higher level. Being continuously involved in every aspect of the sport, from track designs and layout, to bridging the gap between promoters, racers, fans, and sponsors alike, he enabled more people to experience and enjoy the sport on all levels.
Starting his career at the legendary Crandon International Off-Road Raceway as a grass roots off-road racer, his charismatic personality, techniques and refinements allowed him success in a variety of venues. Competing against factory sponsored teams in the initial stages of his career, privateer Flannery, with the financial backing from Flannery Trucking, owned by his father Melvin and late mother Dorothy, proved early on he was quite talented behind the wheel and a force to be reckoned with.
Beginning his nearly three-decade racing career by piloting a snowmobile, he switched his efforts in the 1970s to a Class 6 two wheel drive sedan and utility vehicle. In 1974 he discovered a new niche and began piloting rear engine off-road buggies. In the late 1970s he began to focus his talents and passion on the full-size truck classes.
Competing in the Mint 400 in the Nevada desert in 1978 and 1979 helped Flannery gain valuable experience.
Venturing into Canadian territory in the early 1980s, Flannery competed in the Canadian Off-Road Series two times, all the while dominating the Midwest SODA series and racking up five Pro Series Championship titles. He also competed in the SCORE Off-Road Championships in Riverside, California.
In 1990, Flannery added another victory at the Inaugural SCORE Off-Road Championships in Phoenix, Arizona. The highlight of 1990 was when Flannery captured the Class F truck title in the Pikes Peak Auto Hill Climb and earned "Rookie of the Year" honors while piloting a Ford F-150.
The following year brought a major sponsorship on behalf of Chevrolet and launch of the famous "Chevy Thunder" Team as well as 9 wins out of 10 events in the SODA ESPN-TV Pro Series. Jack also once again returned to Pikes Peak, this time driving a new full-size Chevrolet, and not only won the Heavy Metal title, but shattered his own record by a whopping 22 seconds! In 1992 Flannery made the trek back to the "Hill" finishing second. 1993 again showcased Flannery's talent as he stormed through the SODA circuit by winning five of six events, and taking home the ESPN Pro Series Championship for a sixth time.
In subsequent years, Flannery was a solid fixture in professional short course off-road racing and again no stranger in victory circle scoring numerous Pro 4 and Heavy Metal wins. The pinnacle of his career came in 1996 when he won the coveted $125,000 Borg Warner Cup Race at Crandon International Off-Road Raceway. "Mr. Chevy Thunder" followed that up in 1997 with a clean sweep at Crandon, once again winning both Pro 4 classes and the prestigious Governor's (now called "Chairman's") Cup Race. Victory followed Flannery into 1998 when against a world class field of off-road competitors; he dominated and claimed the CORR Pro 4 Championship title and in 1999 won a second Chairman's Cup as his curtain call.
Having accomplished goals most can only dream of with well over 150 class wins and series titles, Jack has enough championship rings to fit every finger and toe on his body.
Jack died on 6th April 2010, and was buried in Lakeside Cemetery, Crandon.
---
[his portrait is illustrated above; courtesy of Crandon International Off-Road Raceway]