Tex was born in Germantown, Philadelphia, Pennsylvania, U.S.A. on 6th October 1922; the son of Anthony and Ellen (née Hannahoe) Flannery; with brother Thomas. His father Anthony was the son of John and Ellen (née O'Regan) Flannery. His grandfather John was the son of Denis and Catherine (née Kenny) Flannery of the townland of Carrowkeel in the civil parish of Dunmore in County Galway.
John was better known as "Tex" because he loved Western novels. He attended La Salle College High School, where he graduated in 1940, and then La Salle University, where he graduated in 1944. At 1.91m (6' 3") and 100kg (15st 10lb), he excelled at both football and basketball. In football, as an end, he earned first-team All-Scholastic honours (best players in the five-county area) from the "Philadelphia Bulletin" in his senior season of 1939.
He coached football at John Bartram High School from 1944 to 1947.
In 1953 he became Assistant Football Coach at La Salle College High School, and in 1956 he became Head Coach, a position he held until 1984. During that time his teams won three Catholic League Championships (1957, 1958 and 1960) and two City Championships (1957 and 1960).
He was well known for his many sayings and humourous mixed metaphors, such as "All roads bend and all roads end"; "When you win, pimples turn into dimples"; and "It's all water under the dam".
He was inducted into the La Salle's allumni hall of fame in 1975, and the college football field was dedicated as "Flannery Field" in his honour on 21st November 2007 (pictured below).
Tex married Rosemary McCarron in 1950, and had three children, John Jr., Mary and Kate.
Tex died on 4th November 2007.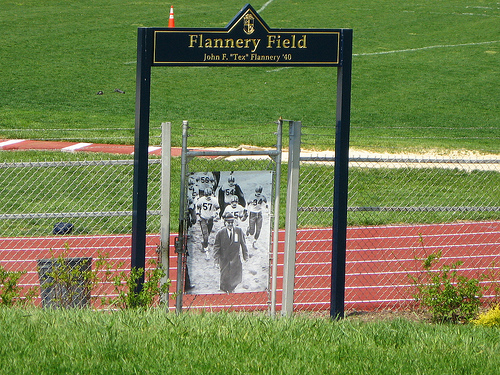 ---
[his portrait is illustrated above; courtesy of La Salle College High School]