John Joseph Flannery III was born on 13th January 1969 in Pottsville, Pennsylvania; the son of Leonard and Rose Flannery. He is married to Kristine, and they have a daughter Brennan. John and Kristine have donated considerable time to the Multiple Sclerosis Foundation.
John won the Pennsylvania State heavyweight wrestling title as a senior in Pottsville Area High School in 1986. He played college football as co-captain for Syracuse University, New York, at #53, and was awarded a degree in political science in 1991. He was semi-finalist for the Outland and Lombardi trophies at Syracuse University, and was ranked the third best center in the country by the Sporting News. In 1999, John was named to the Syracuse University All-Century team.
At 1.90m (6' 3") and 138kg (21st 10lb), his speed and strength - combined with his wrestling background - made him a highly-valued football player. John played ten seasons of professional American football as an Offensive Guard / Center in the NFL. He played 47 games at #55 for the Houston Oilers (1991 – 1995), 17 games at #63 for the Dallas Cowboys (1996 – 1997), and 16 games at #63 for the St. Louis Rams (1998 - 2000) until a serious knee injury prompted his retirement.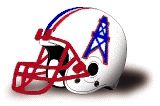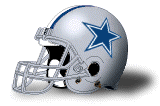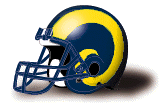 Sports commentators described him as ... "a versatile and savvy veteran who is equally effective at center and guard ... a smart player and very good technician ... he can deep snap for punting and kicking situations."
---
[his portrait is illustrated above; courtesy of SUNY prospectus and trading cards; football helmets shown courtesy of "The Helmet Project" with special thanks to Charles Arey]