Patrick Martin Flannelly was born in Chapel Street, Castlebar, County Mayo, on 7th November 1909; the son of John and Catherine (née Waters) Flannelly. His father John was the son of Patrick and Maria (née Flannery) Flannelly of Castle Street, Castlebar. His grandfather Patrick married Maria in Castlebar on 14th August 1856.
He attended St. Gerald's College in Castlebar, and later worked with his cousin Paddy Flannelly and uncle Matthew Flannelly in his uncle's victualler shop on Main Street, Castlebar. He was married to Maria Ann.
Patsy was a gifted athlete. He was a noted sprinter and won many county and provincial finals at 100 yards and 200 yards.
Patsy was a notable Gaelic footballer, and dominated centre field position with his height and speed. He soon formed a successful centre field partnership with Henry Kenny (father of Enda Kenny, TD), and the dynamic pair won numerous medals at club, county and provincial level.
He won five provincial medals with Mayo in the Connacht Senior Football Championship in 1932, 1935, 1936, 1937 and 1939; and six league medals with Mayo in the National Football League in 1934, 1935, 1936, 1937, 1938 and 1939. He won four Railway Cup medals with Connacht in the Interprovincial Football Championships in 1934, 1936, 1937 and 1938; but the highlight of his sporting career was his pivotal role in his county's first All Ireland Senior Football Championship victory in 1936, when Mayo won the Double (League and All-Ireland Championship).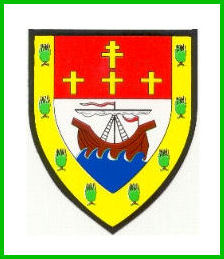 RTÉ Publishing's Barry J. Whyte recounts the epic semi-final clash between Mayo and reigning champions Kerry in 1936 ...
Before there was Willie Joe Padden in the Mayo midfield there was Patsy Flannelly, the tall, broad, fair-haired centre-fielder that dragged Mayo to their first victory over Kerry in 1936.
The game opened quickly, swinging from end to end with the players following the ball rather than directing its path. A clever ball into his brother Tim by John Joe Landers resulted in a foul, and Tim popped it over for the game's first score and the lead for Kerry.
Flannelly, though, took the first step in dragging Mayo boldly to victory, and cancelled out the Landers brothers' work with a typical long ball over the bar.
Kerry made it 0-02 to 0-01 soon after, Dan Spring connecting up a smooth move by The Kingdom before laying off a pass to Gearóid Fitzgerald.
The game began to bloom; McNicholas' thunderous drive was saved well by Danno O'Keeffe in the Kerry goal before Flannelly again levelled the scores.
The Mayo midfielder proved human, though, when he missed a 50, but it was the only blight on a game of great football. He would make up for that missed free when yet another foul gave him the chance to drop it in around the goal; this time a freak breeze grabbed the ball as it left Flannelly's boot and whipped it over the heads of the Kerry backs and into the back of the net. The crowd - or at least the green and red half of it - exploded with delight.
Kerry were unlikely to give up after just one goal, and Miko Doyle's 50 got them back to within two. Nonetheless, cracks were beginning to appear; Doyle had missed an earlier 50 and, just before the break, Tim Landers slapped his short-range free off the upright and wide.
At half-time, Mayo held a two point advantage, 1-02 to Kerry's 0-03.
There's no doubt that scoreline rankled with the Kerrymen. They were used to sending the Mayomen skulking back to Connacht with their stylish dominance. Granted, the upstarts had been showing more spirit of late, but surely The Kingdom were not to be denied another All-Ireland final?
So half-time would have been a period of regrouping for the men in the green and the gold; perhaps they convinced themselves that the goal was a freak. The breeze took a nice hold of it, after all. And what of the few points they missed towards the end of the half? Someone more than likely told the team to write the first-half off to jitters.
We're unlikely to ever find out what was said but, whatever it was, it was effective. Kerry came out with the explicit intention of renewing normal service.
Upon the restart, they clinically broke down a neat piece of midfield work involving Flannelly and began to turn their attentions to the Mayo goalposts. And not just over the bars either. But Burke had been heartened by half-time too, and he repelled a stinging shot from JJ Landers then, soon after, gathered up a 20-yard missile from Ferriter.
Tim Landers then hauled Kerry to within a point as his free sailed between the posts.
Kerry's proximity on the scoreboard could have unsettled Mayo; after all, they'd rarely been this close to the champions this deep into the match. Teams, especially teams unused to winning, can let that sort of thing get to them. Not this year, and not Mayo. Flannelly once again provided all the backbone Mayo needed, sticking a 50-yard punt directly between the uprights.
Burke again was drawn into action and had to save smartly from Fitzgerald, and from then on, Mayo were in control.
When Kennedy put Ferriter in for a point Mayo struck twice: Laffey, Moclair and Carney swept the ball towards Josie Munnelly, who popped it over the bar; Munnelly again struck to make it four points between the sides.
Kerry's JJ Landers got the honour of the last score of the game, leaving the teams separated only by that wind-assisted Patsy Flannelly strike as Mayo held on for a deserved 1-05 to 0-06 victory.
And Flannelly was instrumental again when, the following month, Mayo went on to win their first All-Ireland final, trouncing Laois 4-11 to 0-05 in Croke Park.
Patsy died on 14th October 1939 in a shooting accident.
---
[his portrait is illustrated above; cropped from the All Ireland winning team photo of 1936, courtesy of his second cousin Patrick Flannelly of Moneen]