Thomas was born in Carbondale, Pennsylvania, U.S.A. on 16th December 1919; the son of James Aloysius and Clare Martina (née Reap) Flannery; with brothers James, Matthew and Joseph, and sister Clare. He graduated from Jessup High School, near Scrantion, and attended Cooper Union in New York City. He later studied at the Pratt Institute in Brooklyn (1940) and at the University of Scranton (1947).
He worked as a hotel auditor in New York City before World War II when he joined the United States Army Air Force (Eighth Air Force headquartered at Bushy Park, England). In 1943, he joined the staff of the military publication Yank magazine as an artist, based in the building of the Evening Standard newspaper in London. He was a popular cartoonist for Yank from 1943 to 1945.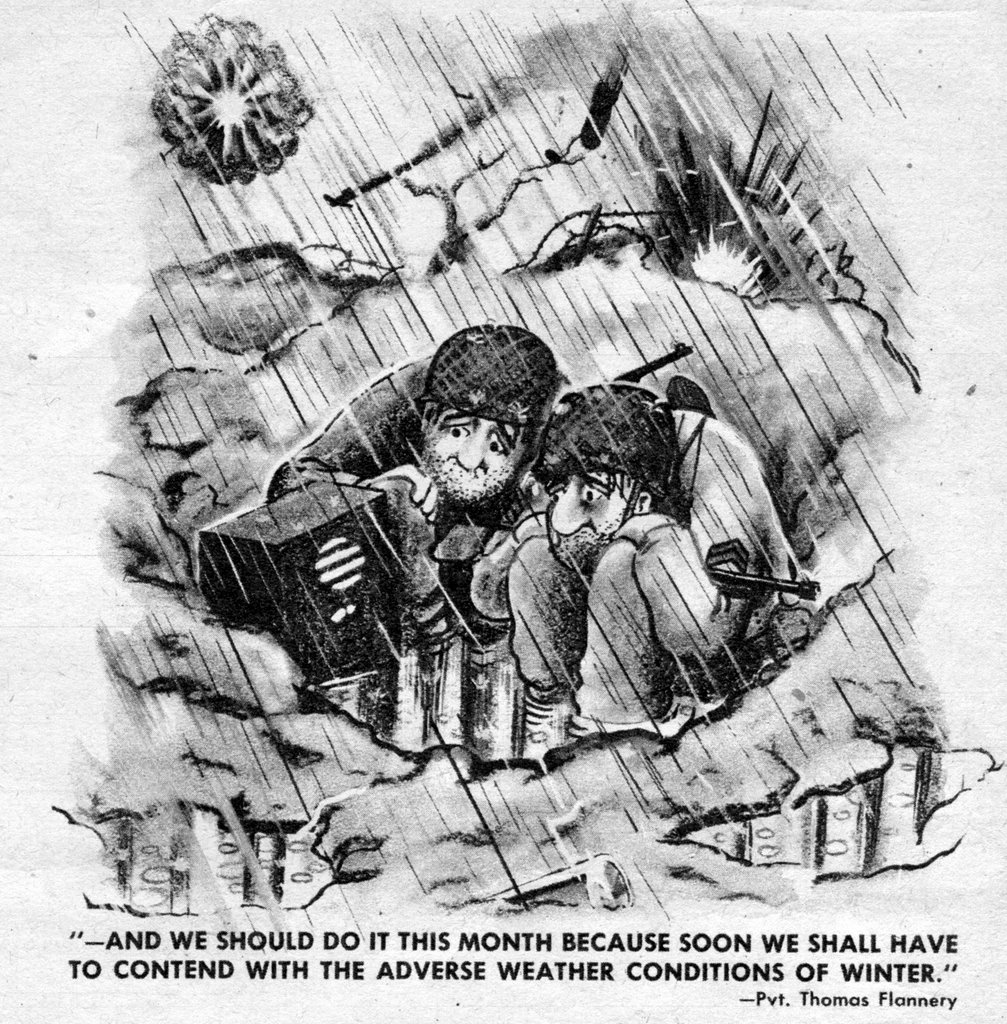 After the war, Thomas worked as a free-lance cartoonist in New York, where his work regularly appeared in the Saturday Evening Post, Redbook, Look, Colliers, Good Housekeeping and Cosmopolitan. It has been said that his work reflected that gentler, kinder era.
In 1948 he joined the staff of the Lowell (Massachusetts) Sun where he served as a cartoonist for nine years. He moved to Baltimore and became the first editorial cartoonist for The Evening Sun in 1957. He was the cartoonist for the Baltimore Sun from 1972 until his retirement in 1988.
During his 31-year career, it is estimated that Thomas produced some 7,200 drawings for The Evening Sun and The Sun, many of which were subsequently deposited at the Johns Hopkins University's Eisenhower Library. They demonstrated an expert draftsmanship, deft hand and economy of line, and were always signed with an upbeat brush stroke: Flannery. Many of the archived cartoons deal with national issues and cover topics such as: agriculture, education, the environment, foreign affairs, labour, poverty, the space program, Congress, fiscal problems, politics, conventions, and elections, military problems especially the conflict in Vietnam, crime, dissent and civil rights, and the Supreme Court. Other cartoons deal with world affairs, and topics such as: Cuba, Latin America, the Balkans, Greece, Africa, the Near East, Europe, the Orient, the South Pacific, Russia and her satellites, world problems, the United Nations and international meetings of heads of state.
"I like to present a viewpoint, my viewpoint, rather than to illustrate an issue," he told Harold A. Williams, retired editor of The Sunday Sun and author of "The Baltimore Sun 1837-1987". "I'm prejudiced as to what I think is right. I'm not always right, obviously, but that is the way I see my job."
Thomas married Donna Elizabeth Hossach on 26th December 1952, and the couple had two sons Shawn and David, and two daughters Sharon and Janine. Donna died in 1973, and he married Angela Ryan on 5th July 1986. Thomas died on 9th November 1999 at his North Baltimore home.
---
[his portrait is illustrated above, courtesy of Allan Holtz - comic strip historian; one of his cartoons is illustrated above, courtesy of Yank dated 1st September 1944]