William was born in Nenagh, County Tipperary on 12th January 1829; the eldest son of William and Margaret (née Carroll) Flannery.
He left Ireland in 1845, and travelled to Annonay, France, where he completed his classical studies under the direction of the Basilian fathers. He was accepted as a novice on 28th November 1851, and taught English to his fellow novices at the College Sainte-Barbe. He was selected for the Canadian missions, and left France on 4th August 1852.
He arrived in Toronto, by way of New York, on 21st August 1852, and was ordained on 22nd May 1853. He taught Latin and studied Theology for a number of years before he eventually rose to the distinction of professor of belles-lettres at St. Michael's College which he helped to found.
William reportedly felt that the introduction of vows in 1852 substantially changed the basis of his decision to join the Basilians as a novice in 1851. Consequently, there was a rift with the order and he left Toronto to return to Ireland in 1857. His cousin, Fr. Michael Flannery, had recently been installed as Bishop of Killaloe, and he made William the parish priest of Toomyvara.
In November 1860, he was sent to collect funds in North America for the restoration of Nenagh Castle. Over the next three years, he raised the impressive sum of £600 from New York, Montreal and Toronto, remitted the funds, and then requested to be transferred to Toronto. He worked in Toronto from October 1863 to November 1867, until he had a blazing row with Bishop John Lynch over the canonical validity of the mass wine used in the diocese. The bishop claimed that the wine was of inferior quality, whereas William supported the manufacturer Justin DeCourtenay.
William worked as the personal secretary to Bishop John Walsh in Ontario from 1867 to 1869. In 1868, William managed to raise $30,000 in London to pay off the debt left by the bishop's predecessor.
In 1870, he joined the Holy Angels parish in St. Thomas and stayed there for 28 years. In typical style, he built a new $14,000 church which was opened on 10th November 1872. He also built a new convent and a school. William personally collected $1,000 for the down payment on the school by knocking on every door in town, regardless of the occupant's religion. His parishioners' fondness was publicly manifested in the lavish celebrations staged in 1878 to mark the 25th anniversary of his ordination, and in 1895 for the 25th anniversary of his service as their parish priest. So supportive were his parishioners that they agreed in the 1880s to pay him a salary of $1,000 per annum.
He was associate editor of the "Catholic Record" (London) and his editorials and leading articles were noted by his contemporaries for their considerable learning and disarming wit. He was also a contributor to the "Catholic Register" (Toronto). However, in accordance with the prevailing custom, his work for both newspapers appeared anonymously. He wrote a pamphlet "Defence of the Jesuits" (London) in 1889.
William was perfectly bi-lingual in English and French, and was a first-rate writer with an encyclopaedic knowledge of church history and theology. He was awarded an honorary D.D. by Georgetown College in Washington D.C. in 1892.
In 1898, he was promoted to Dean of Windsor and parish priest of St. Alphonsus, but his health started to deteriorate. In January 1901, he transferred to the country parish of St. Columbans but shortly after suffered a stroke and was paralysed. Fearing the end was at hand, he decided to make one last visit to Ireland. He travelled home to his sister Julia Delany (née Flannery) in Borrisokane, where he died from a second stroke.
He had been a Tory in Canadian politics and a fervent Home Ruler in Irish matters. He became a model parish priest, an accomplished and prolific Catholic journalist, and a well-respected public figure. An intelligent and educated man, he might have achieved greater fame if, as Henry James Morgan noted in 1898, he had been "ambitious enough to covet the honours of authorship".
He died in Borrisokane, County Tipperary on 21st December 1901.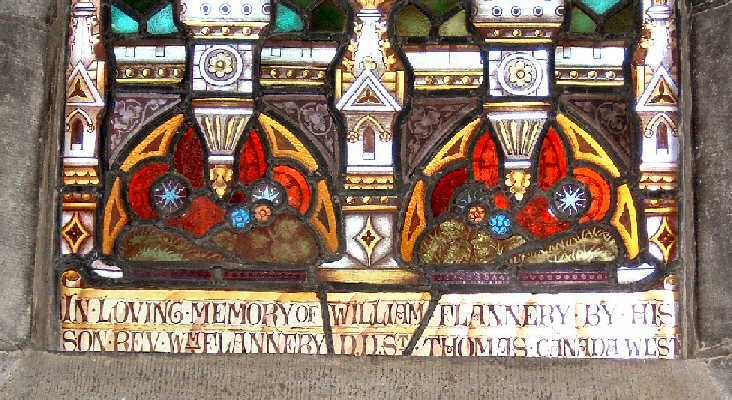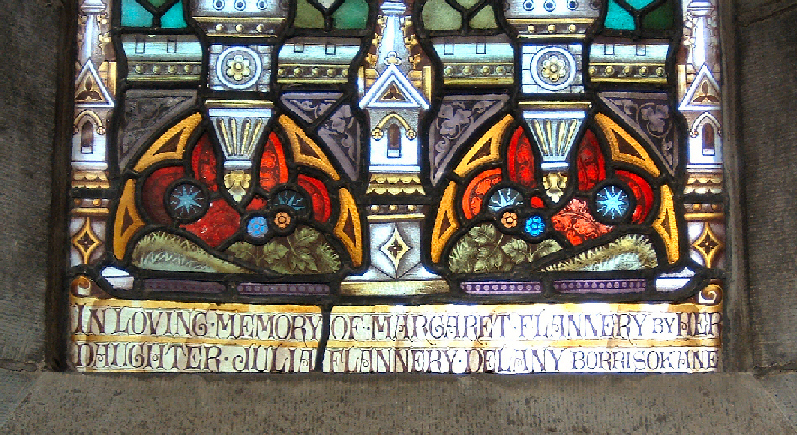 ---
[his portrait is illustrated above, courtesy of St. Thomas Daily Times newspaper (24th Feb. 1912); also his commemorative lectern, courtesy of Michael C. Flannery; also stained glass memorials in St. Mary of the Rosary Church, Nenagh]