"The Glue Tour"
Johnny & Jack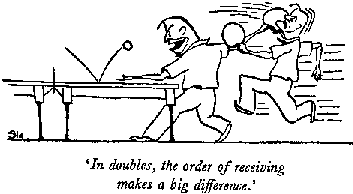 I heard many stories centered around table tennis as I travelled around the country as a junior. My dad was my coach for many years and still influences my love of the sport even though he died nearly 10 years ago. The two names I remember most were Johnny (Leach) & Jack (Carrington). I don't think he actually knew them that well but I grew to know them through my dad's respect for their actions and words.
Jack Carrington was an English International from 1939-49. A World Championship Finalist in 1947. He trained Johnny Leach, was doubles champion of England, America and Ireland 1950-51. He became coaching director for the ETTA and was National Instructor to Sweden, Denmark, Finland & Ireland. Quite a remarkable table tennis player & coach.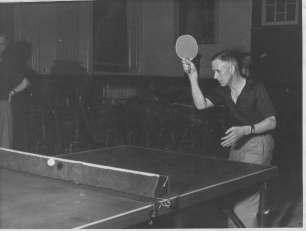 In 1942 Johnny Leach was an ordinary club player in 1946 he made the World rankings list and in 1949 won the World Singles Title in 1951 he won it again. All through those first 7 years Jack Carrington was Johnny's coach.
Jack said of Johnny "Many said his game was incapable of winning a World Singles, because he was such an all-rounder. He could defend or attack on both wings and from any position, but none of his shots were especially severe. His footwork was slow by World standards and his drop shot was ordinary." "On the great occasions Johnny's wonderful temperament stood up to all the tests. Speed came into his feet and fire into his drives. Thus in 5 years of World play, Johnny Leach won the World singles twice, reached the Singles semi-final once (1947) and the Men's Doubles final once(1947 partnering Jack) and scored victories over every known international champion." In 1950-51 Johnny was American, French, Belgian and Welsh National Champion.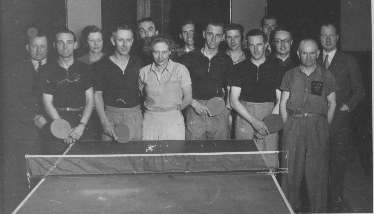 How Many Can You Name?
On Clothing Jack wrote "The lower part of the clothing is laid down as grey flannel trousers for men and grey flannel skirt or shorts for women. In recent years there has been a tendency for both men and women to adopt shorts for strenuous competitive play. In the case of the ladies, the colour has rarely been grey ;anything from plum to powder blue seems to be preferred and I, for one, am not complaining!"
Quotes from "Modern Table Tennis" by Jack Carrington.1953
photos my collection.