INFO

CUISINE

LODGINGS

BUSINESS

GROUPS

CLUBS

PERSONAL

SEARCH

GOLEEN GAA


GAA November 2000
The u-12's played their section 8 league final against Colm Og on Sat Nov 11th in Kealkill. This game was moved from Aughaville as the pitch was unavailable. Mizen Rovers played against the elements in the first half. They found it very difficult to get the ball upfield and rarely threatened the Colm's goal in the first half. The midfielders and backs were defending very well and the halftime score read Colm Og 1 goal 5points Mizen Rovers no score. With the elements to their back in the second half the team attacked but missed acouple of chances. They had the lead narrowed to two points when Colm's scored their second goal. The team battled away and scored two goals to lead with about five minutes to go. Colm's managed to attack again and one of the forwards got in behind the cover to score a goal. Final score Colm Og 3 goals 5 points Mizen Rovers 3 goals 3 points. Panel: Ross O' Connell, Ruvimbo Mazani, Paul Clarke, Martin Hurley, James Scully, David Barnett, Derek Barnett, Jamie O' Driscoll, Deirdre Cotter, Patrick Scully, Michelle Mc Carthy, Daniel O' Driscoll, Luke Greenway, John Sheehan, Peter Sheehan, Olivia McCarthy, Fidelma Kennedy, Ronja Bailey, Brigid Supple.

The u-14's played Barryroe in their league final on Sat Nov 18th in Drimoleague. The team gave their best display of the year but lost on a score of 4 goals 7 points to 2 goals 7 points. They conceded 2 goals and 2 points in the first ten minutes. They scored 1 goal 4 points after this to trail by a point at the interval. A bad start to the second halfm conceding a third goal and a couple of points left them with a mountain to climb but the Mizen lads took complete control after this but the good approach work was undone by some bad wides and Barryroe held on to win. Panel:Daniel O' Driscoll, Ross O' Connell, Ruvimbo Mazani, Martin Hurley, James Scully, Derek Barnett, Jamie O' Driscoll, Deirdre Cotter, Patrick Scully, , Danny O' Driscoll, Colin Johnson, Brian Courcey, Brian Clarke, William Burchill, Brendan Scully, Kevin Barry, Alan O'Reilly, Michael O' Callaghan Lowertown. This ends the playing season for the year 2000. Well done to the under age teams for reaching various finals and hopefully the experience gained will stand to them and they will be able to reverse the results.

The u-16 footballers played the championship final against St Oliver Plunketts in Aughaville recently. Only a few of the team played to their potential and eventually lost on a scoreline of 3 goals 12 points to 1 goal 3 points to a much better team on the day. The scoreline could have been much closer as a period of dominance midway through the first half failed to yield a score and the opposition scored their second goal just before halftime. The boys battled away to the end. Thanks to the mentors for training and helping this team during the year.Panel: Barry O' Regan, Brian Goggin, Gerard Mc Carthy, Danny O' Drisoll, Kevin Lucey, William Burchill, Alan Scully, John Notter, Declan O' Donovan, Brian Clarke, Brendan Scully, Richard Cotter, David Barry, Alan O' Reilly, Kevin Barry, Brian Courcey, Colin Johnson, Derek Barnett. As the weather has been so bad over the last two months it has been decided to defer the parish league until February or March. The Annual Dinner Dance will be on Sat Nov 25th in Colla House Hotel. The local Scor na Paisti night will be held in the hall on Friday Dec 1st @ 8pm. This is for national school school going children of the parish. Entries to the secretary Anne Sheehan at 35400. 35 card drive as usual in one of the bars in the village every Friday night check locally for the venue.

GAA October 2000
GAA Carbery senior footballers were beaten in the county final by Nemo Rangers on Sunday Oct 1st. Local clubman John Cullinane was on the panel. He was brought on in the second half when there really was no way back for the team. He played in all the earlier rounds of the championship plus numerous challenge games. His goal against Clonakilty in the replay proved to be the crucial score. We hope he continues to wear the divisional jersey for many more years.
The u-16 footballers are in the final of the championship following their victory over Dunmanus Rovers in the semi-final. This is the first championship final the under age club has qualified for since it was formed. The final scoreline was Mizen Rovers 1-9 Dunmanus Rovers 1-4. Dunmanus scored three early points and the Mizen boys were finding possession very hard to come by. Midway through the first half they registered their first point to make the score three points to one. Then some sloppy defending let their opponents in for a goal. The boys raised their game coming up to half time and registered three points to leave the score at half time Mizen 0-4 Dunmanus 1-3. On the restart Dunmanus scored a point which was to prove their last score as the local boys took control. A goal midway through the half put them in front and they scored four more points to ensure victory. Dunmanus tried to the end but could not breach the Mizen defence.
Panel: Barry O' Regan, Brian Goggin, Gerard Mc Carthy, Danny O' Driscoll, Kevin Lucey, William Burchill, Alan Scully, John Notter, Declan O' Donovan, Richard Cotter, Brendan Scully, David Barry, Brian Clarke, Alan O' Reilly, Kevin Barry, Brian Courcey, Colin Johnson, Derek Barnett. The final is against Oliver Plunketts towards the end of the month check locally for date and venue and support the local youth.

It is hoped to start the u-13 parish league on Saturday October 14th. The format will be the same as last year with four teams. The four teams will play each other on a league basis with the top two playing in the cup final and the bottom two in the shield final. Again lookout for times and dates of games. The u-14 team have a league playoff against Ilen Og B at home to be played prior to Oct 22nd. The u-12 team will be playing the winners of Colm Og and Kilmeen in the league playoffs probably the last weekend of October. The u-10 team have a game with Dunmaus Rovers on Saturday October 7th at Duach. October is the month for Scor na nOg so all those wishing to take part should be getting their items together and practising for the local night in the parish hall contact club officers for details. It is also the month for the county board draw the first draw takes place on last Friday of October. GAA NOTES FOR JULY
The U-14 championship V St Oliver Plunketts has been fixed for August 4th in Castlehaven. The U-14 and U-16 teams travel to Barryroe on Sunday July 23rd to play the outstanding league games. It is also hoped to play the outstanding U-10 and U-12 league games V Oliver Plunketts in the next couple of weeks. Both of these are at home. Fixtures:U-18 championship V St James @ Church Cross on Wednesday July 26th. U-18 championship V Kilmeen @ Skibbereen on Thursday August 3rd Junior D (second team) championship V Argideen Rangers on Friday July 28th @ Skibbereen. This team will be involved in a league no fixtures to hand. Junior B league V Oliver Plunketts @ Ahiohill on Sunday July 30th @3pm.
Check locally for times of other games. Goleen have drawn Ilen Rovers in the Junior C championship. A fixture date has not been received for this game but will probably be played over the next few weeks.

Goleen Junior B
Goleen junior B footballers were knocked out of the championship in Drimoleague on Sunday July 9th by St Marys. In a game in which they started very slowly St Marys had three points on the board before the first real attack was mounted. Towards the middle of the first half a big improvement in their play yielded some scores and as the half closed Goleen were on top. Half time score Goleen 0-4 St Marys 0-7 both sides missing some easy scores. St Marys had the first score of the second half and Goleen needed a goal to close the gap but never looked like creating the opening necessary to do so. It was St Marys who got the goals and ran out winners on a scoreline of 2-10 to 0-07. A feature of the game was the fine fielding display of John Cullinane at midfield. Goleenís inability to contest and pick up loose ball in the middle third of the field proved to be a big problem.
TEAM:
P.Kennedy, C.Bohane, P.Reidy, M.Burchill, C.OíLeary, D.Hodnett, K.Sheehan, J.Cullinane, M.Lucey, B.OíRegan, L.Connell, T.Supple, P.Eder, V.Goggin, E.Burchill. Sub used T.Murnane.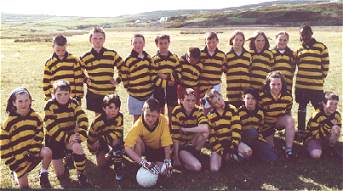 Goleen U12 Team

Fixtures for the month of May.

Monday May 1st U-12 away to Ardfield
Tuesday May2nd U-14 away to Glengarriff
Friday May 5th U-16 home to Argideen Rangers
Monday May 8th U-12 away to Kilmeen
Tuesday May 9th U-18 home to Kilmeen
Friday May 12th U-16 away to Dunmanus Rovers
Sunday May 14th Juniors home to St Marys
Monday May 15th possible U-12 Championship v Ardfield
Wednesday May 17th U-14 home to St Oliver Plunketts
Friday May 19th U-16 away to Barryroe
Wednesday May 24th U-14 home to Timoleague
Monday May 29th U-12 home to St Oliver Plunketts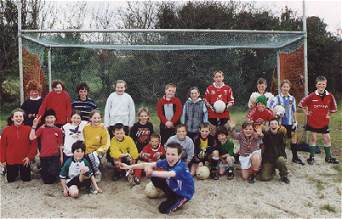 There is a possibility of Junior league games being fixed for the other Sundays in May. Check locally for times and venues. There is an U-14 league game away to Barryroe to be played. It is hoped to play this game on the same day the Junior teams play each other. The U-10 football starts on the first Saturday of June away to Kilmeen.

Results to date
U-12 League
Mizen Rovers 1-10 Glengarriff 2-07
Mizen Rovers 4-10 Colm Og 5-01
Mizen Rovers 0-07 Timoleague 3-04


U-14 League
Mizen Rovers beaten by Colm Og
Mizen Rovers beat Ilen Og B


U-16 League
Mizen Rovers 6-07 Glengarriff 0-08
Mizen Rovers 0-09 St Ol. Plunketts 2-10

U-18 League
Goleen beaten by St James

U-21 Round Robin
This is the championship Goleen won last year.
Goleen lost both games played against Randal Og and St Oliver Plunketts. Randal Og won the championship beating St Oliver Plunketts in the final.

Junior League
Goleen beat Randal Og
Goleen lost to St James
Goleen lost to Durrus
Goleen beat Gurranabraher in the first round of the county millenium junior B championship in Ballineen on Sunday April 16th. They play Ballyhooley in the next round on Sunday April 30th in Inchigeelagh at 3.30pm.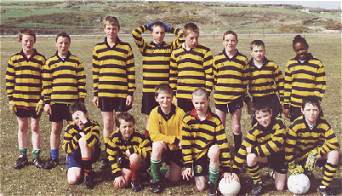 Mizen Rovers U14 Win
On 22nd April the U14 GAA team lined up against Ilen Og at Duach. The Goleen team was in fine spirits after the great win earlier in the week by the U12 team. With the wind against them in the first half it was tough going, but the team showed great spirit keeping in touch with some good defensive work. With the wind at their backs during the second half Goleen scored some good goals. It was a very tough match with excellent performances from many players in inclement conditions. At one stage the Ilen Og team rallied and pulled ahead with two fine goals. When Brian Clarke was sent to the line for an off the ball incident it appeared that their efforts would count for nothing but the team rallied and scored a late goal which put them in front. When the final whistle sounded their was much celebration for this much deserved victory. The final score was 5-3 to 4-7.

Saturday 15th Report:
Goleen played Oliver Plunkett's on Sat. 8th April in the U21 C football champs. at Church Cross. Even though the pitch was in poor condition, a good, close game was played. In the first half, points were scored and then Goleen scored a goal by Liam Carroll, but their joy was shortlived as Plunkett's scored a goal soon afterwards to go in two points ahead at half time. The second half saw both sides scoring points but Plunkett's ran out winners by four points, 1-12 to 1-8, which ends Goleen's championship hopes for this year.

Goleen U16s were also defeated by Oliver Plunkett's on Saturday last in a game played at Duach, Goleen.

In the millennium Junior championship Goleen have a tough draw against Gurranabraher. This fixture to be played on Sunday April 16th in Ballineen. The South West draws were made recently the junior team have drawn St Marys. The u-21 is being run again on a league basis this year. Goleen play Randal Og in the first round probably towards the end of March check locally for time and venue. The juniors and u-21's have started training on Friday nights. The junior league commences on Sunday March 5th with a home fixture against St James, and continues with home games on the following two Sundays against Muintirvara and Randal Og respectively. Check locally for time of games. The secretary Paul O' Sullivan has Scholarship Forms for Irish College in Ballingeary for the Summer. Anybody interested should contact him immediately as they have to be back for March 21st Mizen Rovers U-10 and U-12 training is on Thursday evenings at 5pm in Sue Hills field. We will have details of under age fixtures in the next issue. It is hoped to commence u-16 and u-14 training on Saturday mornings in the near future. Goleen GAA team lost their first league game 3-6 to 4-10 to Ardfield.(Nr Rosscarbery) on Sunday 5th March

The AGM of Goleen GAA Club took place in the parish hall on Fri. Jan 21st. It was the best attended for some years. The secretary gave an account of the last years activities, the high-light being the U-21 championship win. Treasurers report showed finances in a healthy state. The election of the officers for the coming year resulted as follows. President-Richie Barry, Chairperson Tim Sheehan, Vice Chair Pat Moynihan, Secretary Paul O' Sullivan, Treasurer Donal O' Driscoll, Registrar Sean Barry, PRO Declan Hodnett, Trainer for the year is Patrick Hodnett. Teams entered are Junior B Junior D U-21,and U-1

MIZEN ROVERS AGM took place on Fri. Jan.28th in the parish hall. There was a lot of concern from the top table at the lack of parents at the meeting, with the feeling that the use of buses takes the onus off parents to travel to games. As it is a big responsibility to have only one parent travelling on the bus to away games, it was suggested that the officers see if a pool of cars can be organised for travelling to away games. The secretaries report showed few victories but some good performances especially in the U-10 blitz. A set of medals has been obtained for this team and a presentation evening will be set up in the next few weeks. Officers elected as follows, Chairperson Tim Sheehan Secretary Patrick Reidy Treasurer Ellen Scully Registrar/PRO Miriam Goggin Teams entered U-16, U-14, U-12, and U-10. Training will begin shortly for all grades.