West Cork Primary Schools Cup 2011
The West Cork Primary Schools Cup was once again the highlight of the National School season with 15 teams taking part in Boys, Girls and Mixed Team competition at the Goleen Sports Complex. The Boys event saw three divisions with three of the four teams in the 1st Division from St. Finbarr's Boys National School in Bantry. St. Finbarr's have held the West Cork Title for 3 consecutive years and this season added the All Ireland U13 Title to their repertoire. The A Team of Tom Walsh, James Lavin and Daniel Murray were red hot favourites for the event and took out their own C Team on a score line of 3-1. Zico McSweeney-Oliveira scoring the point for the under dogs after beating James Lavin in a 5 set thriller 11/6, 10/12, 11/13, 11/8, 11/9. The A team also defeated the B Team 4-0 but only after stiff resistance from Jack McCarthy who took St. Finbarr's No.1 Tom Walsh to five sets losing 11/4, 11/9, 7/11, 7/11, 13/11. Jack McCarthy was in fine form for so late in the season and no one will be looking forward to playing him in the WCTTA Individual Championships on June 19th.

Jack McCarthy went one better after he caused the biggest upset of the day beating Irish No.1 U10 and Munster No.2 U12 James Kelly in their encounter with Lissagriffin NS. It was a topsy-turvy match with some dramatic score lines with Jack winning 11/9, 4/11, 10/12, 11/9, 11/1. However after Padraig Reidy came to Lissagriffin's rescue winning his match against John Enderson it was in the doubles that Lissagriffin were able to claw their way back into the match. James Kelly and Sam Coughlan took on Jack McCarthy and Shane Murray and it reached a "Super Doubles" tie breaker on a score line of 13/11, 5/11, 13/11, 9/11, 11/8. Kelly and Reidy won out the match in 3 sets against McCarthy and Enderson. Zico McSweeney-Oliveira showed his form once again as he scored his team's point defeating Sam Coughlan 3-1 in their encounter but were unable to stop Lissagriffin's march towards the inevitable match-up between All Ireland U13 Champions St. Finbarr's and Munster Primary School Champions Lissagriffin.

Lissagriffin got off to a flying start with a 3-0 victory for James Kelly over Tom Walsh but St. Finbarr's strength in depth saw both James Lavin and Daniel Murray claim 3-0 victories over Sam Coughlan and Padraig Reidy. This time Lissagriffin were unable to take advantage of their strong doubles pairings as the St. Finbarr's pair won the final 3rd point on a score of 11/7, 11/8, 12/14, 11/7 and once again claim the West Cork Title. The St. Finbarr's B Team took a very close third place with Zico remaining undefeated for the day beating Shane Murray 11/7, 12/14, 11/6, 2/11, 11/9.

St. Finbarr's added the 2nd Division Title after Kevin Coackley, Billy Foley and Ruari Aylmer remained undefeated with Gael Scoil Bantry putting in a brave performance after the late withdraw of one of their players. The pair of Nicholas O'Donnell and Jacob Clancy Adams managed to secure 2nd place even after having to forfeit a point in each match. St. Patrick's NS Skibbereen, Guy Pickett, Michael O'Donovan and David Schneider secured 3rd place after a close encounter with St. Finbarr's E.

Division 3 saw an all Lissagriffin Final with a number of close matches however it was the team of Jake Coughlan, Jack O'Driscoll and Michael Sheehan who took the title with a 5-2 score over their school mates John Supple, Tadgh Reidy and Michael O'Driscoll.

Lissagriffin managed a unique doubles when they took both the girls and mixed titles at this year's competition. Maria Sheehan, Catherine Sheehan and Katie O'Sullivan won the Girls Final 5-2 after beating Gael Scoil Bantry. Louise O'Donnell, Kiah Clancy Adams and Leanne Keohane are all under 10's and put up a great performance and are ones to watch for the future.

Lissagriffin have an unrivalled record in the mixed event and secured their 4th title in a row after winning their matches against Gael Scoil Bantry and Lissagriffin B. James O'Driscoll, Mair Kelly and Niall O'Driscoll dominated the event without dropping a set. The young talent of Lissagriffin B went close against Gael Scoil Bantry for second place with 7 year old Erik Olsson gaining a point for the local school against Christie Molloy and Aoife Sheehan putting up strong opposition against Grace Kelleher, 8 year old debutante Patrick Sheehan also played well against stiff opposition from an inform David O'Sullivan but it was Gael Scoil Bantry who secured the Silver position at this year's event.

The West Cork Table tennis Association run a number of school coaching initiatives and this event is a great opportunity for those players to try out their skills, some for the first time. The event has become a breeding ground for some of the best schools players in the country and credit must go to the coaches, schools, teachers and parents that have remained so supportive of this event over the years.

Boys 1st Division:
1st: St. Finbarr's BNS
2nd: Lissagriffin NS

Boys 2nd Division:
1st: St. Finbarr's BNS
2nd: Gael Scoil Bantry

Boys 3rd Division:
1st: Lissagriffin NS
2nd: Lissagriffin NS

Girls 1st Division:
1st: Lissagriffin NS
2nd: Gael Scoil Bantry

Mixed 1st Division
1st: Lissagriffin NS
2nd: Gael Scoil Bantry

WEST CORK INDIVIDUAL PRIMARY SCHOOL CHAMPIONSHIPS 2010
The West Cork Individual Primary School Championships 2010 were held at the Goleen Community Sports Centre on Monday 13th December. The numbers were down this year with all the pressure of school closures due to the recent spell of bad weather. However the match play was of the highest standard ever and the excitement of the competition brought some of the best matches of the season. Seven schools were represented from Bantry, Skibbereen, Dunmanway and hosts Goleen.

The Over 10 Boys event has thrown up a few surprises over the years. Last year's Champion James Lavin (St. Finbarr's NS) was back to defend his title but it was current U12 West Cork Champion Damien Murray (St. Finbarr's NS) who sprung the first surprise as he met Tom Walsh (St. Finbarr's NS) in the semi final. Tom Walsh has been in very impressive form and had just taken the Munster U12 No.1 spot in Killarney the day before. It was Daniel who took an early lead as the first set went in his favour and then the second, Tom manage to break down Daniel's consistent defence to take the third set but Daniel turned up the pressure in the fourth to book his place in the Final against the reigning champion James Lavin. James was a surprise winner in the 2009 event when he overcame West Cork No.1 Kieran Hanley (St. Finbarr's NS) and in the semi final swept past Nicholas O'Donnell (Gael Scoil Bantry) 3-0. This year he went into the final as the favourite but another major upset looked on the cards as Daniel Murray took a 2 set 0 lead and with match point in the third 10-6. Many would have given up at this stage but James Lavin managed a remarkable comeback taking the set 13/11. He went on to win the match as his confidence grew taking the next 2 sets and retaining his WCTTA Primary School Over 10 title.

The Over 10 Girls defending champion Mair Kelly (Lissagriffin NS) went into the round robin event as the top seed. As current U12 Munster No.3 she has shown a remarkable improvement during the season and she was able to retain her dominance without dropping a set. Lissagriffin NS have a number of talented girls playing but it was Demelza Knight (Gael Scoil Skibbereen) who took second with Maria Sheehan (Lissagriffin NS) third.

The U10 Boys event saw James Kelly (Lissagriffin NS) defending his title from 2009. James has built a tremendous national reputation as Ulster and Munster Open U10 Champion and would have been expected to dominate the local under 10 event. However he was put under pressure in the final by some excellent play from Bantry's Shane Murray (St. Finbarr's NS) possibly inspired by the performance of his brother in the Over 10 event. James Kelly did go on to win the match 3-1 (8/11, 11/5, 13/11, 15/13) but Shane showed some amazing talent for his age. John Enderson (St. Finbarr's NS) beat Kevin Coughlan (St. Patrick's Dunmanway) in the 3rd/4th play off.

The U10 Girls was another close event. Last year's champion Aoibhinn Keating (Gael Scoil Skibbereen) went in as favourite but she lost to Louise O'Donnell (Gael Scoil Bantry) who then lost to Caoimhe Harnedy (St. Josephs, Bantry) who lost to Aoibhinn Keating. It all came down to set difference and that brought Aoibhinn Keating on to the winner's podium with Caoimhe Harnedy in second, Louise O'Donnell third and Leanne Keohane (Gael Scoil Bantry) fourth.

Plate Events:
Over 10 Boys: 1st Padraig Reidy (Lissagriffin NS), 2nd Garry Butler (St. Finbarr's), 3rd Daniel O'Sullivan (St. Patrick's Dunmanway)

Under 10 Boys: 1st Charlie Lavin (St. Finbarr's), 2nd Steven Daley (St. Patrick's Dunmanway), 3rd Michael O'Driscoll (Lissagriffin NS)

Main Events:
O10B Winner: James Lavin
O10B Runner Up: Daniel Murray
O10Boys Final: James Lavin Vs Daniel Murray 12/14, 9/11, 13/11, 11/9, 11/8
O10B 3rd/4th: Nicholas O'Donnell Vs Tom Walsh: 5/11, 3/11, 11/9, 6/11

U10B Winner: James Kelly
U10B Runner Up: Shane Murray
U10B 3rd/4th: John Enderson Vs Kevin Coughlan 11/6, 11/5, 11/4

O10G Winner: Mair Kelly
O10G Runner Up: Demelza Knight

U10G Winner: Aoibhinn Keating
U10G Runner Up: Caoimhe Harnedy

WEST CORK INDIVIDUAL PRIMARY SCHOOL CHAMPIONSHIPS 2009
It was thrills galore at the Goleen Community Sports Centre on Friday 4th December. Nine National Schools from all over West Cork were well represented by their Under 10 and Over 10 Boys and Girls. This has proved to be a popular event on the busy West Cork calendar and this year the kids were well prepared and the action was intense.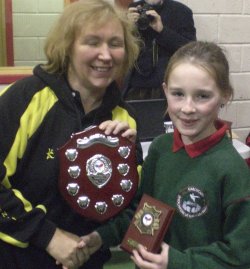 In the Under 10 girls section 9 year old Aoibhinn Keating started as favourite and earned the right to that tag as she made her way into the final against Demelza Knight also heralding from Gael Scoil Skibbereen. With an all Skibbereen final it was an exciting match but Aoibhinn pulled off the winning combination to take her first ever West Cork Schools Title. Isis Hammer from Togher NS defeated local girl Caoimhe Reidy (Lissigriffin NS) for 3rd and 4th. Another of the Lissigriffin girls Maria Sheehan took the Plate title from Louise O'Donnell of Bantry Gael Scoil. Ellen O'Driscoll (Lissigriffin NS) and Lauren Cull (Togher NS) also put in good performances in their first even tournament.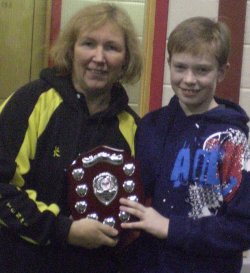 The Over 10 Boys Title is one of the toughest on the Junior West Cork circuit and is fiercely fought for. St. Finbarr's of Bantry have an excellent record in table tennis but missed out on making the final last year. With this in mind they had one of their strongest squads on display for this event. With 3 of the top seeds and 8 players entered the odds were on for an all Bantry final. Tolly Franklin of Schull NS was the only fly in their ointment as he moved into the semi final stage defeating Robbie Walsh of St. Finbarr's in the quarters. No.4 seed James Lavin was in fine form coming into this event and he showed more of that ability as he took his place in the final from Tolly Franklin and the favourite Kieran Hanley disposed of Jack McCarthy in the other side of the draw. Kieran and James took the full five sets to sort out the top spot and with a score line of 15/13 in favour of Kieran in the first set it was as close as you can get between the two of them. James hit back in the second 9/11 and the third went in favour of Kieran 11/9. The fourth went to deuce again but in favour of James and when James Lavin took the final set 11/7 he had climbed the mountain and planted the flag and become West Cork Primary Schools Champion.

The Plate event also saw out a battle between two St. Finbarr's boys with Ronan O'Mahony taking the victory over Thomas O'Grady.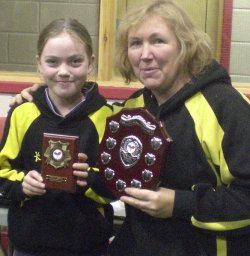 The Over 10 Girls and the Under 10 Boys saw a unique double title win for local school Lissigriffin NS all the more remarkable as it was performed by a brother and sister act. Mair Kelly has shown remarkable improvement in a short time this season and went into the event with unknown confidence. The semi final stage saw her meet Alexandra Leib an experienced player from Gael Scoil Skibbereen. The other semi final saw a match-up between school mates Colleen Noonan and Georgina Murray from Togher NS. Collen took the win and met Mair Kelly in the final. Without dropping a set in the competition Mair went on to win her first ever title. Orlaith Keating from Gael Scoil Skibbereen won the Plate title beating Catherine Sheehan of Lissigriffin NS.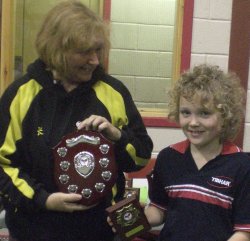 Younger brother of Mair, James Kelly from Lissigriffin NS went into the competition as clear favourite, with current Top 10 Irish ranking at under 12 and No.1 in Munster at Under 10's he has built a formidable reputation within the sport this season. Only Tom Walsh from St. Finbarr's Bantry realistically stood in his way. However the threat was very real as Tom had recorded a significant win against James at the first Munster Rankings of the season when defeating him in the ¼ final stages of the under 10 event. When Tom beat Shane Murray also from St. Finbarr's to reach the final, the stage was set. Tom battled hard and well but James's superior fire power proved too strong. This was James Kelly's second under 10 West Cork Primary Schools title.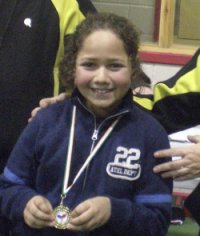 The under 10 Plate event saw another Lissigriffin player reach the final in the guise of Sam Coughlan where he faced the exotically named Zico McSweeney-Oliviera. Zico only started playing table tennis this season and has caught many a coaches' eye with his speedy development and he put this into play in his first West Cork Schools event representing Kilcoe NS to beat Sam Coughlan over 4 sets to become the Under 10 Plate Champion.

There were many public and personal triumphs during the event and every one of the participants deserves a mention for all the hard work they are currently putting into training from young Finn Moore from Lisheen NS to Guy Pickett from St. Patrick's Skibbereen who managed an excellent 4th place finish in the U10 boys. Also there have to be dedicated coaches, parents and teachers because without their help an event like this would not be organised. The kids represent both their schools and communities and I am sure we can all be proud of what the students learn, experience and achieve.

INDIVIDUAL PRIMARY SCHOOL CHAMPIONSIPS 2008
The West Cork Primary Schools Individual Table Tennis Championship 2008 was held in the Goleen Community Sports Hall on February 25th. The event saw representatives from 8 different primary schools from throughout the West Cork Region. The West Cork Table Tennis Association (WCTTA) was delighted with over 60 competitors making this one of the largest primary school events in the country.

The largest of the 4 events was over 10 boys with 24 entries. St. Finbarr's Boys National School have a strong tradition in table tennis with regular school coaching sessions and the school regularly competes at the West Cork Schools Cup. All 6 of their squad made it to the ¼ final stages along with Eoin Murray (Togher NS) and Patrick McCaffrey (Gael Scoil, Skibbereen). Eoin Murray knocked out Tim Cronin to reach the semi final stages where he was eventually defeated by Anthony Hanley. In the second semi final Cathal McCarthy beat Darren Cronin to take his place in the final which he eventually won to take the West Cork Over 10 Primary School title.

Eoin Barclay (Gael Scoil Skibbereen) beat Ciaran Nunan (Togher) in the Over 10 Plate Final.

The Under 10 Boys also saw a large entry with 21 players and again St. Finbarr's Boys School showed their strength. However only one made it through to the ¼ final stages with players from Model School Dunmanway, Gael Scoil Bantry, Gael Scoil Skibbereen, Togher NS and 2 local Lissagriffin players all being represented. 7 year old James Kelly (Lissagriffin NS) beat Togher's Finn Pyatt to claim his place against top seed Kieran Hanley (St. Finbarr's) in the semi final where he was eventually beaten while U9 Tolly Franklin (Gael Scoil, Bantry) beat Eoghan Sheehan (Lissagriffin NS) to meet surprise semi finalist Nicholas Bryan (Model School). Nicholas had upset the early seeding by beating top seed Kieran Hanley and once again showed his talent to reach the final. With a repeat of the early group stages between Nicholas and Kieran it was Kieran who used his experience to redress his earlier loss and to take the title at the end of a very close competition.

St. Finbarr's and Model School also battled it out in the plate final with Keith Collins (St. Finbarr's) defeating Ray Jennings (Model School).

Two schools also dominated the Over 10 girls' event with Togher NS and Gael Scoil Skibbereen players reaching the semi finals when all three of the Gael Scoil Bantry girls were knocked out of the ¼ final stages. It was Gael Scoil Skibbereen who saw off the strong challenge of Togher when Charli Williams beat Ciara Glenn and Luighsighe Carey beat Lisa Cotter in the semi finals setting up an all Gael Scoil final. Luighsighe Carey made a welcome return to the West Cork scene after finishing No.1 Under 10 in Munster last year and showed this experience over tournament debutante Charli Williams in the final to lift the first West Cork Over 12 Girls title. Togher went on to claim the Over 10 Plate title when Eileen Crowley saw of the challenge of local girl Michelle O'Leary (Lissagriffin) in the final.

5 schools were represented in the under 10 Girls competition with all 5 being represented at the ¼ stages and 4 at the semi final stage. The West Cork No.1 position is currently shared between two girls. Both reached the final with Sinead McKennedy (Castlehaven NS) beating Deidre O'Sullivan from Bantry Gael Scoil and Mairéad Supple (Lissagriffin beating Sorcha Browning. In a closely fought and tense final it was Sinead McKennedy who took the first West Cork Primary Schools Under 10 Girls Title back home to Castlehaven NS.

The new local Goleen Club were delighted with the overall results from the event and were also able to celebrate their first title when Aisling O'Driscoll overcame the challenge from Orláith Keating (Gael Scoil Skibbereen) in the final of the Under 10 Girls Plate competition.

WCTTA Chairman thanked everyone for the tremendous support shown by schools, parents and the local Goleen & District Community Council who provided the superb facility as well as organising the café and refreshments for all the spectators. The next major West Cork event will be the West Cork Schools Cup to be held after Easter in Dunmanway.