West Cork Table Tennis Assoc.
NEWS 1999-2000
End Of A Season.
The 99-00 Season was brought to a successful conclusion with the Summer Training Camp and the Awards Party held at Kinneigh TTC on August 20th.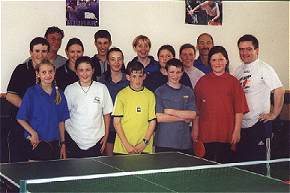 12 Players from around the region spent 4 days intensively training with some of the top coaches and players in Ireland. Over the 4 days Brian Fitzgerald Ireland's No.1 player was assisted by Mark White Irish No.1 Junior, Louise Long Ulster Junior and Cork Closed Champion and Dan Foley who recently returned from the World Veteran Championships in Canada. The course was co-ordinated and run by Owen Kelly who has represented Ireland as Captain of Irish U18, U16 and U14 levels. Over the 4 days players were introduced to video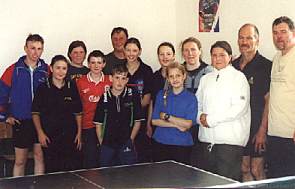 and robot training as well as sports psychology and physical conditioning. It is hoped that this will give greater experience to players as more and more travel around the country and abroad. The WCTTA is at the moment planning an exchange with the French Club Pouvrey.†

TABLE TENNIS AWARDS
A long and very successful season was brought to a close at the WCTTA Awards Ceremony and Disco at the Kinneigh Club. Andrea Shorten was presented with the West Cork Junior Player of the Year 1999-2000, by West Cork Chairman and Irish Table Tennis PRO Owen Kelly. Andrea received the award in recognition of all her achievements during the season. Andrea is currently Munster U12 No.1 and is ranked No.3 in Ireland. She received her first Irish Cap at the British Primary Schools where she won Silver in the Consolation Competition in Wales. Andrea will be eligible for Under 12 selection this coming season and it is hoped she can improve her Irish Ranking and become West Cork's first Irish Table Tennis No.1.†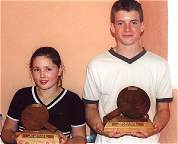 †† The Senior Player of The Year was presented to Paul Lynch of the Macroom Club. Paul was part of the All Ireland Youth Club Championship winning team as well as selected for Munster at U21, he went on to help Munster retain the All Ireland Title in Belfast. As part of the administration of West Cork Table Tennis Paul also help host the first ever Senior Munster Rankings in West Cork at the Macroom Club. Paul will be moving to Limerick University this season and we wish him the best of luck.†
† There were many other awards presented on the night to the under 10, under 12, under 14 and under 17 junior West Cork Players. Players accumulate points throughout the season and they are then added together. The Overall Rankings were won by Emma Jane Helen who remained undefeated at U14 and U17 level throughout the whole season, in second was Alan Hurley who won both under 14 and under 17 boys titles. In third was Andrea Shorten and Barry Horgan.†
A number of Bronze Awards sponsored by Dermot Sheehan Properties Bantry and Tri Na Locha Service Drimoleague were presented to : Martin Hurley, Deirdre Cotter, Janna Bailey, Ronja Bailey, Brian Clarke, Miriam Kretschmer, Alice Camier, Patrick Scully and Daniel O'Driscoll. Denis McSweeney received his ITTA 1 Star Award.†
The Smiles Knockout Trophy was won by The Buttimers Team from Clonakilty and the Smiles Knockout Plate was presented to Kinneigh TTC. Much thanks goes to the officers of the various clubs for the organisation, Ivan Shorten (Kinneigh), Vicky Ridgway (Dunmanway), Owen Kelly (Goleen) and JP.Murphy (Macroom).

"Has anyone here seen Kelly, Kelly from the Isle of Man?"
Owen Kelly from Goleen, has been selected as one of the Captains for the Irish Schools Team that will travel to the Isle of Man at the beginning of July. Owen has been a NPC on a number of occasions but has never travelled to the Isle of Man before.

The French Arrived!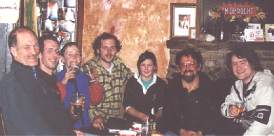 A scouting party from the French Town of Poule were the guests of the Kinneigh Club earlier this month (May). the Chairman and two players were royally entertained and it is hope that a group from West cork will be travelling to Brittony in September of this year.

Andrea Wins Silver Medal For Ireland.
Andy travelled to Wales with the Irish Primary School, the team performed well and were unlucky not to beat Scotland when Andy lost 22/20, 21/18, 21/19 to Queenie Henn from Scotland. The team took the 5 all draw. (complete results can be found HERE) In the Individual event Andy recorded another good win over rival Jackie Rea in the semi-final of the Consolation and then lost to Sarah Perks of England, who she had scored 27/29, 21/17 in the team event. Andy was very pleased with her Silver Medal and her first Irish Cap. She will be aiming to repeat this acheivement as she will still be under age next season.

West Cork At Cork Closed
15 West Cork players travelled to the AIB Cork Closed. This was a unique event as the matches were of 5 sets of 11 points. Many had difficulty in adjusting. Jake Warne collected a trophy for finishing runner up in the 2nd Division. Pictured here are some of the juniors who attended. Front row, left to right: Ronja Bailey, Jake Warne, Andrea Shorten, Joe Warne, Back row: Janna Bailey, Daria Parsapour, Anne Baker, Rebecca Shorten, Emma Jane Helen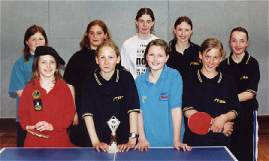 ANDREA GETS DOUBLE SELECTION
Andrea Shorten from Kinneigh TTC has been selected for the Irish Primary School Team to play in the International in Wales. Andrea also received her call up for the Munster U12 Team at the Interprovincial Championships to be held on the 15th April. Andrea will be one of four West Cork players selected for the team. Kloe Wood from Goleen will also play U12 with Owen Kelly as NPC. Ivan Shorten has also been selected as Cadet Girls NPC.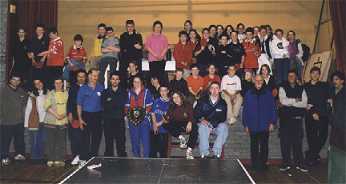 WEST CORK TABLE TENNIS WINS
After three days of intense competition the West Cork Open drew to a close with the finals of the Senior Open. The ladies final was a tense match with Linda OíSullivan the No.1 Junior in Ireland against U.C.Cís Aoife Walsh. Linda who had beaten Aoife at the Macroom rankings earlier this year won the first set. Aoife came back however to win the second 25/23. The final set captured the attention of a good crowd and there was tremendous applause for the two ladies when Aoife finally won the third set and was crowned the first ever Ladies West Cork Open Champion. The Menís final was another match between the generations as Irelandís No.1 Cadet Jonathan McCarthy came up against Munster No.1 Veteran Tom Elliott. Jonathan had already beaten top seed David OíRourke in the ľ final and was looking in very impressive form. Tom beat second seed Tom Conroy in the other semi final, which meant that neither top seed made the final. With a match off between youth and experience, the agility and speed of both players surprised many. The first ever, Senior West Cork Open Champion went to Tom Elliott from Harlequins, Cork. The standard of the eventual senior finals was the highest in the country but these will not be the only memories that over 100 competitors and many spectators, coaches, teachers and parent will take away from the weekend. Friday saw the first ever West Cork Schools Cup for National and Secondary Schools. Teams from every part of west Cork and of every standard competed for the schools with pride. A very close National School final saw Ballymoney take on Togher, with every game very close, Ballymoney finally won out at the end with good performances by E.J.Helen, A.Shorten and D.Shorten. Togherís Joe and Jake Warne and Jack Smiles performed to their very best loosing out 4-3. 3rd Lissagriffin A, 4th Goleen A, 5th Goleen B, 6th Lissagriffin B, 7th Goleen C. The Secondary Schools Cup was an even closer fought battle coming down to the very last set of the last match. St.Brogans (Bandon) beat Clonakilty Community College, Bandon Grammar A were third with Bandon Grammar B fourth. The standard of all the secondary schools was very close and produced some excellent performances. Many of the younger players were in action on the Saturday with the first Munster U10 Rankings. West Cork players won the top three places in both events as well as the U12 Boys top three. In the girls event there was a surprise win for Jackie Rea (Cork) over local favourite Andrea Shorten (Kinneigh TTC/CelticT.T. & TDC Financial Services), as well as a surprise win for Kloe Wood (Goleen TTC) to take third place over Jesse Williams (St.Angelas). This means that two West Cork girls will make the U12 Munster team for the Junior Interprovincials in Cork later this season. Emma Jane Helen (Kinneigh TTC/CelticT.T.) finished at her highest Cadet ranking of the season in third as well as finishing 6th in the U17ís, while Jack Smiles (Kinneigh/Dunmanway) and Alan Hurley (Kinneigh TTC) justified their recent sponsorship deal with Tommy Fitzgerald Sports and Stiga by finishing in 5th and 6th respectively. Alan also managed a 5th place finish in the U17 with Jack finishing 9th. Barry Horgan (Kinneigh TTC) managed the only double of the weekend when he took both the Under 10 and U12 titles. The Veterans event was very well supported and 7 out of the top ten places went to West Cork players. This mixed competition saw an unusual final when Mr Ivan Shorten met Mrs Ina Shorten (Kinneigh TTC) in the semi final. Ivan won his way through to the final and lost to an inform John Clarke (Cork). Even after this event the both No.1 Munster ranked Vets. are still Mr & Mrs Shorten, a unique achievement. The highlight of this very full weekend however was the first ever Special Olympic Unified Doubles. This saw Rebecca Burke (Tipperary) and Anne Baker (Kinneigh TTC) pair up. Pat Dorgan (Cope Cork) and Avril Buttimer (Kinneigh TTC), Emily Meagher (CoAction, Bantry) and Anthony Condron (Thurles CBS) John Jo Allen (Cope Cork) and Vicky Ridgeway (Dunmanway TTC), Dan Hurley (Clonakilty) and Teddy OíConnor (Cope Cork), Michelle (CoAction Bantry) and Ina Shorten (Kinneigh TTC). There were medals awarded to all the winners and applause for all the competitors for every event but it was a greater for these competitors on their receiving their medals, than the finals on the last day. A greater understanding was built over the weekend for the Special Olympic athletes and an appreciation of why they are called "Special." This was the first every "Unified Doubles" event in Ireland and it was a definite success. This West Cork Championship is the second biggest event in Munster this year and received tremendous support from local sponsorship, Barrett & Sons General Stores, Copeen and OíCallaghan Bar in Castletown Kinneigh. They made it possible for the WCTTA to run both the under 10 and under 12 events and have helped invest in the future of West Cork Table Tennis. Many competitors also remarked at the excellent facilities for playing as well as the accommodation at the 12 Arches Hostel and the Woodcock.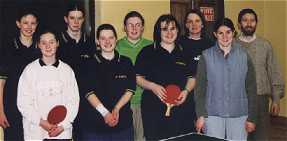 Back To Top
ACROSS THE MOUNTAINS TO KERRY.15/02/2000
The West Cork Junior Girls (Wackettes)
Four of West Cork Junior girls were in action as the first ever West Cork junior team travelled across the border into the Kingdom. Killcummin T.T.C. played hosts for their first "foreign" visitors to Kerry. The facilities were excellent with a fine wood floor and five tables in action. There were many under 12s watching during their regular training. Unfortunately due to exam pressure only two of Killcummins junior girls were available so an informal session was agreed. Claire and Emma as well as debutant Yvonne played for Killcummin while Anne Baker Cpt. Avril Buttimer, Rebecca Shorten and Lorraine Jennings represented West Cork. The girls were very pleased to be able to where the new official West Cork shirt. A mixed doubles match between Rebecca and Killcummin senior Jerry Casey and West Cork coach Owen Kelly and Avril went to three sets with a narrow victory for Owen and Avril. The team celebrated their first trip away at McDonnells Killarney with Bannana and Toffee Sundays.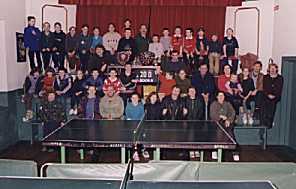 Back To Top
WEST CORK SCHOOLS' CUP IN TABLE TENNIS, Southern Star 12/02/2000
The Goleen Junior Open The series of West Cork Junior Rankings came to Goleen over the weekend. This is the first time that a junior tournament has been held in the village and extends the reach of the event from Macroom to Goleen. There were 48 entries in eight catagories gathered to play at the recently refurbished Goleen Parish Hall, this was the largest entry for the third rankings of the season and indicates the increase in popularity of the event. The local Goleen Club playing in its first season took the top three places at under 10 girls as well as second and third in the under 12 girls. within the boys section Goleen took third in the under 10 boys as well as third in the under 12 boys. This shows a good strength in the younger age groups for the club and a promise of further development in the seasons to come. It was the Kinneigh Club however who dominated the higher age groups with their very strong squad of nine players they collected first and second in the under 10 boys & under 12 boys and first second and third in the under 14 girls, under 17 girls, under 14 boys and under 17 boys, as well as first in the under 12 girls. With only one more ranking left in the season Alan Hurley, Emma Jane Helen and Andrea Shorten can not be beaten on points and have confirmed their rankings as No.1 in West Cork at their respective age groups.
The WCTTA would like to thank Tim Sheehan, Chairperson of the Goleen & District Community Council for pesenting† the certificates and medals to the players. Local photographer was on hand to capture the event for the "Millennium Project" which will show a variety of events and personalities throughout the Millennium year. Many thanks were expressed by the Chairperson of West Cork and Munster Table Tennis for the tremendous support that has been shown locally for this tournament and especially Mr & Mrs J.Hurley & Mrs P.Clarke for their help with event.†

The West Cork Open and West Cork Schools Cup will take place at Ballydehob Community Hall on the 25, 26 and 27th of February when players from all over the country will compete at various age groups as well as the first ever "Unified Doubles" event featuring the partnership of both Main Stream and Special Olympic Athletes for more detail contact Owen Kelly 028-35371 or check out the Official website at www.ttireland.com. †U10 Boys:1st B.Horgan, 2nd D.Shorten, 3rd P.Clarke. U10 Girls:1st R.Bailey, 2nd E.Wood, 3rd J.Kearney. U12 Boys:1st B.Horgan, 2nd D.Shorten, 3rd M.Hurley. U12 Girls:1st A.Shorten, 2nd K.Wood, 3rd D.Cotter. U14 Boys:1st A.Hurley, 2nd B.Horgan, 3rd J.Smiles. U14 Girls:1st E.J.Helen, 2nd A.Shorten, 3rd R.Shorten. U17 Boys:1st A.Hurley, 2nd B.Horgan, 3rd J.Smiles. U17 Girls:1st E.J.Helen, 2nd R.Shorten, 3rd A.Baker.
Back To Top

4-2-2000
The first entries for the West Cork Schools Cup have already started to arrive from Clonakilty, Togher and Goleen. The event will take place on the Friday before the West Cork Open in Ballydehob. Entries can be made by email from the page; West Cork Open
Back To Top

3-2-2000
The West Cork Wackers lost their second match in a row when they lost to North Mon. Rebels 6-1 at home on Thursday night. There were a number of close matches three ending up at duce and going to a third set. This leaves the "Wackers" third in the division. League Results.
Back To Top

3-1-2000
A remarkable record was set by the Kinneigh Table Tennis Club when all 12 titles were won at the Cork Interparochial Championships in Clonakilty.
This is an incredible record to achieve and speaks highly for the very talented juniors in the club. In the U16, Brian Horgan held on for victory in the boys' singles, for the second year running over club sparring partner Alan Hurley. It was reversed in the boys' U14 singles when Alan and Brian met in the semi-final, but the long rallies had to be seen to be believed.
The girls U14 saw Rebecca Shorten come of age and do the business against Emma Jane Helen in the singles. However Emma Jane dictated when the U16 title came up for discussion against team mate Anne Baker
The hero of the week (in this scribe's memory) was, undoubtably, the outstanding performance oby Barry Horgan in the U12 final. Having won the first game, he nearly came a cropper in the second game. Playing Shane Buttimer at 14-18 he came back to 19 all winning 24-22. At only ten years of age, this young man displayed the cool head of someone twice his age.
The two strongest juniors at the championships were Alan Hurley and Brian Horgan. The boy's doubles were won by Alan partnered by Richard Roycroft.
Alan also picked up a second in the U14 mixed playing with Clare Sweetnam. This competition was won by Brian Horgan, playing with Heather buttimer. Brian also took third place in the U14 singles and third in the boy's doubles, partnered by alan Jennings.
The U14 girls' doubles went to Emma Jane Helen and Sharon Kingston who beat Rebecca Shorten and Heather Buttimer, while Emma also picked up first place in the U16 girls doubles with Freda Buttimer.
In the U16 girls doubles Rebecca Shorten and Gillian Roycroft got third place while Rebecca also took third with Anne Baker in the girls doubles.
In the U12 boys doubles, Barry Horgan did excellent work with Martin Hurley to get second place while in the girls doubles while in the girls U12 Andrea Shorten was an easy winner against a stylish Sharon Kingston.
Before the weekend the Kinneigh Club held a disco in Big foot's and it was a tremendous success.
At the weekend four juniors and two coaches went to Dublin to play in the Leinster Junior Open in Clontarf. The highlights were Andrea Shorten coming 4th in Ireland, who had the added pleasure in overcoming the Irish No.1 at U12. Alan Hurley got into the top 15 with some great performances, especially when he overcame Eoin Hegarty, Cork.
In the U14, Emma Jane Helen had a tough draw against Rebecca Lord, but still took her to 3 sets. Later on this girl was beaten in the final by Rachael O'Connor, Cork.
Playing in her first such competition, Rebecca Shorten won her first game at U17 level on Saturday. On Sunday she played in the plate competition, but lost narrowly on count back. Everyone learnt from the experience. One other player who failed to travel due to illness was Jack Smiles.
These performances in Dublin, allied to the Cork Interparochials means a lot more players from West Cork area can hold their heads high and show their talent by competing at this level.
Goleen TTC entered for the first time and took a squad of 10 players.
Back To Top

11/12/99
Andrea Shorten becomes the first West Cork junior to be invited to a national training camp in Dublin.
1/12/99
Munster Rankings: Andrea Shorten is currently No.1 U12 in Munster with Kloe Wood from Goleen equal 2nd. Jack Smiles is ranked No.6 at U14 Boys, while Emma Jane is ranked No.6 in the girls, with Andrea 9th & Rebecca Shorten 10th. In the U17s Alan Hurley is ranked No.7. The Senior Mens sees Paul Lynch at No.5, Ivan Shorten N0.6, Mike Rycroft No.7, Pete Healy No.8 & Kurt Lyndorf and Richard Gostyn joint 9th. The Ladies Vets has Ina Shorten at No.1 and in the Mens her husband Ivan is No. 1, Mike Rycroft No.2 and Kurt & Richard joint 3rd.
31/10/99
The Senior Munster Rankings were held in West Cork for the first time at Macroom TTC. Owen Kelly was the highest placed WCTTA player after beating fellow WCTTA player JP.Murphy in the first round. JP eventually finished 9th. Paul Lynch put in a good performance to finish 11th after beating Jim Conroy. Other WCTTA players: Ivan Shorten 13th, Phil Chapman 15th Pete Healy16th. Kurt Lyndorff17th. Richard Gostyn 18th.
In the Ladies event Ina Shorten finished the best of the WCTTA players finishing 9th after beating Kate Jepson (10th) debutante Miriam Creedon finished 11th.
20/6/99
Owen Kelly is nominated as the National Coaching & Development representative for Munster at the ITTA AGM, held in Dublin. As well as picked to captain a Junior Irish Schools U18 Team for the Schools International on the 25th-27th June.
7/5/99
Emma Jane Helen was awarded West Cork Junior of the Year by Dave Browne & Duncan Maitland of the Picture House during the Bantry Mussel Fair. Emma was unaware of the suprise award made by a local artist. She thought she was just having a look backstage. The U12 who finished No.1 in Munster deserved the award after showing so much commitment to her training.
19/4/99
Munster became the overall Irish Junior Provincial Table Tennis Champions for the very first time at the Killinkere Leisure Centre, Co.Cavan. In the last 17 years the event has been running Leinster have been unbeaten even though Munster have come very close on a number of occasions. The first sign of a possible upset came when Munsterís No.1 under 17 Mark White, beat Leinster & Irish No.1 Eoin Byrne in two sets. In the best of 9 games Munster reached the 5 mark as Leinster struggled with only 2 games. Leinster took the under 17 girls even though Munster No.1 Linda Mountjoy defeated Leinster No.1 Noelle Lennon. With the event at one all attention turned to the under 14 girls with the match at 4 all and one set all the tension mounted Sandra Morris finally took the set 22/20 and the very first win for Munster at the under 14 girls event. The pendulum swung back again to two all as the Leinster under 12 girls pulled ahead of Munster. Ulster stepped in to take the under 14 title leaving Munster and Leinster to fight it out for silver and bronze. The title came down to the wire as the under 12 boys reached 4 all and one set all in the last game. Eoin Hegarty of Munster put in a tremendous performance under such pressure with the whole of the Munster squad willing him on. The much needed third gold came to Munster and the overall title came south for the very first time. Con Higgins who had been waiting for 14 years for this title and Ben Haughton (U12boys & U14girls coach) finally raised the shield to a tremendous roar and the celebrations began. The mayor of Cork will be officially welcoming the teams in a ceremony to take place in the city. West Cork contributed to this unique achievement with Emma Jane Helen picking up her second Munster medal & Andrea Shorten also collecting silver in the under 12 girls. Ina Shorten collected her first silver as Munster U12 girls Captain while Owen Kelly picked up his first gold as U12 boys Captain.
12/4/99
Emma Jane Helen returned from the Isle of Man after reaching the 1/4 finals and being the highest placed Irish girl. She also won a bronze team medal. Ireland lost to England (1st) and narrowly lost to Scotland (2nd)and drew against Wales (4th).Special thanks go to Carbry Oil & Dunkelly Information Services who contributed towards Emma Jane's travel expences.
29/3/99
Emma Jane Helen has been selected for the Irish Primary School Team to play in the 5 nations event on the Isle of Man. Emma is the first junior to be selected from West Cork for a national team. Emma Jane Helen is sponsored by Celtic Table Tennis.
12/3/99
Ina Shorten from Team Kineigh became the first West Cork Vet. to represent Munster for many years. This is the third sport that Ina has represented Munster at, the other two being Gaelic Football & Athletics.
12/3/99
Darren Buttimer from Clonakilty T.T.C. won a gold medal at the U21 senior Provincials with the Munster Team. This is only the 2nd time Munster has won this event in the history of the Interpros. This was Darren's second appearance at U21 level.
Back To Top