Welcome to the Wild Heather. Here we are located a mile from the picturesque fishing village of Cleggan, sitting on a hill overlooking the bay and islands.
THE DINING ROOM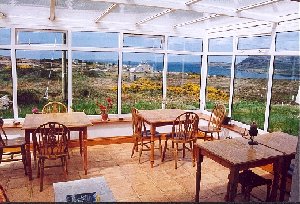 For breakfast you can of course have the the Great Irish but there are alternatives - be it fish or fruit. Dinner can be had in house but must be ordered before noon or at time of booking. The emphasis is on local produce - organic when possible. The Wild Heather was at one stage a seafood restaurant and former guests still turn up every year hoping to be fed.
THE BEDROOM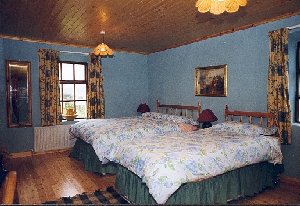 Bedrooms are spacious and cheerful and all are en-suite. All have a view of the sea.
THINGS TO DO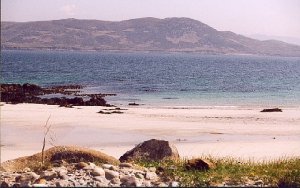 Relax in one of the local pubs and watch the fishing boats and ferry boats putter in and out from the pier. On warm days swim or sunbathe on one of the many local beaches each with own individual charm. Take a boat trip to Inishbofin or Inishturk or go fishing for a few hours. Take the children to play among the dunes on Omey Island or pony riding across the strand. Explore the area on foot, climb Cleggan Head , visit the many archaelogical and historical sites.
SO WHY STAY HERE?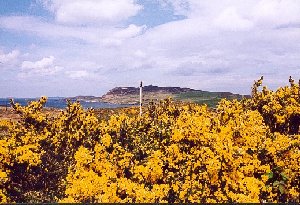 All the above reasons - easy access to the offshore islands, en route to Mayo, the areas own beauty - and because we will endeavour to the best of our ability to make your stay memorable.
HOW DO YOU CONTACT US?
Thats easy, you can send us an e-mail at cloon@oceanfree.net or you can give us a call at (095 44617)from inside Ireland (00 353 95 44617)from outside Ireland or you could even send us a letter by fax or mail fax(095 44790)
The address is:
Cloon, Cleggan
Co. Galway
Ireland
---