Start Page. . . .Guestbook
---
HOW THE 'CATS' GOT ITS NAME!
The Cats!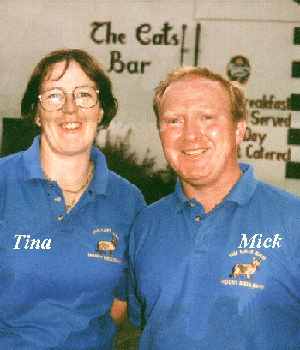 (Photo Tina and Mick Power.and photo of a cat outside the pub.) Tina and Mick Power both have had families involved in the pub trade for many years.
Mick's family on his Mam's side have been involved in running The Cat's Bar or 'The Cats,' as it is known locally, for five generations.
Tina's relatives has been involved for many years in the pub and hotel trade in Waterford.. Her grandparents used to run the Bridge Hotel, where her father grew up. She herself has had bar experience from an early age..
The couple were recently telling Kiely about why their licenced premises became known as 'The Cats.' It seems that in the last century, Mount Melleray Abbey a half a mile away, was also a drying out centre for alcoholics and those with a drink problem.
'Many men used to travel from all over Ireland to spend a week or two in the peaceful monastic surroundings, and as they approached uphill within sight of the Abbey, the last place they would meet was 'The Cats, ' said Mick.
'Well most of the men when seeing this little pub, could not resist one or more 'final' drinks here before heading off for 'The cure':
After a couple of weeks of drying out, and probably having experienced hallucinations, known as 'The Rats', or DT's, these reformed men would leave the monastery refreshed, cured and pledging never to drink again.
After walking for thirty minutes or so, the first place they would reach was the road junction facing our pub. Then a signpost, and a choice to be made....
.Left for Cappoquin, and the Railway Station....... Right for Clogheen, Clonmel and beyond.. or.....straight ahead for 'The Cats' and temptation.'
'Well sadly, many men, could not resist the attraction of just one drink to cool their thirst, and instead of turning left or right, crossed the road and the threshold, through our doors, and back into the claws of alcoholism, very soon forgetting the promise they had made two weeks before.' he said.
Local Melleray people nicknamed these visitors, 'The Rats' and as time went on, a saying became very popular around here which was, 'The Cats Catching The Rats,'which obviously referred to these poor men's lack of will power when faced with the temptation of just one drink for the road.
Frank Duff the founder of The Legion of Mary, used to bring one of his early legionaries, a Mr Gabbit to the monastry back in the 1920s. The man was a great helper in giving out miraculous medals, and visiting the poor and disadvantaged on the streets, and in hospitals.
Unfortunately, every few months he would take too much of a fondness for the drink, and Frank would bring him to Melleray, for a few days to dry out and then back he would go as right as reign to do his good works once again.
It is not recorded how he avoided 'The Cats' on his way back.
These days, however, most of those who get tempted to stray into The Cats,('paws') arrive by car, or coach and are not alcoholics but tourists, or as one wise person put it,' A person is only called an alcoholic when they can no longer afford to finance their habit!'
The Powers, who have run the Bar for ten years, met each other while working as volunteer helpers at the local Scouts Hall near the monastery. They have two children, Cillian (4) and Simon (2).
They have expanded their business in recent times, and now also do B & B, meals and Bar- snacks, which can cater for both visitors and locals.
'This pub, is now quite famous around the world and many of our customers returning from distant parts, bring us a present of a cat ornament or painting, and we even sell our own 'Cats' Tea- shirts,' Tina said.
---
Start Page. . . .Guestbook