Start Page..... Send Kiely a Real Postcard! .... .Please Sign Kiely's Guestbook.

Newsletter . . . Subscribe below.
JULY 6th.2000
Hi and welcome once again to your free Interactive Waterford and County newsletter and Pat Kiely's weekly comments.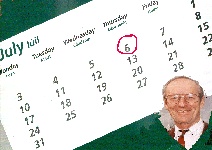 Well, all you wonderful people, from in and around the County of Waterford, whether by birth, ancestry or adoption, how have you been keeping?
I reckon Kiely deserves a little clap this week having reached 60.... Yes, sixty issues of this almost weekly newsletter. (No, not the age, although after working for hours on this I sometimes feel it.)
I hope you all realise out there what a labour of love this is... Week in week out, wearing my fingers to the bone, and slowly turning blind stairing at this comp screen at some unearthly hour, when this newsletter usually gets written.
A time when most of my fellow countrymen and women in Ireland are asleep,many of my Americans and Canadians readers are getting ready to go for the evening and those down under in Australia are probably cooking the spuds and cabbage and bacon for lunch!
This week I would like a favour if you live in MANHATTAN or near,get along to to THE IRISH ART CENTER on WEST 51st STREET and if you can, get a ticket see a play which opens tonight (6th July)for two or three evenings called, 'A Love so Blind,'and send me a report of what you thought of it.
The play was written by Jim Cullinane from Abbeyside, Dungarvan, and the story is set in the innocent Ireland of the 1950s.
It's directed by a girl I met the other day called Nichola Beresford, who is a radio presenter here in Waterford. Nichola is over in the States with her co-presenter Timmy Ryan for 10 days..
If you meet Nichola or Timmy, them tell 'em, Kiely sent you and just watch their expression. You can find more details on my start page...
By the way, There is a really gigantic event coming to County Waterford in a couple of weeks. I'll give you more details next week.
But first......
Meet MARGARET FLEMMING,(PHOTO) who has been Waterford County Council's Arts Officer in the region for the past five years.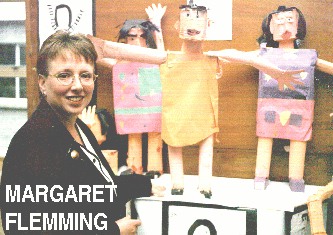 Margaret has been doing some great work organising the bringing of the experience of art and sculpture to children and young people in the county and in this photo she can be seen admiring the sculpture work at a recent exhibition produced by children,who attend Tallow National school. They had been trained by visiting art teacher and sculpture Danny Cunningham, from Dungarvan.
Tallow was the birth place of famous 19th.century Sculpture,J ohn Hogan whose story will be featured in a future issue. ----------------------------------------------------------
ISN'T IT AMAZING! (PHOTO:Declan McCann and his father Dr.Kevin McCann))
Isn't it amazing how the Internet can sometimes link up old friends quickr than the speed of lightning.
Some time back this email request was published in Kiely's newspaper this column at the Dungarvan Observer, to ask if anyone remembered DECLAN MC CANN from his schooldays as a pupil in St Augustine's College, Dungarvan.
Several people responded including MRS EDDIE STACK from Dungarvan whose husband went to school with Declan and charity fund-raiser ALICE BURKE who remembered Declan's father DR. KEVIN MC CANN very well, because he was once her local GP. in the Tooraneena area.
Declan was delighted with the response he received and has sent on a colour picture from Canada taken of himself and his dad, on a trip to Cape Breton in Nova Scotia two years ago when they visited a Celtic Colours Festival there.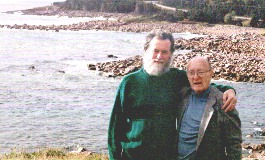 'My dad who is aged 81 was widowed last October but is keeping reasonably well over in Stephensville, Newfoundland where he emigrated in 1965,' says Declan.
'Although he is now retired from practising medicine, he still enjoys life to the full. He is is still a keen swimmer, who likes walking, gardening and reading as the weather and his health allows.'
'He is also still mad keen on Irish music, and on a recent visit I made to see him, my father joined in to play music with two accordion players who are neighbours of his.
Playing Irish music brigs back happy memories to my dad who once played the fiddle and accordion at a Ceoli in Kilcooney House.'
Declan thinks its wonderful that people still remember his dad in the Seskine / Tooranneena area and as a little surprise for Declan we include an old black and white pic of his father in this column, which was taken many years ago.
The photo was discovered by LIZZY HALLY (Nee Barry) who once worked at O'Keeffe's Farm in the area.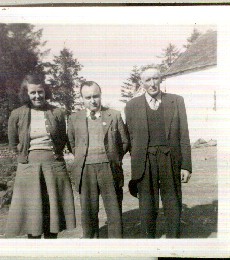 Lizzie who lives in Monatourke, Ballinamult, passed the old photo to her friend Alice Burke to give to Kiely after she read about the McCann's email in this column.
The B+W photo is of LIZZIE HALLY (nee Barry) DR.KEVIN MC CANN and the late JOHN JO O'KEEFFE,a local farmer long gone.
If you are reading this Declan, tell your dad another old acquantance of his from the past, JOHN CASEY from Dungarvan remembers that your dad loved cars (automobiles)and he used to see your dad going off to take part in a form of car racing called hill racing opposite where he lived. --------------------------------------------------------
TAKING IT ALL IN! (PHOTO:Sam Flynn)
Here we have little SAMANTHA FLYNN of New Street 'Botany,' who was recently caught on Kiely's camera surveying the world one evening in Main Street, Lismore, with her beautiful big brown eyes. Samantha or 'SAM' as her Mam JACKIE prefers to call her, was one year old a couple of weeks back.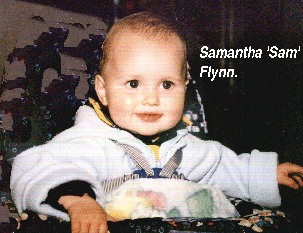 'When 'Sam' was born she had big black eyes but now they are more a very dark brown colour,' said proud Mam Jackie with a smile . ---------------------------------------------------------
EMAIL POSTBAG.
Hi to BILLY CLEMENTS, who lived in Lismore from 1929 TO 1946, opposite Hickey's Garage. BILLY used to fish for trout in the Blackwater remebers seeing FRED ASTAIRE in the town. LIAM (The Irish for Billy) you didn't leave your email address on my guestbook and I would like to get back to you.
Or you could write to me by snail mail if you wish.(my address is on the postcard section my homepage) ----------
Hello GAIL, A girl in NOVA SCOTIA who like to email Kiely loads of naughty jokes, who says:
Dear Pat, Thank you once again for your newsletter, I do look forward to it every week. I hope the jokes are not too raunchy.
I am still trying to find a unique post card to send you.W ell, it is that time of day when I have to peel the spuds, so take care my special friend. Thanks for the email and for the jokes Gail! ---------------------------------------
KAREN COOK (MC.MANUS) Karen is 'Another Medjugorje fan.' according to her message. She has been eight times to the place which is in in Bosnia and is going back again in November.
A documentary she has made will be completed this month (July)and she describes it as a our labor of love to Our Lady, Queen of Peace. All the best, Karin Cook (McManus) Website: http://www.kylemoremeadows.com (I must check it out Karen) ----------------------------------------------
Hi to LISA who is a frequent visitor to County Waterford,and Lismore in particular. ------------------------------------------
MARY CAMPBELL Would like someone from CARRICK ON SUIR,to get in touch with her. She used to cycle to Waterford from there, twice a day along time ago. -------------------------------
'Thanks for your witty and informative newsletter,' says: GABRELE and TONY MECCA from Staunton, Virginia USA....'We enjoy it very much. (Kiely thanks you for writing)
----------------------------------
PE WILLIAMS writes another of his poetic messages to me once again...
'Hot..when the dog is chasing the cat.. and they're both walking.........
was 90 @ 7 AM today & is now...115 (at noon) So how's by you???? Lets' talk for a minute.... Lovely family you have.... me?? Have 5-sons, (are we to mention grandchildren??) and 5-grand-daughters..'
(Best wishes to you PE and to all your clan!) -----------------------------------------------
A Big Hello to CHRISTINE DAY in the States who hopes to visit Ireland and climb CROAGH PATRICK in the future in the foots of the great man himself. Christine adds in her email, 'Saint Patrick is one of my best friends and I am very devoted to him.------------------------
Phil Carleton, Titusville, Florida, USA writes:
Pat, I continue to enjoy your weekly. and thought I would ask you a question about a name that surfaced in one of my mother's old letters.
She wrote that her father, before he left Ireland was a groomsman on a large estate called Murray House, and also in Lismore Castle.
If you can help PHIL with any info let Kiely know.) ---------------------------------------
'I would love to get some emails from folks who are in the Bellaheen area!, says, BRIDGET DOYLE From Schwabrow, Orlando FL 'Your site gets better and better and I love the music and the birds. 'Do you know PAT POWERS of Pat Powers Courier,Cusheen,if so please say hello to him for me...(Must him out for you Bridget ) ------------------------------------------
JOHN AND MARY WADDOUPS Have just arrived back from the CZECH REPUBLIC, after a womnderful time where they attended the ordination and first Mass of a young man to the Catholic priesthood called MAREK and met FR JAREK that we all met in Walsingham, England last year.
(The Waddoup's story was featured in this newsletter some time back. -------------------------------------------
Good morning Pat, from PETER BOUCHER,
Just got the day started with a cup of tea when the heavens opened, Irish weather says I. Well with that the e-mail bleeped and in came Kiely, at least your weekly epistle. As always it was a breath of fresh air.
Best regards to all particularly Dunmore East, grand Guinness at Power's !! Take care of yourself, Peter...... (PETER sent me a booklet about his beautiful hometown CORAL GABLES in FLORIDA which has just arrived.(Thanks Peter) ---------------------------------------------
Hi, to Denis (with one 'S') Strangman, Who reckons it evens snows sometimes in Canberra http://www.geocities.com/oldparl/snow.htm
Denis says: 'I tell you, there were strong Irish influences 12,000 miles away.
'We were taught by Irish Christian Brothers to draw maps of the counties of Ireland before we were educated about the States of Australia! ' (Why do you think we have Africans with Irish names Denis :-) !
'I now take tourists around Old Parliament House in Canberra,as a volunteer guide,' Denis added. http://www.geocities.com/oldparl/front.htm explaining to them how the States of Australia federated. ----------------------------
Well that's It for this week, lads and lasses, and thanks to BUNNY in the US for sending the real postcard which has just arrived........
Thanks to all of you who have been in touch over the last week, or so, I love the feedback, so keep it coming,
So finally,finally, finally.....
Thanks once again to all who subscribed, signed the guestbook, sent postcards or emailed..and as they say down this way... Thanks a million!
There will be more name mentions next week, and remember you must go on-line to see the photos....
See 'ya all next week. God bless, Pat.
There will be more name mentions next week,
God bless, Pat.
COPYRIGHT 1999-2000
Back to Start Page...........Please Sign Kiely's Guestbook. ..........Send Kiely a Real Postcard! .....Local Ireland
---
All written work and images are copyright Pat Kiely........Lismore...Ireland. email patkiely@eircom.net