---

Failte, and welcome again to Kiely's Comments and your own very own interactive Waterford & County Weekly.
Hope you all have had a pleasant week and have been behaving yourselves.
As we rapidly head towards the end of March, the month they say in these parts, comes in like a lamb and goes out like a lion, our interest rates, petrol and food prices are all on the rise.
Perhaps, sooner than they think, the children of the Celtic Tiger (the Irish economy) may have plenty to roar about themselves!
W&CW has reached another landmark this week, as we enter the 50th issue, almost as many issues as there are states in the USA.
Thanks to you all who have supported Kiely's humble scratchings, often written in the dead of night, over the last year and three months.
Also thanks, to the many, many of u who have written by email and by post, and to those of you who have even turned up here in in the flesh over the last year or so...
Like Susan Finlayson, her sister Jane, and their mother Bertie, a great lady in her 80s who travelled over to County Waterford, around this time last year.
They all came here from Canada to be united with their previously unknown cousins, just a few months after Kiely read Susan's message on an Internet message board, and traced their long lost Crowley 1st and 2nd cousins quiet amazingly within in just 48 hours.
I say amazingly because these cousins, had remained undiscovered by the Finlayson family for over 80 years.
Readers who missed the story last year can find out why it was so difficult to discover their Irish roots, if they visit Kiely's new website where he has republished their story, this week with photos see Crowley Reunion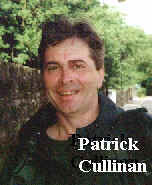 Hello, also to Patrick Cullinan from the US who Kiely also met last year. We never did get to have that meal Patrick, perhaps next time,eh!
Also during the last 12 months, Kiely had the pleasure of meeting members of the Bell and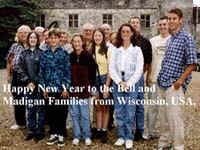 Maddigan families from Winsconsin, who stayed here in County Waterford in style, at Lismore Castle.
The Castle was once the holiday home of Fred Astaire whose sister Adelle was married to Lord Charles Cavendish, uncle of the present Duke of Devonshire.
Which all goes to prove that the W&CW really is your interactive newsletter.....but to start,
This week we meet, Hannah Prendergast from Tallow, who just loves the 'Irish,'.....language that is......
We meet John Tobin from New Street, 'Botany', whose ability with a trowel is just one of his many talents.
Also meet Fr Athanasias, the well known healing priest from Mount Melleray Abbey who has been a Cistercian monk for fifty long years and has recently celebrated the jubilee of his ordination.
But first, let's see what's in Mary England's bag of goodies.....
'In my bag of goodies I brought back lots of things for my third and fourth year classes, who are studying a project on Ancient Greece.
I brought maps, loads of postcards, flag stamps, and a big scarf with famous historical sites in ancient Greece printed on it, explained the environmentally concerned Principal of Liosmor Mochuda, Church of Ireland, Primary School, Mary England. http://homepage.eircom.net/~liosmormochuda
Mary has recently returned from her mid- term break near Athens, where she met up again with teachers from several European countries including, Romania, Greece and Italy,and France to work on a application for EU money to fund a school's partnership environmental project called, 'A Birds Eye View of European Fresh Waters.'
'We spent three days in a little town just north of Athens called Marrousi, and visited the school there. Marrousi is not too far from the town of Marathon, from where the famous race gets its origins and name.'
'When we arrived the children had a welcoming speech prepared for us in English, which is a very popular second language there.
They regard it as so important, that many of the pupils receive private English lessons in their own homes in the afternoon as well as at school.'
'They gave me a video about their school, and loads of letters and cards to bring back home, and my pupils will have lots of fun responding and making pen friends with the Greek children.'
'I also gave them a video which was prepared by my pupils, a map of Lismore and some Irish coins.'
'The Greek children were so fascinated by an old Irish story I told them, called Niamh Chinn oir, that I promised to send them on more stories and legends in the future which I will encourage my pupils to write out for them,'said Ms. England
'Before I went to Greece this time, some of my friends here were quite envious, thinking I was off to some lovely hot and sunny weather for a few days, but they needn't have been so, because while I was there the weather was quite cold.
Cold enough even for a coat, and many of the locals were going around dressed in anoraks, although I must say, the welcome we received from the parents, teachers and children was very warm indeed,and they showered us with gifts of hazelnuts, olives and olive oil produced in their own olive groves.'
' Every evening we were wined and dined by the adults and their friendliness and help with our work more than made up for the cold weather.'
'We will have to wait sometime to see if our application is successful, but even if its not, the schools have resolved to keep in contact with one another, and I think the multi-cultural links formed will be of great benefit to all the pupils involved, said the environmentally enthusiastic Mary, and even if she didn't return with a suntan, the thought of all that wining and dining has made Kiely quite 'green' with envy!
Hannah Quinlan Prendergast who lives at the foot of the 'Hill of Iron' opposite the Bride Bar in Tallow. loves 'the Irish,'and is very proud of the gold F/aine ring pin she was awarded many years ago.
'Irish was one of my best subject at the National the Vocational schools I went to,' said Hannah, who is a sharp as a button, full of quick wit, and a woman of passion when she gets talking about the Irish language.
Hanna and her two sisters Bridie and Tessa all speak the Irish language well, but Hannah has an insatiable love for it, dropping in old Irish phrases into our conversation at every opportunity, then looking mischievously at Kiely, before giving him a translation.
'Caed mile a failte Go d/aoine tact isteac, A hundred thousand welcomes to people coming in, was an old saying we used to have,' added Hannah.
Talking about her childhood years, she said,
'When I was a girl there was no TV and no radio and we had to find things to do with our time.
At night we would entertain each other in the house, my dad played the violin and my Mam could sing very well, a musical talent no doubt handed down to my sister Tessa Quinlan Mundin, a professional singer, who is at present touring in Australia.'
'We used to climb up to the top of that hill when I was a child, Hannah said, pointing through her kitchen window, to a nearby steep grass hill called The Sweep, but it is a bit overgrown up there these days.
It would be good if Fas (Job scheme for the long term unemployed) could get some workers to tidy it up, as I'm sure tourists would love to go up there for a picnic in the summertime,' she said.
Irish may be her favourite language, but Hannah's gift of words extends also to her use of English , her conversation, peppered with an assortment of old sayings which she learnt from her father Michael and mother Nora (nee Coleman ) when she was only knee high..
'There's none so wrong as those who are always right, said Hanna with a sparkle in her eye, adding....
'Tis a sign you are a married man when children climb your knee, and if your not a married man, its a sign you ought to be,'
Hannah is a lady with a deep personal faith and believes we should talk to God like he is real- and listen to what he says.
'In my life, she said, I have always found that if you ask for something and God doesn't open that door, it is because it wont be leading you in the right direction.'
'No one is perfect, sometimes we all stagger a bit off the pavement on our journey through this life, said Hanna.
With her sisters Tessa and Bridie, Hanna was a member of Tallow Choir for twenty years during the time of the late Fr Michael Walsh P.P. who died last year.
'I am the eldest of 8 children, but my 5 brothers are all sadly now gone.
My dad used to say, 'Its all very well to be pleasant when life is going by like a song, but the man or woman worthwhile, is the man or woman who can smile when everything goes dead wrong, and I have always found that to be a true saying.'
'I think its your outlook on life that matters, its a shame these days that everyone seems too busy even to stop for a chat, that is one thing I miss from the past, but when I visit Tom Keniry's supermarket in the town, he loves to talk in Irish with me, which I really enjoy.'
Almost outside her front door a new road junction has been built and new street lamps installed, and while the junction was being built, the council closed the road Hannah lives on.
'It was lovely and peaceful for a few months without the traffic passing my door, I used to invite the workmen over for a cup of tea, and when they were finished the job they brought me over a load of timber for the fire as a present, which was very kind of them.
I love having the new street lights outside my window it used to be so dark here at nights and now you could nearly read a newspaper by the light they give off.'
Just before Kiely left, after sampling one of Hannah's lovely cups of nice strong tea and a few bickies, Hannah said to him, here is an old Irish greeting for your readers,
'Benakakt dia oraib Goleir,' (..and God bless you too Hannah...)
Working Hard!
Man of many talents John Troy of New Street, Botany, Lismore, seen here, was busy putting the finishing touches to a new drainage system and pavement near Ballyrafter Petrol Station, the other day.
Caught recently on Pat Kiely's camera, during a visit to Lismore from Mount Melleray Abbey, were Brother Bonifice and Fr.Athanasius O'Brien.
Fr Athanasius recently celebrated his Golden Jubilee of ordination to the priesthood on February 24th. 2000.
Bishop Colbert (a native of Lismore) and Bishop of Port Elisabeth, ordained seven priests at Mt.Melleray on the same day in back in 1950. The biggest ordination ceremony to have taken place in the Abbey Church in its history.
All seven men have stayed with the priesthood.
Three of the original seven are still serving in Melleray, Fr Athonasius, Fr Cornelius, and Fr Celestie.
Two remain in the Abbey in Bethlehem, Portglenone,who are, Fr.Hermon from Kerry, and Fr Levinus, now Patrick from Waterford.
Two have been called to their heavenly reward, Dom Jouchim of New Zealand, Fr Pius of Portlenone, God rest them both.
Congratulations and thankyou to Fr Athanasius and his brother priests and religious for their many years of dedicated service to God and we wish them many more happy years.
National Tree Week from the 5 -11th of March, has just finished. The aim of the special week, promoted by Tree Council of Ireland, and other environmentally friendly organisations was to promote an awareness of the importance of trees.
They have been trying to encourage people of all ages to become involved in the planting trees all around the country.
Kiely wonders if that is why he saw so many tree cutters and fellers, (or should that be 'fella's') at work recently cutting down trees around the wall of Lismore Castle, and out on the Ballyduff Road?
Was the reason for all their activity in the area, an act of kindness, to make some extra space, so that the Tree Council of Ireland, and their supporters, would have somewhere to plant some extra trees perhaps, or simply to make some more space for the Celtic Tiger to raise its young?
Thanks all of you who visited Kiely's new website last week and sorry if those who visited early in the week saw no pics, they, and all links are now working correctly.
Thanks to, Beverley A.Hannon, Iowa, Roberta Kormska, and Fred and Cindy Bell from Winsconsin.... To the Mc Grath family, and their baby Brendan-Hayes Mcgrath, from Mass.USA To Kevin Moloney,California, and to Tom Kiely here in Sligo, Ireland, and just received this morning from Maryann from Linwood NJ. USA..who all sent Kiely a real living postcard.
I fear Fergal my trusty postman will need to deliver a few more cards from you all before he feels the strain... So lads, keep em coming to....
Pat Kiely,Ballyrafter Cottage, Lismore, County Waterford, EIRE. (No zip or postcode needed)
E-mail and Fe-mails.
Sister Kate Tobin over there in Liverpool, homeplace of that ancient group The Beatles, (Well they seem ancient now) is counting the hours till she arrives home in her beloved Lismore in 8 days time.
The Colonel is also hoping to pay Waterford and its County a visit shortly, as is my daughter Marina, so it looks like its going to be visitors all round very soon, and remember if you are a regular reader of this newsletter every week, u are likely to meet them all through this column yourself very soon....
Sorry, but the clock has beaten me once again (3.30am)
so finally,finally, finally.....
Thanks once again to all who subscribed (But remember you must go on-line to see the photos)
See 'ya all next week. God bless, Pat.
---
Subscribe
Waterford & County Free Weekly Newsletter...........

Pat Kiely's Local ireland County Waterford newsletter was awarded 3 Shamrocks last year by Doras.
---
COPYRIGHT 1999-2000 All written work and images are copyright Pat Kiely........Lismore...Ireland. email patkiely@eircom.net