---

7th April 2000.
Failte, again and again to another Kiely's Comments and issue 51 of your very of own very own interactive Waterford & County Weekly.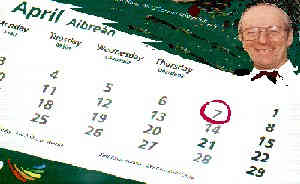 Once again I hope you all you Waterford boys and girls have had a pleasant week and have been behaving yourselves.
How did it go on April the first? Hope you didn't get made too much of a fool of.
With the tourist season approaching Hitch-hiking is back in fashion with a vengence on our County Waterford roads once again.
Worryingly, its not just experienced backpacking tourists, who can be seen arm raised begging for a lift, but also, in many rural parts where public transport is often infrequent or unavailable, local teenage girls as young as 15 can often also frequently be seen, often alone, thumbing a lift.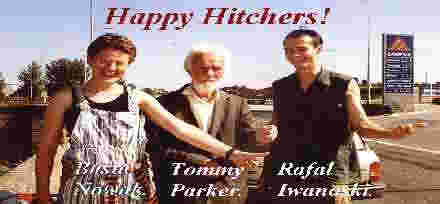 Ireland has for many years has been a great place to thumb a lift, but sadly 'the times (even in Ireland) are a changin,' as 'Bushy Bob, once sang!
While working as a Prison Chaplain,in England, Sr Kate Tobin, whose story was recently featured on Kiely's homepage, met notorious murderer, Rose West, who with her husband Fred used to deliberately go out looking for young hitchhikers that they could entice back to their home, to torture, kill, and eventually bury under builder Fred's new patio.
A couple of years back, a young girl from Kilkenny disappeared while thumbing a lift home from Co.Carlow one Friday night and has never been seen since, much to the heartbreak of her parents.
So, should hitchhiking in Ireland be made illegal, as it is in some European countries? If only to protect worried parents, and vunerable kids, whose parents are often are unaware that their kids are doing this?
If you would like to cast a vote you can do so on My new Poll Page
and next week I will publish the results.
If there is a good response I will also mention the results in my Dungarvan newspaper column.
Over to you, but first,
Back to Waterford and it's county, this week we stay with trees or rather the cutting down of same......
Mr Hal Chavasse, Woodland Manager of the Lismore Castle Estates has been in touch, to give his reasons for why there has been such a lot of tree slaughter in the area just lately.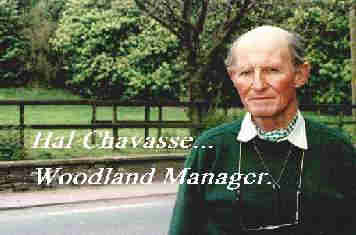 An much earlier occupant of Lismore Castle, Sir Richard Boyle,who at one time, according to a report in The Sunday Times newspaper, was Ireland's richest man, saw the potential of all forests and trees in the area as cheap fuel for his iron works in nearby Tallow..
Boyle who had arrived in the County Waterford with less than fifty dollars in his pocket (a fair bit of dosh those days, but no fortune) began his career here, according to the same newspaper report,by chatting up all the rich local heiresses he could get his hands on, before his flare for gathering money in other ways took off.
His son Robert the famous chemist who had a physics law named after him, was born in the Castle but left at an early age to be educated in England and abroad.
Read Woodland Manager, Hal's interesting answer later in this newsletter
Put in Touch!
During the week I received an email from Kathleen Owens in the USA who was trying to trace some Irish cousins and relatives of her husband, that they had not seen for a long time.
Within half an hour of the request appearing in my newspaper column I had a phone call from a lady called Ann Power who had met two brothers called Flynn in a local hospital when visiting her own relative.
Sadly one of the brothers, Paddy Flynn,only died a few months ago, but there is another cousin living in Stradbally.
Hopefully Kathleen and her husband will be able to get in touch with their surviving relatives when they visit in May.
I would love to help all of you that get in touch in this way, but at the moment giving your request a mention in the newspaper its rather pot luck, owing to lack of space.
But first,
All about Sheep,Well Jacob's Sheep that is!
JACOBS SHEEP!
Sheep have many uses!
We learn to sing about 'em when we are little... Who hasn't sung 'Ba Ba Black Sheep,' and 'Little Bo Peep,' when we were very young?
When we get older and can't sleep its suggested we count em to help us nod off.
They have been cloned and called Dolly.
You can even adopt a virtual one on the Internet.
Not being able 'to tell the sheep from the goats,' is a well known phrase. Many families claim to have a black one among them...a waister a no gooder etc
It is said that humans sometimes follow their leaders like sheep, or that a gentle person is a meek as a lamb.
Sheep will willingly eat your excess grass.
Their can be wool is used to make everything from warm winter jumpers, to mountaineers socks.
They appear in Bible stories, Jesus is sometimes known as the Lamb of God and when some local people in Knock saw the vision on the church wall in the 1800 s they saw him dispicted like this.
Mrs Barbara Bailey who runs a spinning wheel shop in Leamlara Nr Middleton in County Cork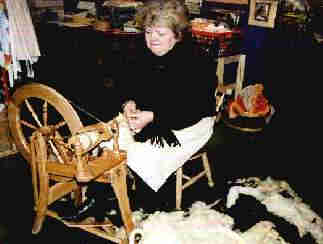 with her husband Brian, claims to know a lot about sheep, well one brand in particular, Jacob's Sheep. An ancient breed of sheep that produce the special kind of mottled or spotted wool she weaves into all sorts of items on her old fashioned looking spinning wheel.
When Barbara was at the Ballyrafter Flower and Craft Fair before Christmas, she was telling Kiely about how the wool got its name.
' Jacob of biblical fame asked his mother's brother, Laban for whom he had worked for a long time, that he be given his freedom to move on with his wives, Jacob asked for no wages only that he be allowed to keep the new born spotted or speckled sheep of the flock.'
' His uncle agreed, as these sheep were considered worthless.
Jacob being a clever man, then got fresh shoots from poplar, plane, and almond trees, and peeled them into white stripes, laying bare the white part of the shoots.
He set up the shoots he had prepared in front of the animals, in the troughs, in the water holes and where they came to drink they also would mate.
This caused the sheep to give birth to speckled lambs.
By doing this he was able to build up a considerable flock to take away with him.'
'Now whether you believe that story or not, sheep with this kind of wool have been known by this name for as long as anyone can remember, and their wool is very popular these days,' she added.
Barbara and Brian have been in Ireland three years and find people very interested in learning how to spin the wool on a spinning wheel. We also run classes, from our workshop,' she said.
Genesis 30-32 ' Let me go through all your flocks today and remove from them every speckled or spotted sheep, every dark coloured lamb, and every spotted or speckled goat. They will be my wages.'
(Email me if you want Barbara'a Tel. number.) ---------------------------------------------------------
NEW MEMBERS WELCOME!
Maro Kingston has been in touch from the Ballivella Ladies Club, near Lismore and would like to appeal for new members to join there club which meets the last Monday of the month in the Community Hall at 8.30pm. ------------------------------------------------------------
RIGHT TO REPLY!
Tree planting and tree felling in Lismore goes back a long way...
Lismore and the surrounding area have always been pretty well supplied with trees, even before Sir Richard Boyle reputedly the Millennium's richest man ever to inhabit these shores, according to The Sunday Times newspaper, arrived here in the 1600's with 27 pounds or so in is pocket.
The 23 year old Richard, later to become the First Earl of Cork, and a Sir, immediately set about chatting up any local young heiresses he could find in the area.
Never a man to miss the chance to make a few bob or three, he was soon also starting businesses all over the place, and quickly on his way to making his first million.
Like another Sir Richard of more modern times, Boyle was always quick to spot a business opportunity and when he started his iron works in Tallow, a place name which in Irish means, The Hill of Iron, he saw the availability of numerous trees in the county a God send.
Well, as anybody knows,making iron required loads of heat, and plenty of good timber and charcoal to keep the furnaces and fires a going, so very soon, Boyle had invested his twenty seven pounds, and was making loads of money producing the stuff for the British establishment who needed it for military purposes, several centuries before the vast needs of the industrial revolution.
All this tree cutting changed the original landscape of County Waterford with its oak beech and ash tree forests forever, and nowadays one is much more likely to see the local forests populated with douglas fir or citrus spruce instead.
'Spruce can look rather unattractive in the early years of its life,' said Hal Chavasse, who is the Woodland Manager for the Lismore Castle estates, owned by the Duke of Devonshire.
Hal had contacted Kiely to explain the reasons behind the apparent frenzy of tree cutting which had been was taking place recently around the Lismore and Ballyduff area as mentioned in this column last week.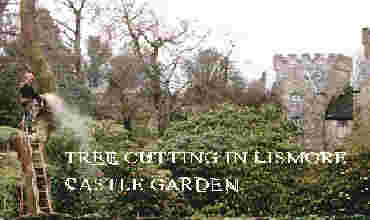 Mr, Chavasse, went to great lengths to explain the reasons and need for the tree felling of several acres of forest at a time.
'The average time it takes a fir or spruce trees to reach maturity is about thirty years to forty years after which time they are harvested, rather like a crop of wheat,' he explained.
'It takes about two years before we can replant, because you have to let the ground settle for a year or so, then treat the soil with a weed killer and then leave it again for a while, so that when we replant the young trees, they will get a good start.
'Softwood trees like spruce are planted and harvested in quite a short time compared to hardwoods.
The Ash tree from which hurley sticks and furniture are made, takes about 40 to 50 years, to mature, while Oak takes at least 200 years, and Beech somewhere in between the other two. So you can see it is a slow process.
'From the point of view of profit, obviously soft woods are better, and much easier to grow, but we still plant hardwoods like oak, beech and ash, which are mingled with conifers which encourage the hard woods to grow on.
These conifers are are eventually removed when the other trees are established.
'We have recently planted an area of scrub land up towards the Vee with new hardwood saplings, but they will need a lot of care especially during the first few years, with pruning and weed removal etc.
'We have also planted some evergreen oak trees inside the Castle Wall near to where some other trees were recently felled, but it will be a long time before they will be visible from the road.'
'You really have to give then special attention,' said Mr Chavasse, who has been the Woodland Manager for the Castle Estates, since 1987. Its a job I thoroughly enjoy,'he said.
'A lot of people have told me how pleased they are,that they can now see the beautiful blossom trees growing inside the Castle Gardens, which before were previously hidden from view.'
'We (The Castle Estates) employ seven men directly connected with the local forestry industry. Five in the woods and two in the tanalasing wood treatment plant.'
'Big jobs like the felling of the trees along the Ballyduff Road, you mentioned in your recent article, which were 45 years old, are usually contracted out.
Keeping them growing any longer than that, is not economic.
Most of the felled trees go to saw mills in Cork or Tipperary and then sold to be used in the building or furniture making industries.
We plant the new trees at a density of about 1000 trees to the acre, the reason for this is because, we don't want the branches to spread out. Keeping the trees close together produces better timber, before they are thinned out.
'That is what the men were doing a couple of months ago when you took their photographs in Ballyrafter Woods, remarked Mr Chavasse.
But time waits for no man, and like the old Iron Works in Tallow, and Sir Richard Boyle himself, the trees which once adorned the area are now long gone!
(Kiely would like to thank Mr Chavasse for his interesting explanation about tree growing and harvesting.)
During the week Declan McCann from Canada, signed my guestbook after reading the story about Alice and Ned Burke, and said his father was once the local Doctor in Tooraneena in the 1950s.
Several poeple have been in touch by phone with Kiely including Alice who said Declan's father delivered some of her own children,
They would like to snail mail Declan or to pass a message to him via Kiely's email.but I am not sure if the email address he left is correct.
So Declan if your out there please get in touch and I will pass your details on....
Diann Hayes wrote,
Hello: I would like to make electronic friends in Ireland. Could you give my e-mail address to a person who is middle aged, enjoys knitting and gardening, associates degree.
I enjoy different cultures and I plan to visit Ireland soon. Perhaps, an electronic friend can help me with the language/slang. Thank you...Diann Hayes.
If you are interested in becoming Dian's friend contact Kiely first.
Hi to Dennis down under who reckons our Bertie might have come along to Canberra on St Patrick's Day to see more than the Book of Kells, currently on display there.
Local newspapers were curious as to who the un-named person that seemed to be shadowing him wherever he went was...
Oh silly me, that must have been his security of course.
and finally,
Thanks to all of you who wrote, or signed my guestbook during the week, I really appreciate it.......
Another late night as I write this, but what the matter, Sorry, but the clock has beaten me once again.
so finally,finally, finally.....
Thanks once again to all who subscribed and sent postcards and emailed (But remember you must go on-line to see the photos)
See 'ya all next week. God bless, Pat. and dont forget to vote
Subscribe below and I will forward on your email details to Local Ireland so that you can receive my free weekly newsletter by email.
---
COPYRIGHT 1999-2000 All written work and images are copyright Pat Kiely........Lismore...Ireland. email patkiely@eircom.net