Back to Start Page....... Send Kiely a Real Postcard! ......Kiely's Voice message!
Please Sign Kiely's Guestbook.
---

Easter 2000.
Failte, and many of them to you all!
Welcome to the Easter issue of Kiely's Comments and your own very own interactive Waterford & County Weekly are here once again.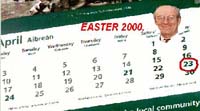 As usual I hope you have been behaving yourselves. I know that Lent (for some) is nearly finished and the smell of the Guinness is again in the air. Those of you nicotine addicts out there who are itching to light up again, and who have managed to stay off the dreaded weed for the past 6 weeks, why not do like Kiely and kick the habit once and for all?
'Himself,' did so 10 years ago this Good Friday....You might say I made my own 'Good Friday Agreement,' after being an addict for close on 20 years.
When I gave up the fags, I went on the sweets and a few days ago and after several years of abuse I have just had 3 of my teeth extracted as a penalty, so you can't win in every way...Can you?
This week being Easter, the Waterford and County Weekly is going to be a short one
Remember there are more bits and pieces on Kiely's new homepage, including a VOICE greeting from Kiely to you all this Easter on
But first..
This week we just have one main story and its all about the landing in Helvick, near Dungarvan County Waterford, of the Erin's Hope boat back in the 1860s which had sailed all the way from the USA with a group of Irish American members of the Fenian Brotherhood, who had come here to help support the Irish back at home in their struggle for Independence from England.
Kiely recently met Nicholas Graves whose ancesteors sailed to the USA just after the Famine, whose dad used to tell him vivid stories about the men who sailed in Erin's Hope!
Nicholas recently came across an old poem about the story and he decided to contact Kiely..
THE FENIAN FROM LISMORE!
On the road overlooking Helvic Pier stands a monument commemorating the Erin's Hope landing of the American Fenians in 1867 It was unveiled in 1955 by Cathleen Clarke, wife of the 1916 Republican leader, Tom Clarke.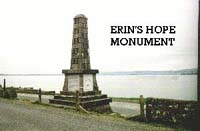 What may not be generally known, however, is the accidental nature of the Helvic landings and the fact that no guns actually came on shore.
Nicholas Graves, was born and bread near Helvick Head in Ring (An Rinn ) near Dungarvan and was fascinated as a child, as he listened to his dad Thomas, who was a great local story teller, relate to him about the American Fenian's and there arrival here from America, via Sligo, in the Erin's Hope, a sailing ship in which they had travelled across the Atlantic to bring weapons to their Fenian 'brothers' in Ireland.
Nicholas who has been a member of Dungarvan Historical Society for many years here relates the story of Erin's hope as he remembers being told it.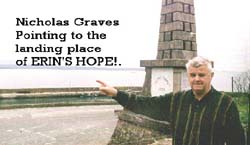 A group of Fenians in America, many of them veterans of the US Civil war, wanted to give support to the Irish people back home in what they believed to be their imminent uprising against the British, and to join forces with them against what they saw as the unfairness and cruelty imposed upon the Irish people by the British government.
When they arrived in Ireland just off the coast of Sligo, with an estimated 8000 rifles and ammunition, after many weeks at sea, in The Erin's Hope, an 81 foot sailing boat originally called the Jacmel after the hometown of its original first owner, Henry Okill, they expected to see a signal from the shore which was not forthcoming.
After a few days the boat's Captain called Cavanagh became impatient, and decided to go ashore taking two Fenians with him.
He was eventually contacted by an Irish Fenian called Richard O'Sullivan who told the Captain about the true state of Irish affairs, about how the Irish had taken part in an uprising without waiting for American help, but that it had been a failure.
Many of the leaders involved, he said, had escaped arrest and travelled to England where they continued to make plans to continue the struggle, against the British and it was from here that messages arrived in the US asking for help and support.
O'Sullivan suggested they bring their arms, to Cork where Capt. Lomaskey was still active.
While Cavanagh was away, there had been some trouble on board the Erin's Hope, between two of his crew and some of their passengers but eventually when this was sorted out, the Erin's Hope set sail again.
Despite arousing the unwelcome interest of British gunboats they managed to escape and make their way south towards Cork, . Lacking provisions and meeting with bad weather they were blown of course and eventually arrived at Helvick on June 1st. 1867.
The skipper of a local fishing boat was asked to take two men ashore to get provisions but when he pulled alongside the Erin's Hope, 32 of the Fenians climbed on board his vessel.
Although asked to wait for nightfall, because of his overloaded boat, the fishing vessel's owner decided to land his passengers ashore, under the cover of fog, but just as they reached the beach, the fog lifted, and a watchful coastguard who saw the arrival informed the local RIC, who were soon set out in hot pursuit.
Captain Cavanagh decided to sail off towards the Bristol Channel to escape capture with the Fenian leader Kerrigan and several others who has remained on board.
He was spotted several times by British war ships but escaped because they mistakenly thought The Erin's Hope was just a trading ship.
It is unclear what happened to the weapons on the ship, as Captain Cavanagh never did receive the expected signal from the Fenians long the English coast either, but eventually he set sail for America again, and 9000 miles and 107 days later he arrived in New York, with three crew and several Fenians, again almost completely out of food and provisions.
Meanwhile back in Helvick, most of those who had gone ashore in the fishing boat, were easily recognisable in their high boots and broad rimmed hats, and were arrested between Ring and Youghal as they tried to make their way to Cork.
Two got as far as Carrigtohill and four escaped arrest altogether. One making his escape and returning to America under an assumed name.
The rest faced trial in Dungarvan and were transferred to Waterford Jail.
Most were eventually released transported to America or died of ill health and by 1868 only one remained in prison, an actor called Costello who appears to have been something of a scapegoat until he was also released in 1869.
He returned to his home town of Galway to a hero's welcome and vowed to continue his fight against the British.
'It's not only Galway, Sligo and Cork should be aware of its links with Erin's Hope, so too should the people of Lismore,' reckons Nicholas, who some years ago found this poem among some old newspaper cuttings he had collected.
The poem was written by John Mangan from Old Ferry Lane in the town of Lismore.
It is unclear what role Mangan played in the adventure, but he was one of the Fenians who landed at Helvick, and because of this, Nicholas Graves feels that Lismore in this Millennium year, should erect a plaque or some other sign in remembrance of the event. .
This is reputed to be the full version of John Mangan's nostalgic poem, written presumably just before his successful escape to America, and one can almost see in the mind's eye, the mother and sisters he left behind....
The Fenian From Lismore......... by John Mangan
It's years since I left you, its twenty or more,
Since I took my departure from ancient Lismore,
I will conic back again from a far distant climb,
For to see you once more and perhaps the last time.
Your Castles and towers there are none can excel.
There's the Greer Road and Spout and St Carthage's Well,
There's the Mall by Church Lane where I used to play ball,
When I went to school to old Henry Wall.
The days of my boyhood they come back to me,
I imagine myself climbing a tall chestnut tree,
Whilst picking those chestnuts as I did of yore.
When I was a boy in my home in Lismore.
I swam the Blackwater which by you runs down.
And I helped to save turf on your tall Knockmealdown.
I have chased the wild herd front its green mountain side,
And many a time have I fished on the Bride.
Farewell to you Dungarvan and famed Cappoquin ,
Likewise Helvick Head till I see you again.
Since I paid you a visit it's a number of years.
And you'll welcome me home Erin's Hope volunteer.
There's Botany too, Chapel Lane. Gallows Hill.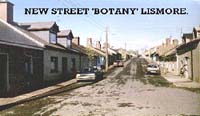 There's the New Street, Parks Road, I remember them still,
There's the Main Street beside them and the Iast place I'II name,
The place I was born in, was old Ferry Lane.
I have crossed the Atlantic to fight for your cause.
To free you old Ireland from England's cruel laws,
The day is now dawning. when Gladstone can tell.
We'll have Home Rule in Ireland, many thanks to Parnell.
Our green flag is flying over mountain and vale
And Ireland is crowned by her own Clann na Gael,
The day will now come when I hope to see,
The home of my fathers I long to set free.
My mother and sisters they still do remain.
And l am in hopes to see them again,
God Bless them and guard them .I'll ask nothing more,
Goodbye mother and sisters and to all in Lismore.
Nicholas Graves said he would like to hear from anyone who knows any details about John Mangan, the author of the above poem. -----
---
Well, the clock has beaten me once again.
So finally,finally, finally.....
There will be more name mentions next week when I have more time! )
Thanks once again to all who subscribed, signed the guestbook, sent postcards emailed ..and as they say down this way...
Thanks a million!
See 'ya all next week. God bless, Pat.
Subscribe below and I will forward on your email details to Local Ireland so that you can receive my free weekly newsletter by email.
Back to Start Page...........Kiely's Voice Message!
Please Sign Kiely's Guestbook. ..........Send Kiely a Real Postcard! .....Local Ireland
---
COPYRIGHT 1999-2000 All written work and images are copyright Pat Kiely........Lismore...Ireland. email patkiely@eircom.net