Back to Start Page...........Please Sign Kiely's Guestbook. ..........Send Kiely a Real Postcard! .....Local Ireland
Double click the green arrow above and wait a few seconds for Kiely's voice greeting.
At least 100,000 Welcomes to you all.

This little search box above is amazing!........Just type in what you are looking for on this site, past or present and it will search it for you within seconds.
---
August 3rd 2000
Hi and welcome once again to your free Interactive Waterford and County newsletter and Pat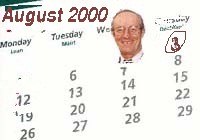 Kiely's almost' weekly comments.
Welcome all those of you wonderful people, from in and around the County of Waterford, whether by birth, ancestry or adoption, who might still be at home and not off sunning yourselves in some exotic location..
If your are, then I doubt very much that you will be perusing this 'valuable' document, but for those of you like Kiely, who are still at home or work, I offer my deepest sympathies and hope we'll all get away soon....
Well the Munster Fleadh Cheoil has been and gone.
A great success by all accounts, over 10,000 gathered in Lismore's Main street on the final night to hear box player Sharon Shannon, and The Booley House Players from Ballyduff entertain the crowd with song, dance, music, and Craic.
For those who experienced it, like 'himself' it was an experience of a lifetime, probably better than the Millennium celebrations to tell you the truth, and the weather was better also!
Kiely (who was running around with a tape recorder and camera most of the time) thought it was even tastier than the unsliced bread his Mam used to bake!
A lovely weekend, beautiful weather, beautiful people and beautiful music....... what more could anyone want?
But first.....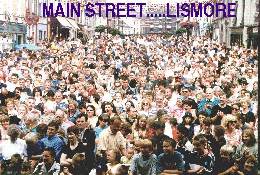 56K setting
...(part one).
-----------------------------------------------------------------------------------------------------------------------
EVEN THE HENS?
Yes, its a scientific fact, not only do most Irish people love dancing and music, (Kiely included ) but now even the hens in County Waterford cant keep still when there's an ole tune to be heard.
With all the music and dance recently taking place in Lismore at the recent Munster Fleadh Cheoil this little hen who lives near Parks Road also decided to get into training for one of the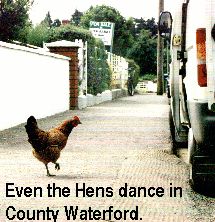 competitions.
Here we see her practising the 'sevens' once taught to a childhood Kiely by a nun, many na moons ago..... Well roll up the trousers and here we go lads........ one two three four, five six seven. One two three, one two three.....!!!!
(Maybe something in the Blackwater River drinking water is to blame!)
--------------------------------------------------------------
CRAZY WORLD.
What a crazy world! Or is it me? I just read a report of an incident in the USA about a mother forcing her 16 year old daughter at gunpoint along to an abortion clinic to kill what in reality was to be her future grandchild.
It seems the woman had driven the 16-year-old daughter to the clinic and the staff 'bless em!' called the police after the distraught girl was forced inside at gunpoint.
The mother has now been charged with aggravated assault, false imprisonment and domestic violence. -------------------------------------------------------
25 YEAR CELEBRATION.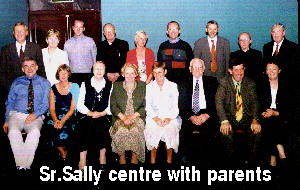 After a special Mass recently held in St Carthage's Cathedral, Lismore, more than one hundred and fifty friends, relatives, clergy, old school friends and well wishers made their way to the Lismore Hotel to attend an evening of Jubilee celebrations for St John of God Sister, Sally Hyland who is back in Ireland for a few months after many years work in Africa and a recent study course over in the Holy Land.
After a running buffet dinner, a speech followed by her brother, Thomas Hyland, who thanked all those present for their attendance at his sister's Silver Jubilee party. 'I hope we can all hold another celebration for my sister in 25 years from now, he said. Reunions seem to be becoming a tradition in the Hyland family,' he added with a smile.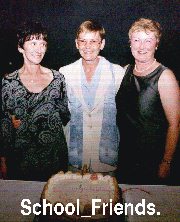 Apart from colleagues from her religious order and Rev Fathers present, Sr Hyland met up later in the evening with two of her old classmates from The Presentation Convent, Lismore, (circa late 1960s,) Noreen Quann (ne Tobin) now living in Cappoquin and Esther Celise Wheelan. The girls no doubt had some interesting stories to exchange with one another.
After the speeches were over, the live music started up and whisper has it, that the celebrations were still going fairly strong at 3 am.
-------------------------------------------------------------------------------------------------------------------------
LITTLE HYLAND FLINGS!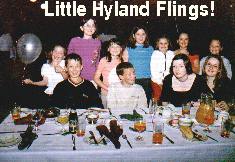 Also caught on Kiely's camera during the evening, all sitting at their own special table where a group of Hyland's, Ryans, Cowmans and O' Neills... all nieces and nephews of Sr. Sally who, as we can see from this picture were all having a great time for themselves. -----------------------------------------------
E-Mails and F-eMails Postbag.
Thanks to Declan McCann (Canada) Susan Finlaysan also Canada....Gail Short, The Colonel (he's back) PE Williams, USA..Billy for his real postcard and his son Geoffrey Clements,who passes on my newsletter to his dad..to Sr Kate Tobin all in England....
Mary ODowd in Australia.... Journalist Niamh Bukeneff, Mochuda School Principal, Mary England, Munster Fleadh PRO, Mary Houlihan(Ireland)
Carol Miller from Virginia who was desperate to find the words of a very old song by Mario Lanza called Drink,Drink,Drink,(sounds like the old priest in RTE's Father Ted comedy again)
Kiely eventually tracked the words down for her, for which she reckons I will always have a place in her heart... (Dont tell the Mrs!)
The words are quite sensuous considering they were written way back in my grandparents time.. (Mind you come to think of it they had 13 kids)
Here's a few verses of the song for you, from a time when old fashioned courtship still existed..
A time when being 'in love' didn't mean being allowed to borrow the parent's bedroom for the night......
A time when the Red Cross did not have to issue press and radio releases (as they did today) warning young girls in County Waterford going to festivals and night clubs not to leave their drink unattended in case some oink spiked it with a knock out drug!
Drink Drink Drink!
DRINK DRINK DRINK TO EYES THAT ARE BRIGHT AS STARS WHEN THEY'RE SHINING ON ME. DRINK DRINK DRINK TO LIPS THAT ARE RED AND SWEET AS THE FRUIT ON THE TREE.
HERE'S A HOPE THAT THOSE BRIGHT EYES WILL SHINE, LONGINGLY, SOON INTO MINE... MAY THOSE LIPS THAT ARE RED AND SWEET TONIGHT, WITH JOY, MY OWN LIPS MEET.
DRINK DRINK DRINK.ETC..
HERE'S A HOPE THAT THOSE SOFT ARMS WILL TWINE, TELLINGLY, TRUSTINGLY SMOOTHER THAN WINE ALL I ASK IS A RIGHT TO SEE THOSE SMILING EYES BEGUILING ME.
DRINK DRINK DRINK LET THE TOAST START MAY YOUNG HEARTS NEVER PART DRINK DRINK DRINK LET EVERY TRUE LOVER SALUTE HIS SWEET HEART
LET'S DRINK! (I'd say that again!)
emails continued..Hello to Flora Baldwin and her computer savvy friend Claudia who recorded a voice message on Flora's behalf.
John Donovan (Sorry I havent had time to research you query about Clashrea Place, Waterford City.(Does anyone know it?)
Hi to Norah Henry in the USA with Sligo roots. Kevin Moloney for his newsletter.Very interesting.
Thanks to Mary Beth and Paul Mcgrath for their real postcard from Prince Edward Island.....
To Mary Hoar who would love to rent the castle if she had the dosh...Rumour is rife here in Lismore, that Brad Pitt is about to stay there shortly... If its true i'll tell you next time.
To Garry Oakham working in Boston....
Dennis Shannon, Yes, I did use your story in my newspaper column (Now your famous like you asked) I will publish it on the net soon.
Dennis describes how he found it much better to see Ireland slowly and stay in one area for a few days, rather than trying to see the whole country in a week, as he did on his first visit in 1999.
Hi to Jaysa in Santa Cruz.....
Sharon Gravert in Sacramento who was recommended to this newsletter by Eddie Cantwell in Dungarvan. (Thanks Eddie)
Hi once again to Fred and Cindy Bell in Winsconsin.. Pat Smith USA..
Hello to Alan o,Keeffe.Kettering, England whose granny was mentioned in a Waterford book called The Sholl, many years ago..(does anyone know it?)
James Cox wants to hear from anyone who knows of the Barry family from Ballyduff, he is doing f/tree research on his Mam's side..
HI again to Toni Ringle with the dark hair and blue eyes...over in the states...
and finaly to Nichola Beresford, and Timmy Ryan, Presenters on our Local radio, who thanked Kiely for the bit of net publicity he gave the Irish play Ms. Beresford directed recently in New York. All the performances where sold out by the way.
I hope i haven't left anyone out, as there was a lot of messages recently. If I have let me know and I'll put it right next time.
Well that's it for this week,
So finally,finally, finally.....
Thanks once again to all who subscribed, signed the guestbook, sent real postcards or emailed or left voice messages..and as they say down this way.. Thanks a million!
There will be more name mentions next week, and remember you must go on-line to see the photos....
See 'ya all next week. God bless, Pat.
COPYRIGHT The copyright of the photos and text belongs to Pat Kiely..Lismore...Ireland.
Newsletter . . . Subscribe below.