The Mill Museum.
Tuamís Mill Museum is at present housed in the Little Mill and the Millers House. The Mill is the only preserved mill in the west of Ireland. This museum was opened in 1974 and consisted of a water powered corn mill complete with its machinery. The museum closed down in 1977 and reopened its doors again to the public in 1980. Since then it has opened every summer to cater for the tourists coming to town. Unfortunately the museum is not in good condition at the moment. The Mill wheel no longer turns, many of the old artefacts have been removed and only a few of the old antiques remain.
There is a short history of the Farrell family on display in the Little Mill.

In the Millers House there is a display of miniature models of four types of mill. These no longer work correctly and need some repair work urgently. The tour of the Mill includes a slide show on the history of Tuam and its surrounding areas. This viewing area needs to be tidied up and repainted. As the Mill Wheel is the most important part of the museum it is vital to get the wheel moving again. Thankfully plans are being made to replace the wooden panels, and as can be seen in our photograph the replacement panels have already been bought and are ready for fixing to the wheel.

Apart from being a museum of milling the Corrib Country office is also used as a seasonal tourist information office. The tourist office was established in 1983. The mill was restored as a museum in 1970 when seven schoolboys, under the direction of Dr. Tony Claffey produced a plan to save the abandoned mill and miller's house from demolition. The plan was accepted by the townspeople, and the committee purchased the property. In 1974 the mill museum was opened to the public by president Erskine Childers. The millerís house also contains a reconstructed 18th century pottery kiln , which was discovered during excavation in the town and is believed to be one of three in the country. The museum is the last surviving corn mill in the locality.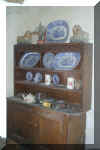 The mill is a good example of old technology. It illustrates the economic importance of a small river to a 19th century town. However the voluntary committee, which runs the museum, has a constant struggle tokeep its head above water.
The committee has very little funding at present and also say that the museum attracts very few visitors. They believe that a new plan is needed to develop this building as the present museum as a static exhibit does not have wide appeal for tourists or the local community.